Wed, 4th Oct 2023 13:52 (GMT +7)
PM attends ASEAN summits with Plus Three countries, US, Canada
Friday, 08/09/2023 | 09:50:35 [GMT +7]
A
A
Prime Minister Pham Minh Chinh joined other leaders in the ASEAN Plus Three (China, Japan, the Republic of Korea), ASEAN - US, and ASEAN - Canada summits in Jakarta, Indonesia, on September 6.
At the events, part of the ongoing 43rd ASEAN Summit and Related Summits, the partners affirmed that they view ASEAN as the focal force in the region while pledging to help with the ASEAN Community building and make responsible and effective contributions to dialogue, cooperation, and efforts to build an open, transparent, inclusive, and international law-based regional architecture.
The 26th ASEAN Plus Three Summit reaffirmed the importance of the ASEAN Plus Three cooperation to peace, stability, cooperation, and development.
Participating leaders agreed to coordinate to fruitfully implement the ASEAN Plus Three Cooperation Work Plan 2023 – 2027, under which the countries will promote cooperation in economy, trade, finance and health, and expand ties to new fields, with a focus on innovation, food security, energy transition, and climate change response, to work towards inclusive and sustainable development.
The summit adopted a statement on the electric vehicle ecosystem development.
In his remarks, PM Chinh expressed his hope that ASEAN Plus Three will play an active and effective role in proposing feasible solutions so as to jointly surmount current difficulties and challenges.
He stressed that ASEAN Plus Three should coordinate to step up economic, trade and investment links along with multilateral connectivity, including working together to effectively implement ASEAN's free trade agreements with China, Japan and the RoK and the Regional Comprehensive Economic Partnership (RCEP).
He called for expanding cooperation areas, especially digital transformation, digital economy, e-commerce, fintech, artificial intelligence, green finance, and green technology, to create more momentum for inclusive growth towards sustainable development so as to generate practical benefits for people.
The PM underlined the need for coordination to guarantee food security in each country and the entire region in any circumstances.
Vietnam is ready to coordinate to promote the Mekong - Lancang, Mekong - Japan, and Mekong - RoK cooperation frameworks, thus effectively contributing to sustainable development in the Mekong sub-region, he affirmed.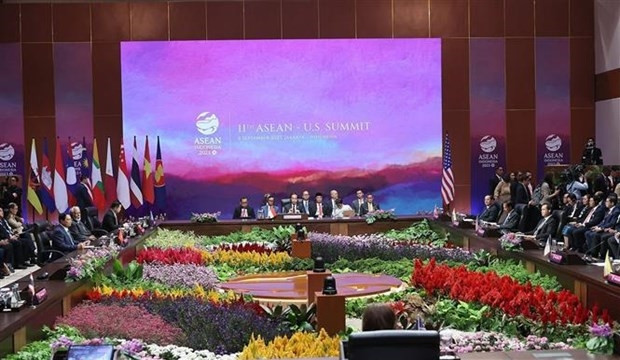 At the 11th ASEAN - US Summit, US Vice President Kamala Harris highlighted her country's strong and long-term commitment to ASEAN and the region along with support for ASEAN's centrality, noting that the two sides share interests, priorities and long-term vision and together respond to common challenges.
She said an ASEAN - US centre will be set up in Washington DC to facilitate exchanges between the two sides' people, businesses, and scholars.
Leaders of ASEAN countries and the US agreed to bolster trade and investment ties, stabilise supply chains, improve the health care capacity, and expand connections in science - technology application, sustainable infrastructure development, digital transformation, energy, environmental protection, climate change response, sustainable maritime cooperation, green economy, and circular economy.
The summit approved a joint statement on cooperation on the basis of the ASEAN Outlook on the Indo-Pacific.
Addressing the event, PM Chinh said ASEAN and the US are entering a new era of cooperation with the comprehensive strategic partnership established in late 2022, and they need to work together to carry out this partnership in an effective, substantive, and mutually beneficial manner.
He emphasised the need to quickly turn economic and trade cooperation into the pillar, and science, technology and innovation into an impetus for the ASEAN - US comprehensive strategic partnership.
The two sides should coordinate to promote harmonious and sustainable trade and stabilise supply chains; minimise the imposition of anti-dumping and anti-subsidy duties and unnecessary measures on exports that may directly affect people's jobs and livelihoods; and reserve adequate resources for boosting cooperation in science - technology and innovation to open up a new development space and give a strong boost to economic growth and sustainable development, he opined.
To develop a sustainable future for the over 1 billion people, the Vietnamese leader called on ASEAN to coordinate with the US to fruitfully carry out the ASEAN - US future initiative on health, education, energy, environment, climate change and sustainable development. He also voiced his hope that the ASEAN - US Centre will effectively contribute to these efforts.
PM Chinh asked the US to foster cooperation with and assistance for Vietnam to respond to climate change, carry out the Political Declaration on establishing the Just Energy Transition Partnership. He also suggested the US continue helping with the development of the Mekong sub-region, including the Mekong Delta of Vietnam, via the Mekong - US Partnership.
At the ASEAN - Canada Summit, the two sides adopted a joint statement on establishing of the ASEAN - Canada strategic partnership.
Canadian PM Justin Trudeau affirmed that his country attaches great importance to the relations with ASEAN, strongly supports the bloc's centrality, and pledges to increase its engagement with and presence in the region and uphold international principles, thereby making active contributions to peace, stability, cooperation, and development.
He vowed close cooperation with ASEAN to carry out the newly established strategic partnership in a practical and effective manner. He also expressed his country's wish to take part in ASEAN-chaired mechanisms such as the East Asia Summit and the ASEAN Defence Ministers' Meeting Plus.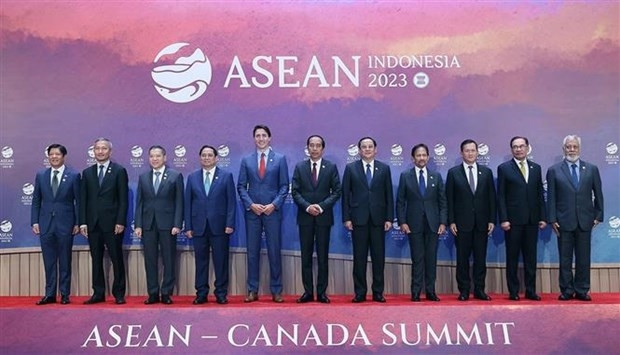 The two sides agreed to work together to tap into cooperation potential, with a focus on digital transformation, food security, support for businesses, education - training, climate change response, connectivity, and development gap narrowing.
In his speech, PM Chinh stressed that it's now the time to elevate the ASEAN - Canada relations to the strategic partnership to herald a new cooperation era, noting Vietnam will actively coordinate with other countries to turn commitments into practical actions.
Economic cooperation for common prosperity should be the priority of the strategic partnership, he noted, asking for promoting trade, investment, businesses' connectivity, supply chain stabilisation, and access to each other's markets.
He also called on Canada to provide more optimal conditions for goods of Vietnam and other ASEAN countries to be exported to its market.
The PM appealed for stronger ties in emerging fields such as digital transformation, green transition, energy transition, food security ensuring, and climate change response.
The summit also approved a statement on enhancing food security and nutrition cooperation in crises.
At the summits, the Vietnamese PM and other ASEAN leaders asked the partners to support the bloc's common stance on the East Sea, which is fully and effectively implementing the Declaration on the Conduct of Parties in the East Sea (DOC), soon achieving an effective and substantive code of conduct (COC) in the waters that is in line with international law and the 1982 United Nations Convention on the Law of the Sea (UNCLOS), and working to build the East Sea into a sea of peace, stability, cooperation and development.
The partners affirmed that they support ASEAN's role, efforts and stance and pledged to coordinate closely to promote regional peace, security, stability, and development.
In the face of challenges in the region, PM Chinh asked the partners to support increasing dialogue, cooperation and trust building; resolve disputes by peaceful means; and uphold international law with a sense of responsibility and respect for one another's legitimate interests./.
Source: VNA