Sun, 10th Dec 2023 14:28 (GMT +7)
Parklife: Cúc Phương one of Asia's top national parks
Monday, 23/10/2023 | 08:32:09 [GMT +7]
A
A
Six decades since its establishment, the Cúc Phương National Park authorities have persistently upheld three central pillars: forest protection associated with biodiversity conservation, scientific research and international cooperation on conservation, and environmental education on ecotourism.
Cúc Phương National Park in northern Việt Nam has been honoured as Asia's Leading National Park for the fifth consecutive year.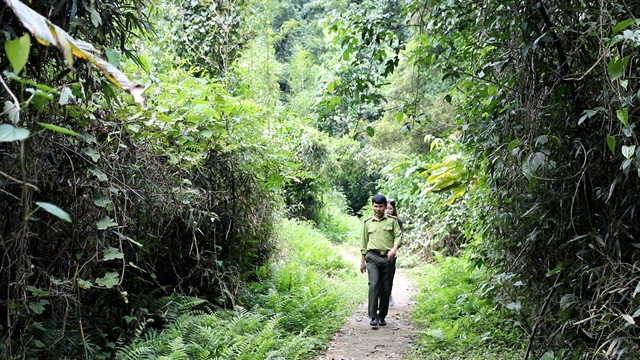 The achievement should not be taken for granted. Six decades since its establishment, the Cúc Phương National Park authorities have persistently upheld three central pillars: forest protection associated with biodiversity conservation, scientific research and international cooperation on conservation, and environmental education on ecotourism.
Even though there are still difficulties, flourishing wildlife shows the success of the park, and the lessons to be gained from it.
Shields of the forest
Cúc Phương National Park, established in 1962, spans over 220 square kilometres in three provinces of Ninh Bình, Hòa Bình and Thanh Hóa, and is known for its exceptional biodiversity and stunning landscapes. It is home to numerous rare and endangered species, making it a valuable ecological treasure in Asia.
For forest protection and conservation of rare flora and fauna species, patrolling and control work has been identified as a top mission for rangers at Cúc Phương.
Currently, the park's rangers only have 13 stations, with a total of 56 staff members – which means each ranger has to take charge of nearly 4sq.km or 400 hectares of forest.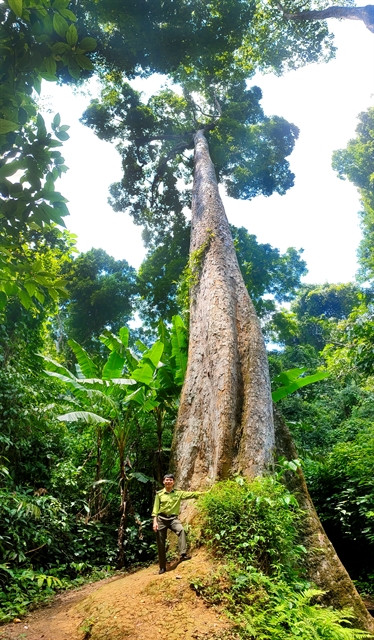 However, in recent years, the national park has reduced the rangers' hardship and successfully prevented significant cases of illegal hunting and deforestation by implementing forest preservation strategies.
Cúc Phương has adopted the most stringent measures to strengthen the protection of the authenticity and integrity of the ecosystem and promote the continuous improvement of ecological functions.
SMART, a high-tech monitoring and management system, has been used to monitor the development and the current status of forest plant and animal resources along patrol routes at the park.
The system helps improve efficiency by monitoring and assessing conservation efforts more frequently, reducing costs and sharing the data on a larger scale.
The park authorities also focus on educating local residents about the serious harm of deforestation and illegal hunting. The best approach to preserve the forest and promote local sustainable development is to secure alternative income for the local community.
"We support local people to increase their income through afforestation, beekeeping, and the development of community-based eco-tourism," said Phạm Phú Cường, a forest ranger at the park.
Patrolling the forest day and night and facing dangers, forest rangers face difficulties and low pay. Their living conditions are poor, lacking electricity, clean water and the internet; and they have little time with their families.
"I am still here because of my love for the forest. Living within the forest and feeling its fullness, I cannot leave the forest," Phú Cường said.
Worldwide collaboration

The Centre for Rescue, Conservation and Development of Creatures (CRCDC) is located in the park, dedicated to caring for wild animals rescued from illegal captivity and trafficking in the north.
Cúc Phương Park is carrying out three conservation programmes: the Endangered Primate Rescue Centre (ERPC), the conservation programme for small carnivores and pangolins, and the conservation programme for turtles and other wild animals, with a total number of 2,700 individual creatures of 64 species.
Most of the wild animals received by the Cúc Phương rescue centre are victims of illegal hunting, trafficking and forced captivity. When rescued and transported here, they were all in a weak, diseased state or had forgotten their wild instincts and were infected with human-trained behaviours.
"To help them recover their health and wild instincts, the centre applies scientific rescue principles for separate isolation, treatment and monitoring," said Lê Phương Triều, director of the CRCDC.
After that, rescued animals are released in semi-natural areas for wild instinct training before being released into their natural habitat.
However, there are many individuals here who, after the centre's rescue and care efforts, do not have the opportunity to return to their natural habitat and stay at the centre.
"We call them 'the ambassadors of education' to send to visitors the most intuitive and emotional example of the terrible harm of illegally hunting, trading, and confining wild animals," Triều said.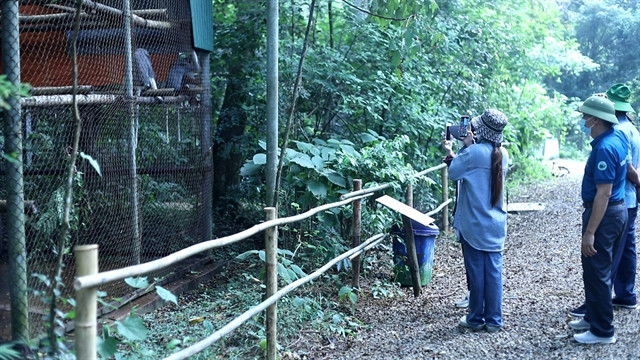 The park also serves as a hub for research and education in biodiversity and conservation, collaborating with various national and international institutions to conduct scientific studies and educational programmes.
Every year, the park receives thousands of visitors from home and abroad, and researchers come to study or work as volunteers here, making a profound impact on biodiversity conservation.
The EPRC, established in 1993 in cooperation between Cúc Phương National Park and the Frankfurt Zoological Society, is the first non-profit project in the Indochina peninsula dedicated to endangered primate rescue.
Since its founding, the centre has successfully bred 353 individuals of 10 species of rare primates, saving and caring for about 188 individuals of the 14 species of endangered primates found in Việt Nam.
"Out of those 14 species, six are exclusively rescue and caring efforts in Việt Nam. We are proud that EPRC is a world-renowned model in primate rescue and conservation," Triều said.
Education via eco-tourism
Cúc Phương National Park's outstanding approach to achieving its objectives is to activate educational programmes through eco-tourism initiatives. The entire national park can be seen as a living museum where tourists can travel and discover biodiversity.
Due to its diverse ecosystems as well as its historical and cultural significance, the park has drawn tourists from home and abroad to join its eco-activities. The park provides not only adventure travel but also regular holidays, suitable for all visitor interests.
"Visitors to the park can enjoy a range of ecotourism activities such as hiking, wildlife watching, jungle camping or just enjoying nature in eco-lodges," said Phạm Kiên Cường, director of the Centre for Environmental Education and Services.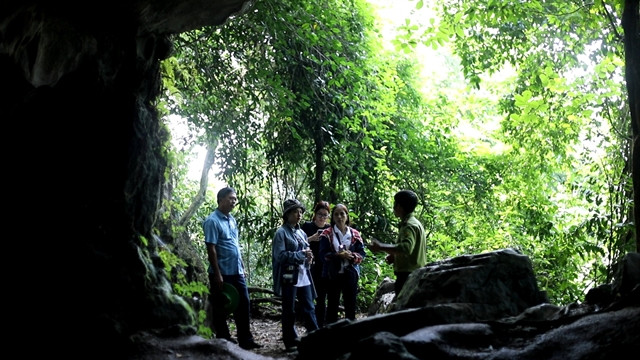 Visitors' favourite is an eco-tour themed "Về Nhà" (Homecoming), which provides chances for tourists to directly release wild animals after being rescued back into the forest. Launched in 2021, Homecoming has attracted numerous registers from all over and effectively spread the message of wildlife protection.
Cúc Phương's most outstanding programme is community-based eco-tourism initiatives, supporting alternative livelihoods and the wellbeing of local ethnic people while promoting sustainable tourism.
Community-based eco-tourism programmes benefit both travellers and local communities. Visitors can immerse themselves in the traditional culture of the Mường, while local residents make their lives easier by utilising the resources of their homeland and culture.
"By involving local communities in conservation efforts, we empower local ethnic people towards a better long-lasting future with earning opportunities and ultimately cultural pride," Kiên Cường said.
"They realised the forest's potential from an entirely different perspective and stopped deforestation and illegal animal hunting."
Every eco-tourism activity is well-designed by the national park's administrative officers and tourism partners to raise awareness and spread the message of protecting the forest and saving wildlife.
Phú Cường told Việt Nam News that there is even a purpose behind the way they name each student team on a camping tour for children, that is after an endangered species listed in the Việt Nam Red Data Book.
"Children are accustomed to the media's preferred animals more than the endangered species in Việt Nam. Through eco-tourism, we want to ensure that the youngsters return home aware which exclusive animals in Việt Nam need to be protected," Phú Cường said.
"Leave nothing but footprints. Take nothing but photographs. Kill nothing but your time. Help protect Cúc Phương!" are simple messages written on a board at the roadside when entering the core forest area, summarising what Cúc Phương has aimed to inspire for the past 61 years and beyond.
Source: Vietnam News