Thu, 5th Oct 2023 02:26 (GMT +7)
Oil companies see positive Q1, shares witness growth
Thursday, 08/06/2023 | 15:55:46 [GMT +7]
A
A
In the context of the general market moving sideways, oil and gas stocks have gone against the trend to increase rapidly, which was supported by positive information from billion-dollar domestic oil and gas projects.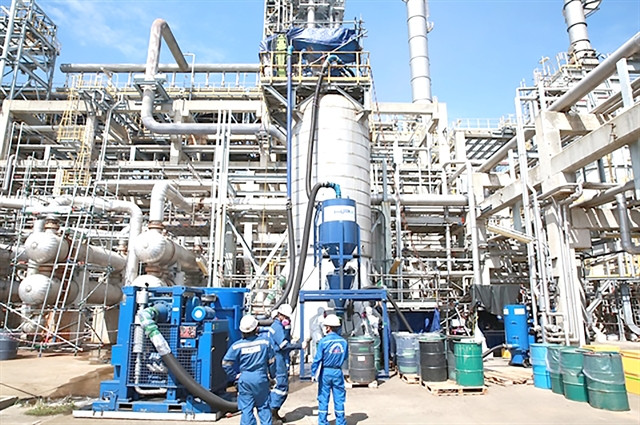 One of the stocks that gained the most was PVS of PetroVietnam Technical Services Corporation (PVS). In the past month, the company's shares have increased by 21 per cent in market prices. Compared to the beginning of this year, this stock has increased by 35 per cent, currently trading at VNĐ35,000 per share.
In Q1, net revenue of PVS decreased slightly by 1.7 per cent to VNĐ3.7 trillion. However, gross profit went up by 5.8 per cent thanks to the gross margin of Mechanical & Construction (M&C) segment.
Although it is an enterprise operating in the oil and gas field, PVS still benefits from the National Power Development Plan VIII, which guides the development of power plants and power grids between 2021 and 2030, recently approved by the Government.
According to the plan, the Government has prioritised the development of gas power using domestic gas sources to reduce the dependence on imported LNG sources. This can promote Việt Nam's long-stalled multi-billion dollar gas field development projects such as Block B and Blue Whale to ensure domestic gas resources.
PVS will also expand offshore wind power investment, besides providing traditional oil and gas services. Currently, PVS has won a Mechanical & Construction (M&C) contract to produce 33 stands for offshore wind farms of Orsted company from Taiwan. PVS is bidding for offshore renewable energy projects in the Japanese, South Korean, American, and European markets.
In addition to PVS, most oil and gas companies' stock prices witnessed double-digit growth compared to the beginning of this year. For example, Bình Sơn Refinery (BSR) increased by 20 per cent; PetroVietnam Drilling & Well Service Corporation (PVD) rose by 30 per cent; PVOil (OIL) gained by 23 per cent; Việt Nam's National Petroleum Group (PLX) climbed by 14 per cent; and especially PV Coating (PVB) up by 67 per cent.
In the first quarter of 2023, the group of oil and gas companies all announced positive business results as the oil price remained at US$80 per barrel. Some enterprises have achieved about 50 per cent of the whole year's target.
PetroVietnam Transportation Corporation (PVT) is the only unit in Việt Nam that transports domestically exploited crude oil to two refineries in the country. In Q1, PVTrans recorded net revenue that was almost flat compared to the same period last year. Profit after tax increased by 24 per cent to VNĐ240 billion due to the increase in fleet efficiency and financial performance. Compared to the annual plan, the enterprise has achieved 45 per cent of the profit target.
Phạm Việt Anh Chairman of PVTrans's Board of Directors, said that this year, the international shipping market is forecast to be still relatively positive, so this year's profit of PVTrans may exceed VNĐ1 trillion.
Meanwhile, at PetroVietnam Drilling & Well Service Corporation (PVD)'s 2023 Annual General Meeting of Shareholders, the leader of this company said that the rental price of the company's drilling rigs increased by 30-35 per cent compared to last year, some rigs increased by 40 per cent, which foresees positive signs of the market. PV Drilling forecasts that after-tax profit can reach more than VNĐ200 billion, double the initial plan.
Source: Vietnam News