Tue, 6th Jun 2023 06:04 (GMT +7)
National workshop marks 100th birthday of late PM Võ Văn Kiệt
Wednesday, 23/11/2022 | 09:05:24 [GMT +7]
A
A
A national conference was organised on November 22 in HCM City to mark the 100th birthday of late Prime Minister Võ Văn Kiệt and his contributions to national development.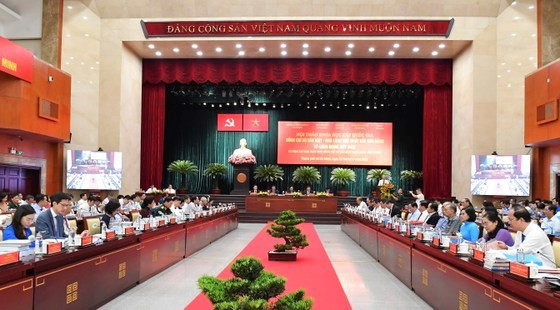 Deputy Prime Minister Phạm Bình Minh said besides paying tribute to the late leader's contributions to the revolutionary cause of the Party and the nation, the conference also aimed to educate younger generations about traditional Vietnamese values such as patriotism, national pride and revolutionary ideals, contributing to the renewal and construction and defence of the country.
With his strong spirit of renewal and daring to think and to do, the former PM had left a great imprint on Việt Nam's socio-economic development, he said.
Võ Văn Kiệt, real name Phan Văn Hòa and also known as Sáu Dân, who started his revolutionary activities at the age of 16, was well regarded as a revolutionary and political leader and held numerous important positions in both the Party and Government.
He served as prime minister from 1991 to 1997.
He was one of the most prominent political leaders to lead the renewal (Đổi Mới) policy.
Known as the architect of the economy in the 1990s, he was a leader with a strategic vision.
As a secretary of the HCM City Party Committee, he helped the city overcome various difficulties and revive its economy in the 1990s.
He was born on November 23, 1922, in Trung Hiệp Commune, Vũng Liêm District, Vĩnh Long Province.
He joined the Anti-imperialist Youth Movement in 1938.
In 1939 he was admitted to the Indochinese Communist Party, served as Secretary of the Party cell and participated in the Cochinchina uprising in Vũng Liêm District.
He passed away in June 2008 at the age of 86.
The conference was attended by Nguyễn Xuân Thắng, chairman of the Central Theoretical Council and director of HCM City National Academy of Politics; Nguyễn Văn Nên, secretary of HCM City Party Committee; Nguyễn Trọng Nghĩa, head of the Party Central Committee's Commission for Information and Education; and Bùi Văn Nghiêm, secretary of the Vĩnh Long Province Party Committee.
A photo exhibition featuring the life and career of the late PM is being held in HCM City from November 21 to 30.
A delegation of top Party and Government officials led by Deputy Prime Minister Phạm Bình Minh yesterday laid a wreath and offered incense at the late PM's tomb in HCM City on his centenary birth anniversary.
Source: Vietnam News