Thu, 5th Oct 2023 02:02 (GMT +7)
NASA holds first Vietnam Space Week
Monday, 05/06/2023 | 16:16:43 [GMT +7]
A
A
The first ever Vietnam Space Week is taking place from June 5-9 in HCMC, Hau Giang and Binh Dinh provinces, with participation of NASA experts.
According to the Ho Chi Minh City Computer Association, the host of the event, Vietnam is the first country in Southeast Asia chosen by a NASA Space Week event, which has been held annually in different countries since 2000.
Joining the event are Michael A. Baker, former astronaut of NASA and former captain of the U.S. Navy, and Josef Schmid, a NASA flight surgeon and a major general in the United States Air Force Reserves.
Held Monday and Tuesday in the Mekong Delta province of Hau Giang, Wednesday in Ho Chi Minh City's Thu Duc City, and Thursday and Friday in the central Binh Dinh Province, the event aims to highlight NASA's achievements and contributions in space exploration, scientific research, and technology development. During the event week, NASA representatives are expected to introduce some of its latest projects and initiatives.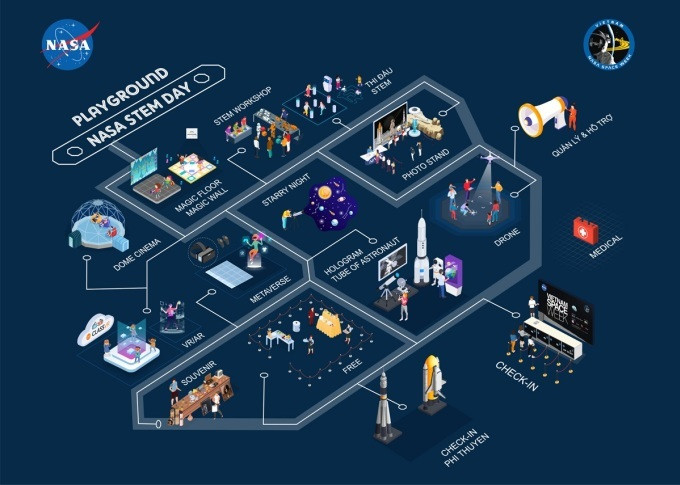 The event is expected to inspire the young generation with stories of astronauts in their working and living environments in space, and scientific research to protect the Earth, reduce environmental pollution, warn about the risk of asteroids colliding with the Earth, as well as learn about potential extraterrestrial life.
Baker was the head of the astronaut support team at the Kennedy Space Center for the space shuttles. He has spent 965 hours in space.
He used to be pilot of two space shuttles and command two space shuttles before the 2000s. After stepping down from space travel, he has been assigned to attend various events on behalf of NASA.
Schmid is the mobilization assistant to the surgeon general of the Air Force, Headquarters, Washington D.C. He is also a NASA flight surgeon at the Johnson Space Center in Houston, Texas.
Joining the event, students are invited to activities such as watching movies, playing games, joining conferences, taking photos with the NASA experts, learn about the universe via virtual reality, and holography.
Register for the Vietnam Space Week here.
Source: VnExpress