Sun, 28th May 2023 13:26 (GMT +7)
Improving human resources for ethnic groups, mountainous areas
Tuesday, 08/11/2022 | 10:22:41 [GMT +7]
A
A
As human resources are essential for the socio-economic development of ethnic groups and mountainous areas, Phú Thọ Province has devoted resources to improving teaching and learning quality.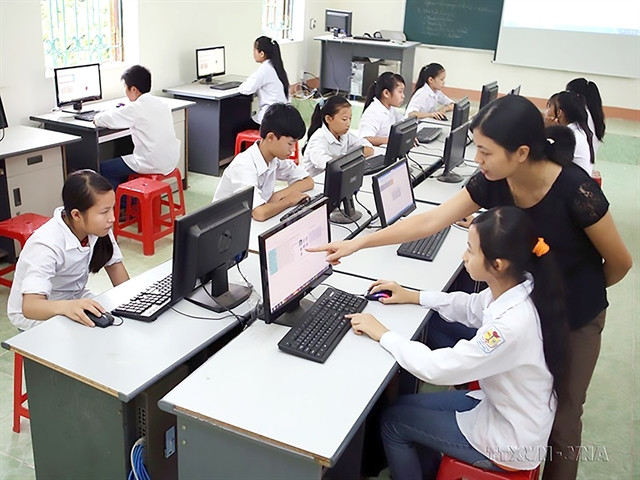 The efforts have contributed to improving human resources quality in the province.
Đinh Thị Bích Thủy, principal of the Thanh Sơn District Junior Secondary Boarding School for Ethnic Students, said that the school has 358 students, of which 95 per cent are from ethnic minorities.
They all live at the school, far from their families and have to take care of themselves, so the school developed a teaching plan that is suitable.
The school takes care of the students in all aspects and innovates teaching methods to make them easy to understand.
Phan Xuân Huy, deputy head of the Thanh Sơn District Department of Education and Training, said that the district has 78 schools with a total of 1,156 classes and 31,325 students. Most of them are of ethnic groups.
Along with improving teaching and learning quality at boarding schools, the district invests in facilities and teaching equipment, especially in communes facing difficult circumstances.
So far, 66 schools were recognised as reaching national standards, making up 84.62 per cent of all schools in the district.
Phùng Quốc Lập, deputy director of the Phú Thọ Department of Education and Training, said that ethnic students account for about 20 per cent of the total number of students in the province.
They are of different groups including Mường, Dao, Tày, Cao Lan and Mông.
They live and study in 10 mountainous districts such as Tân Sơn, Thanh Sơn, Yên Lập, Đoan Hùng, Thanh Thủy, Hạ Hòa, Cẩm Khê, Phù Ninh, Tam Nông and Thanh Ba.
To meet people's demand for studying, the province built a system of boarding schools for ethnic groups.
It has five boarding schools and one day boarding school with 62 classes and more than 2,000 students.
The province has spent more than VNĐ53 billion (US$199,800) on supporting ethnic students and more than 18,100 students have benefited from the fund.
The money was spent on supporting their meals, rice and learning equipment.
The province also fully implements allowances for teachers in areas with extremely difficult socio-economic conditions, and ethnic language teachers.
Up to now, all of the communes in ethnic and mountainous areas have had enough schools at all levels from kindergarten, primary to junior secondary.
All five-year-old children can attend school. As many as 96.8 per cent of people aged 15 years and over can be fluent in reading and writing in the Vietnamese language.
Improving human resources quality
Vocational training for young people of ethnic groups and gradually minimising the gap in education and training in ethnic groups and mountainous areas is a goal for Phú Thọ Province in the future.
Hồ Đại Dũng, deputy chairman of the Phú Thọ People's Committee, said that in the plan for socio-economic development in ethnic groups and mountainous areas in the 2021-25 period, the province has proposed many solutions to promote education and training, improve human resources quality.
Under the plan, the province will renovate its teaching and studying activities, equip more boarding schools for ethnic students and conduct illiteracy elimination for ethnic people.
Phú Thọ Province will upgrade facilities for schools that have not reached national standards.
The province will foster training for workers doing ethnic affairs work.
Dũng said vocational training and job introduction for ethnic people would also be taken care of.
From now to 2025, the province will expand the scale and improve the quality and effectiveness of vocational education.
It will support ethnic workers to have favourable access to the labour market, support them in further studies to find jobs suitable to their abilities and aspirations.
The province will also help workers work abroad under contracts.
Phú Thọ targets that by 2025, more than 55 per cent of ethnic people of working age receive vocational training.
Source: Vietnam News