Thu, 5th Oct 2023 02:20 (GMT +7)
IAEA impressed by Vietnam's capabilities, engagement: Acting Director General
Tuesday, 25/07/2023 | 11:34:51 [GMT +7]
A
A
The International Atomic Energy Agency (IAEA) is impressed by Vietnam's capabilities and active engagement regarding its positive contributions within the UN framework and IAEA's cooperative activities serving atomic energy applications for peaceful purposes, Acting Director General Najat Mokhtar affirmed at her July 24 meeting with State President Vo Van Thuong in Austria.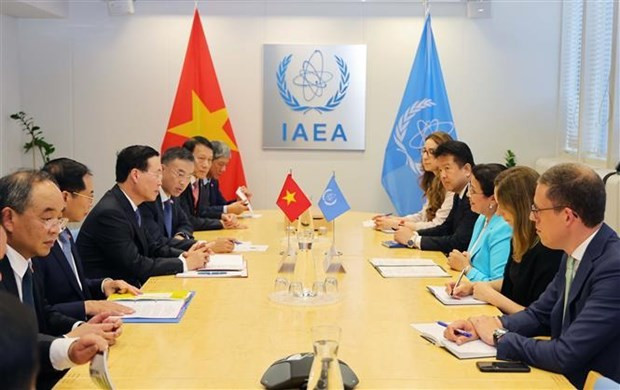 Thuong, now on an official visit to the European nation, told Mokhtar that he appreciated IAEA's contributions in ensuring nuclear safety, security, non-proliferation of nuclear weapons; and in promoting nuclear technology development and applications for peaceful purposes and sustainable global development. He also expressed his gratitude to the agency for its provision of medical equipment and transfer of COVID-19 testing technology for Vietnam.
Mokhtar stressed that cooperation with Vietnam serves as a successful and effective model in various areas, including agriculture, health care, renewable energy, and climate change adaptation. She confirmed IAEA will continue to enhance its cooperation with and technology transfer for Vietnam.
Both sides agreed that their team work is progressing well, with IAEA supporting Vietnam in implementing projects within the framework of its technical cooperation programme, such as those on addressing diseases originating from animals (ZODIAC) and ocean plastic waste (NUTEC Plastics).
Thuong affirmed Vietnam will actively participate in and carry out IAEA-initiated technical cooperation projects under the country programme framework for cooperation in the development of atomic energy applications for 2022-2027. He thanked IAEA for supporting the trilateral collaborative project between Vietnam, IAEA, and Laos/Cambodia which promotes the application of atomic energy for peaceful purposes in the two neighbouring countries.
The leader proposed IAEA continue to increase technical cooperation projects for the Asia-Pacific region, enabling Vietnam to participate in specific ones to enhance its human resources training and technology transfer. He also requested further engagement between the sides in international cooperation programmes as well as in experience sharing and technical support for Vietnam to strengthen national capacity, particularly regarding nuclear security and safety.
Mokhtar praised Vietnam's effective role as a member of the IAEA Board of Governors for the 2021-2023 term and wished the Southeast Asian country will continue contributing to the agency's efforts in tackling common international concerns such as nuclear security and safety, non-proliferation of nuclear weapons, nuclear technology development for peace, and non-traditional security challenges.
On the occasion, Deputy Minister of Foreign Affairs Le Thi Thu Hang had a working session with Anna Joubin-Bret, Secretary of the United Nations Commission on International Trade Law (UNCITRAL). Both parties signed a memorandum of understanding on cooperation between the Vietnamese ministry and UNCITRAL Secretariat in technical support and capacity building.
Source: Nhan Dan