Sun, 10th Dec 2023 14:42 (GMT +7)
Gordon Ramsay 'in love' with humble Vietnamese dishes
Monday, 26/12/2022 | 10:06:06 [GMT +7]
A
A
British celebrity chef Gordon Ramsay has praised Vietnam as one of the world's top food destinations. Here's a list of the 5 dishes he's been most impressed with on his trips to the Southeast Asia nation.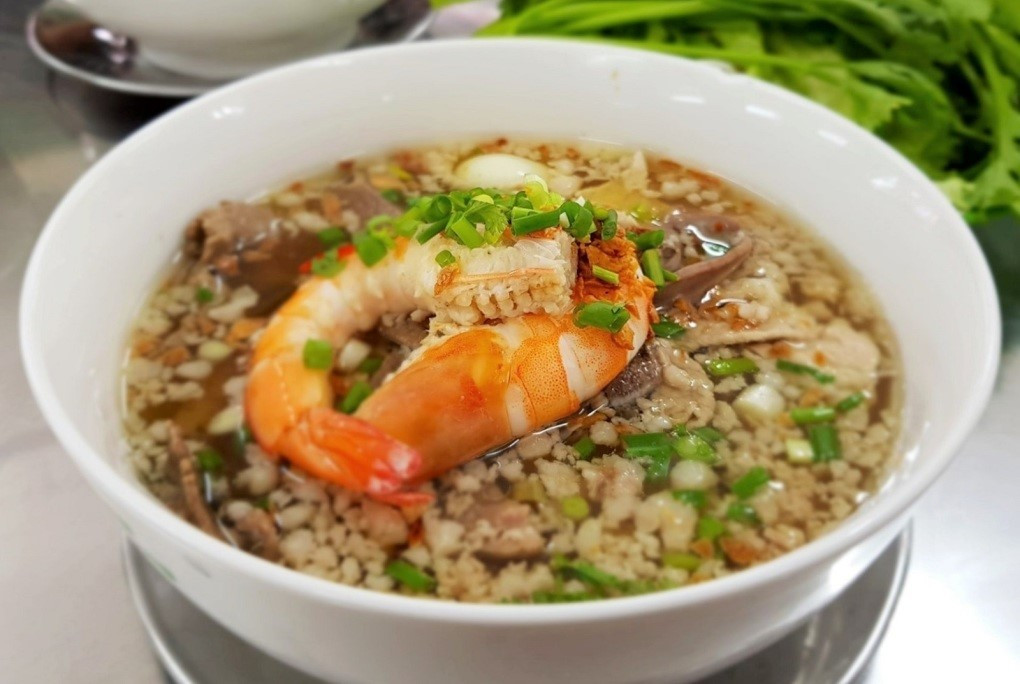 Hu tieu
Hu tieu, a southern Vietnamese noodle soup, was featured on the American competitive cooking reality television series MasterChef in 2013. As the show's judge that year, Ramsay tasked his five contestants with preparing bowls of Vietnamese hu tieu.
During a previous trip to the Mekong Delta urban hub of Can Tho, Ramsay gobbled a bowl of hu tieu prepared by a woman on a small boat at the Cai Rang floating market.
"This bowl of hu tieu, a stunning, delicious slow-cooked Vietnamese pork noodle soup, is the greatest dish I've ever had," Ramsay said.
Hu tieu (also called kuy teav or Phnom Penh noodle soup) is a Cambodian-Chinese dish that Saigonese borrowed and changed to suit their palate.
There are about 20 different versions of the noodle soup, which is most popular in southern Vietnam but can also be found on the streets of Hanoi.
The dish's most popular staples include pork, pork ribs, pork innards, shrimp, squid, wonton dumplings, fried garlic, fried shallots and scallions. Photo by Nguyen Thy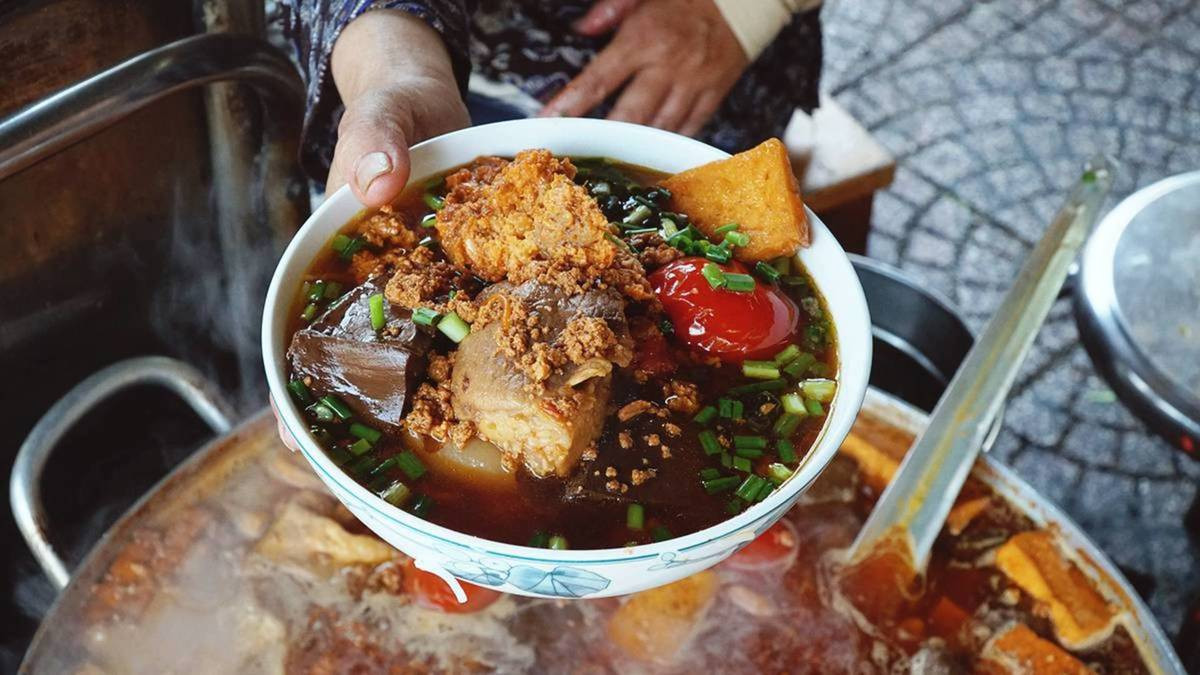 Bun rieu
During a trip to the Mekong Delta in 2012 to shoot the second season of the travel documentary series Gordon's Great Escape, Ramsay had the opportunity to try bun rieu prepared by the now-famous Ms. Hai.
"It's delicious," said Ramsay after just a spoonful. "I Love it!"
Bun rieu (tomato and crab noodle soup) is a vermicelli noodle soup with a tomato-based broth made by slowly simmering pork or chicken bones. Unlike pho or bun bo Hue (Hue beef noodle soup), to which meat slices are added, the key protein component of this soup is a crab meat patty mixture made of freshwater mini crabs, pork and egg. It's almost like a soft, dark crab cake floating in your soup.
Other popular bun rieu toppings include fried tofu, prawns, crab meat, pig blood pudding, bean sprouts and fresh Vietnamese herbs like perilla and cilantro.
In the Mekong Delta, the dish is served with bean sprouts and shredded water spinach stems. Photo by Phong Vinh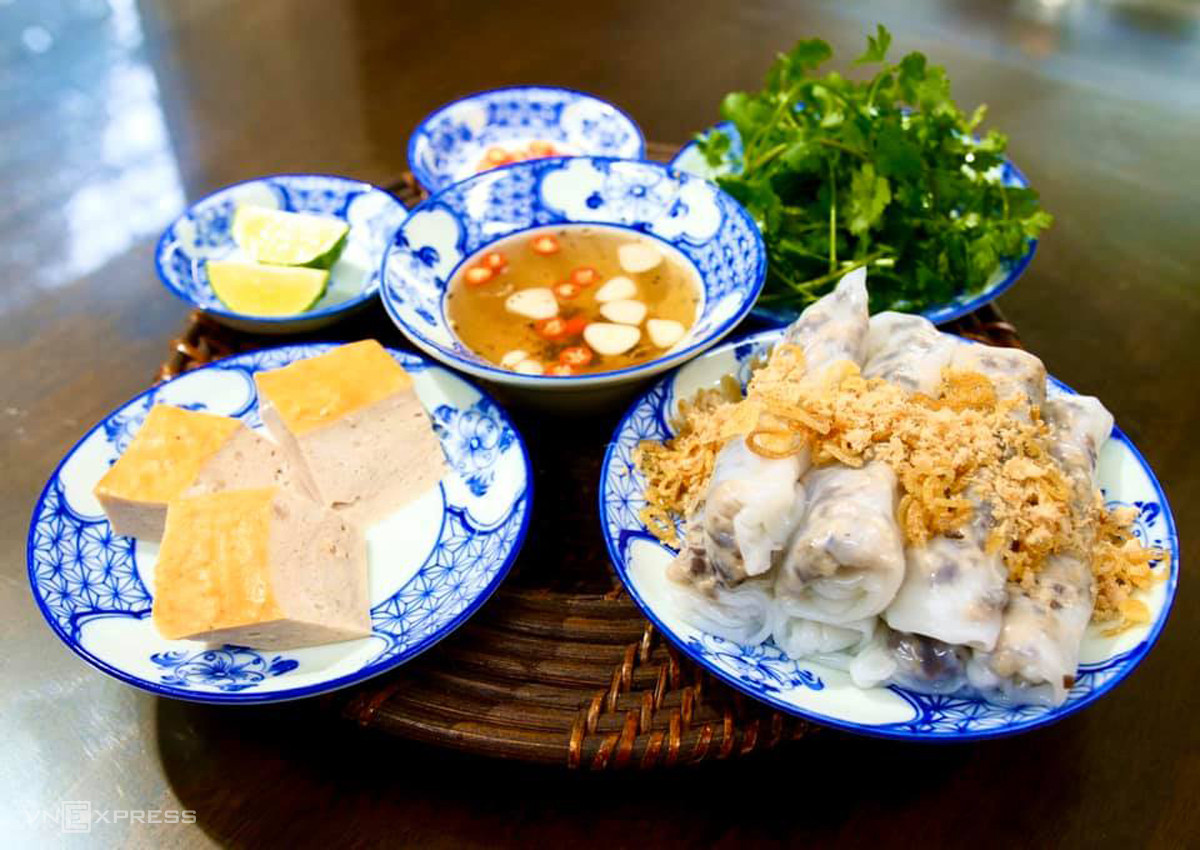 Steamed rice rolls
Ramsay once drove a motorbike from Hanoi to the idyllic mountain commune of Mai Chau, around three hours from the capital. Mai Chau is famous for its small ethnic minority villages, and Ramsay traveled there to learn how to prepare banh cuon (Vietnamese steamed rice roll) in their traditional styles.
"Thank God I wasn't born in Vietnam, I'm just a bad cook here," said Ramsay while trying inadeptly to make the Vietnamese steamed rice rolls.
"Thank you for teaching me to make thin-paper rice cakes, but I'm too hungry to apply a delicate touch," he told locals.
Steamed rice rolls, or banh cuon, is a traditional Vietnamese dish that easily overlooked by tourists because it's often overshadowed by the omnipresent banh mi and pho.
For this dish, a thin noodle sheet is steamed on a thin layer of fabric over a pot of boiling water. It is often served with minced pork rolled up in the middle of the soft and chewy "rice tortilla" like a burrito (or a spring roll), with a lightly sweetened dipping sauce on the side. Photo by Nguyen Thanh Hai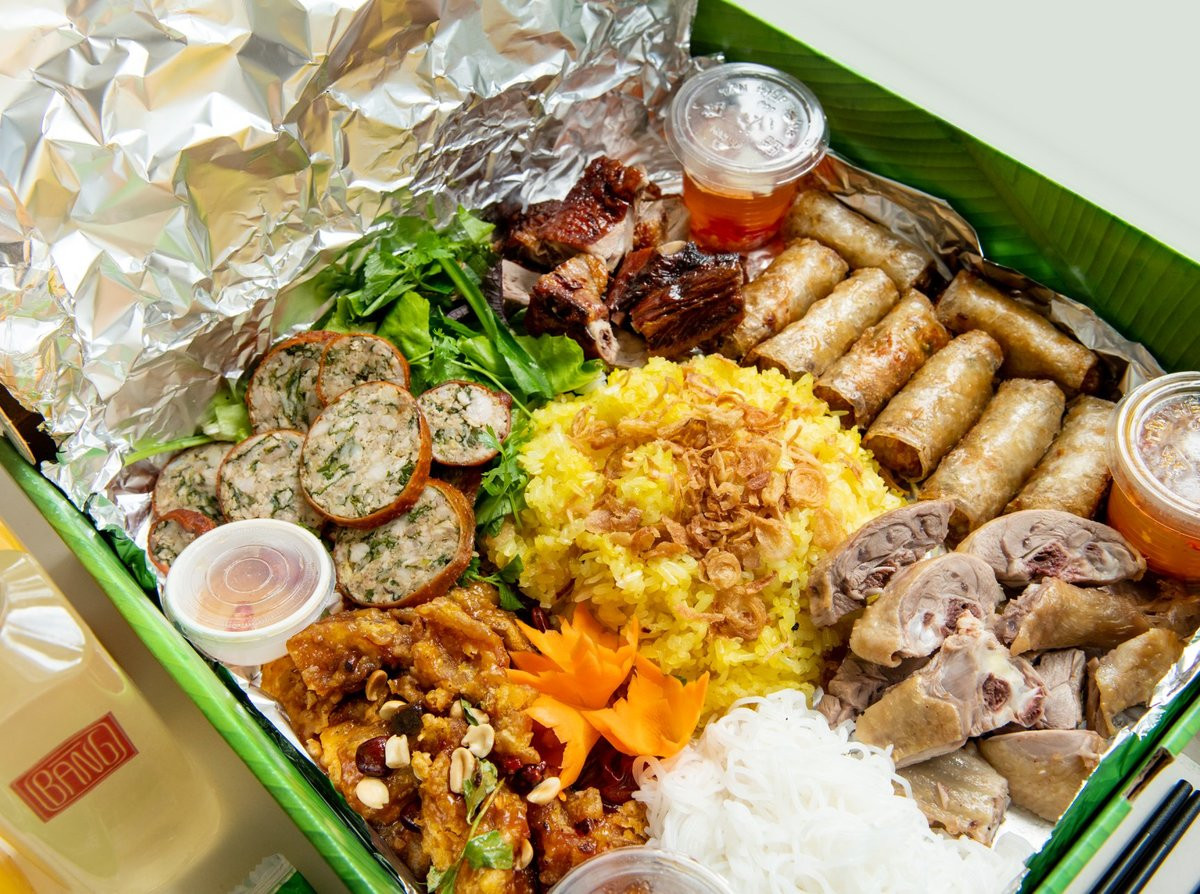 Barbecued duck
Ramsay visited Khoa Ngan Restaurant at 77 Hai Ba Trung Street in Hanoi where he learned to prepare barbecued duck with sweet and sour sauce as part of the 2011 season of "Gordon's Great Escape."
The restaurant has a long 30-year history of specializing in marinated barbecued duck grilled over charcoal and open flames.
During this visit to Vietnam, Ramsay was surprised with the marinade the chef used to flavor her duck. He tried to slyly ask for the sweet and sour sauce recipe several times only to receive a silent and gentle shake of the head.
"I was having fun and I was about to learn how to make sweet and sour sauce, but all of a sudden she become tight-lipped," Ramsay said.
But that's how this special duck recipe has remained the restaurant's unique signature for years, without competition from copy cats. Photo courtesy of Khoa Ngan Restaurant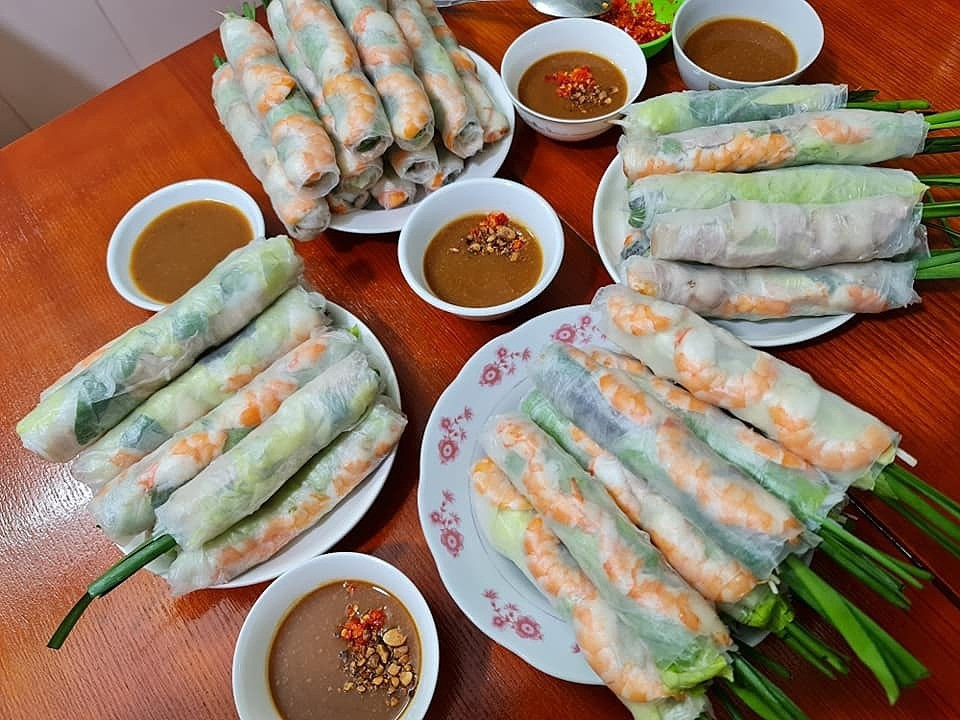 Summer rolls
Ramsay also learned to make goi cuon (Vietnamese fresh summer rolls) on another Great Escape trip to Vietnam.
Rice paper is wrapped around pork, shrimp, herbs, and rice vermicelli, and its best eaten dunked in sweet and sour fish sauce or a thick peanut dip.
Goi cuon has become a popular snack in the southern regions of Vietnam.
Having experienced Vietnam's fresh summer rolls first hand, Ramsay showed everyone his recipe for fragrant and delicate prawns summer rolls in a video posted on his YouTube channel.
In 2019, CNN hailed Vietnam's fresh summer rolls on its list of the world's 50 best dishes.
Gordon Ramsay, arguably the most famous working chef in the world following the death of Anthony Bourdain, is known to U.S. television audiences for his acerbic comments on "Master Chef" and "Hell's Kitchen." He was also named the top chef in the United Kingdom at the 2000 Catey Awards.
During an interview with South Korean Youtuber Cho Seung-yeon published earlier this month, Ramsay named Laos, then Vietnam and Madrid, as his most favorite foodie destinations.
"Vietnam [is an] extraordinary melting pot of great food," he said. "I fell in love. There's just such a humble approach to eating incredible food." Photo by Hoang Thien
Source: VnExpress