Thu, 5th Oct 2023 02:22 (GMT +7)
Foreign investment showing signs of recovery
Monday, 31/07/2023 | 09:21:56 [GMT +7]
A
A
During the reviewed period, foreign investors pumped US$16.24 billion into the country, up 4.5 per cent year-on-year, the FIA said.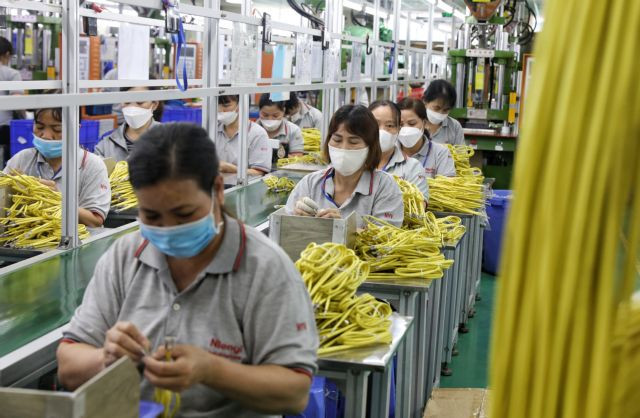 Foreign investment registered in Việt Nam showed signs of recovery in the first seven months of this year, according to the Ministry of Planning and Investment Foreign Investment Agency (FIA).
During the reviewed period, foreign investors pumped US$16.24 billion into the country, up 4.5 per cent year-on-year, the FIA said.
The agency noted that for the first time in 2023, total registered investment capital soared after witnessing consecutive decreases over six months. In July alone, foreign investment reached over $2.8 billion, up 8.9 per cent month-on-month and 85.7 per cent year-on-year.
Nearly $7.84 billion was injected into 1,627 new projects during the period, an increase of 75.5 per cent in the number of projects and 38.6 per cent in level of capital against last year's corresponding period.
At the same time, $4.14 billion came from 1,627 transactions of capital contribution and share purchases made by foreign investors, up 60.7 per cent in capital and down 10.6 per cent in number.
Meanwhile, nearly $4.16 billion, down 42.5 per cent year-on-year in capital, was added to 736 existing projects, up 27.1 per cent year-on-year in number of projects.
Director of the FIA Đỗ Nhất Hoàng said the growth rate of the number of new projects nearly doubled that of total investment capital. These figures showed that foreign financiers continued to place their trust in the local investment environment as they continued making new investment decisions in the Vietnamese market.
Hoàng also delivered the same comment for capital added to existing projects. He said though adjusted investment capital was decreasing, it tended to improve month by month. Meanwhile, the number of projects which saw capital added still increased over the same period. That once again has confirmed investors' confidence in Việt Nam's investment climate, so they continued to expand their existing projects.
In line with this, a significant positive sign is that the disbursed capital stood at an estimated $11.58 billion in seven months, a slight annual increase of 0.8 per cent. The move, therefore, demonstrated the Government's drastic solutions for providing effective support and removing difficulties for enterprises in the process of capital disbursement.
According to the FIA, the manufacturing and processing sector led in foreign investment attraction, with $10.93 billion or 67.3 per cent of the total capital. It was followed by real estate with 1.61 billion or 9.9 per cent.
Next was the banking and finance sector with over $1.53 billion and science and technology with $738 million.
In the January-July period, there were 94 countries and territories pouring capital into Việt Nam, in which Singapore topped the list with $3.64 billion, down 15.5 per cent year-on-year. It was followed by South Korea ($2.34 billion) and China ($2.33 billion).
The majority of new investment projects focus on provinces and cities such as Hà Nội, Hải Phòng, HCM City, Bắc Giang, Bình Dương, Bắc Ninh, and Đồng Nai.
Foreign investors from Asia still accounted for a large proportion, including six traditional investment partners, such as Singapore, Japan, mainland China, South Korea, Hong Kong, and Taiwan, which made up 78.2 per cent of the country's total investment capital in the reviewed period.
According to experts, the recent moves of some investors have shown that foreign investment would likely soon recover.
South Korean Hyosung Group has announced a plan to develop a $1 billion carbon fibre factory in the southern province of Bà Rịa-Vũng Tàu with the first phase investment of $160 million, baodautu.vn reported.
Earlier, the company has implemented several projects with a combined investment capital of about $3.5 billion in four localities including Bà Rịa-Vũng Tàu, Đồng Nai, Quảng Nam and Bắc Ninh.
During a recent Việt Nam-Korea Business Forum, chairman of the Hyosung Group Cho Hyun Joon said his firm considered Việt Nam a strategic market. He said that his group would not only want to expand the scale but also turn the country into a sustainable investment destination.
An investor - Thailand-based Runergy PV Technology Co - will invest $293 million in a factory producing monocrystalline silicon rods and semiconductor platters at the Đông Nam Economic Zone in Nghệ An province.
Meanwhile, Suntory Pepsico has received a nod from Long An Province to invest $185 million in a beverage plant in Long An Province's Hựu Thạnh Industrial Zone. Along with that, Yokorei Vietnam Co will build cold storage worth about $52 million in the province besides AEON Việt Nam's $45 million project.
Experts said opportunities were available. However, whether foreign investment in Việt Nam got a strong recovery depended greatly on Việt Nam's policy response. In the report on foreign investment attraction in the first seven months of the year, the FIA continued to highlight the impact of global minimum tax enforcement on investment decision-making of big giants.
At a recent meeting on law-making, Prime Minister Phạm Minh Chính said that the Government would propose policies regarding the global minimum tax to the National Assembly for discussion and approval in October.
Introducing policies to come up with the global minimum tax was essential for Việt Nam to ensure tax revenue but remain attractive to foreign investors as many countries are adopting the initiative.
Source: Vietnam News