Wed, 4th Oct 2023 13:41 (GMT +7)
Efforts to be made to generate employment
Friday, 09/06/2023 | 16:21:38 [GMT +7]
A
A
Economic woes have affected hundreds of thousands of factory workers, prompting many lawmakers to urge the government to seek remedies, to create employment and drive the economy forward.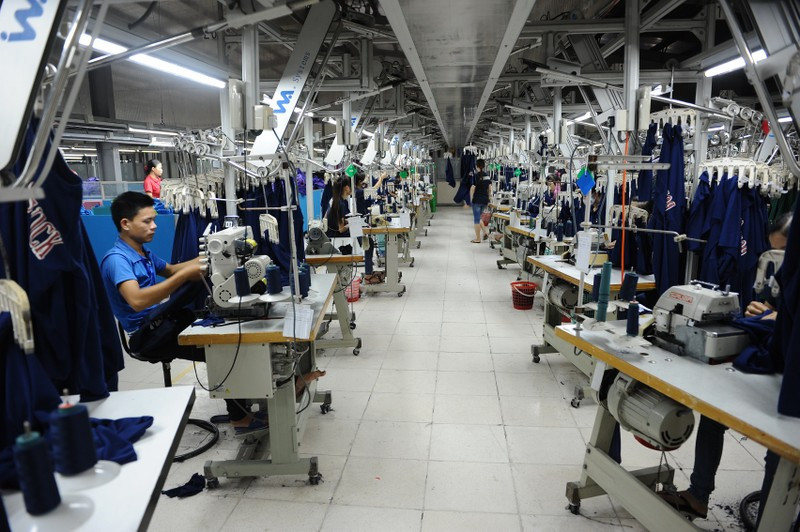 At a question-and-answer session of the ongoing fifth session of the 15th National Assembly (NA), Minister of Labour, Invalids, and Social Affairs Dao Ngoc Dung stated, that Vietnam's unemployment rate in Q1 of this year was 2.25%, far lower than the global average rate.
He cited the Global Finance Magazine as saying that global unemployment is forecasted to hit 208 million people in 2023, or 5.8%.
In Q1 of 2023, Vietnam's labour force expanded by another 88,700 people, to reach a total of 52.2 million available workers, which is one million more people available to work than a year earlier, according to the General Office of Statistics (GSO).
However, Minister Dung also underlined that nearly 510,000 factory workers in Vietnam lost their jobs or had their work hours cut, in the first five months of this year.
Of the total, 280,000 people quit their jobs or were laid off, accounting for 54.79%, he told legislators during the ongoing session of the National Assembly.
They were mainly working in localities with large industrial parks and economic zones, such as Binh Duong, Dong Nai and Ho Chi Minh City in the south, and Bac Giang, Bac Ninh, Hai Duong and Hanoi in the north.
The textile and garment industry saw the largest numbers of workers laid off or having their hours cut, with 70,000 and 66,600, respectively. It was followed by leather and footwear, with 31,600 and 66,000; and manufacturing of electronic components and products, with 45,000 and 24,800.
The number of unpaid workers reached 17,000, with the textile and garment industry again taking the lead with nearly 5,000.
More than 8,600 businesses had to cut staff, of which 27% were foreign-invested enterprises, while the rest were domestic private companies. The most affected region was the southeast, accounting for nearly two-thirds of the total, while 12% of the enterprises were based in the Red River Delta region.
Untrained workers made up the largest proportion of job cuts at 68%.
Minister Dung attributed the cuts to a lack of orders, difficulties in foreign economies, high inflation, and tightened monetary policy, which has resulted in declining purchasing power, especially for clothing, shoes and personal electronic devices.
According to Dung, the Ministry of Labour, Invalids, and Social Affairs (MoLISA) has implemented policies to support workers who had lost their jobs or had their hours cut, like free recruitment consultancy, vocational training support, preferential credit, and expanding beneficiaries of the National Employment Fund.
To assist laid-off workers, the MoLISA will consider amending the unemployment insurance policy and effectively support them to access preferential loans from the Vietnam Bank for Social Policies.
A tough job
At a recent cabinet meeting on Vietnam's socio-economic situation in the first five months of this year, Prime Minister Pham Minh Chinh said that though the economy is showing signals for a gradual recovery, difficulties remain large.
"Many enterprises are still finding it difficult in performance, and they are in critical need of support," PM Chinh said. "It is recommended that all ministries, agencies, and localities revise all policies in a manner that all the best conditions are to be made for enterprises to perform and soon recover. Though it is a difficult job, it must be done."
Commenting on the business and production landscape now, Minister of Planning and Investment Nguyen Chi Dung told the NA, "All enterprises are now bogged down in difficulties. How to rescue enterprises out of increased difficulties and create more employment must be considered the most important task now."
"What counts most for enterprises is that they must have orders because orders will help them boost production and business activities," he said. "However, they are facing numerous burdensome administrative procedures. Many businesses are lamenting that such procedures in many localities are very slow, as state cadres don't want to work and shirk responsibility."
He also expressed concern that thousands of business conditions have been cut over the past few years, but "in some localities, new administrative hurdles have appeared, vexing enterprises."
According to the General Statistics Office (GSO), Vietnam's index for industrial production (IIP) dropped 2% as compared to the same period last year, when the IIP increased 8.1% year-on-year.
In, the IIP for the processing and manufacturing sector declined 2.5% against the corresponding period last year, when it rose 8.9% year-on-year. The electricity production and distribution sector climbed only 0.8% year-on-year, while the mining sector fell 3.5% year-on-year, and the sector of water supply and wastewater and trash management and treatment expanded 6.4%.
The IIP of many key sectors also witnessed an on-year reduction, including engined vehicles (10.1%); paper and paper-based products (8.5%); clothes (8.3%); furniture (5.9%), wood and wooden products (5.8%); transport means (5.6%); metal (5.5%); and electronics, computers, and optical products (5.1%).
Dang Xuan Phuong, Vice Chairman of the National Assembly's Committee for Culture, Education, Adolescents, and Children, said that the Vietnamese economy is forecast to continue facing difficulties, due to the world economy's slow recovery and that the government should ask businesses to limit production expansion and avoid mass layoffs.
"The government needs to guide enterprises to allow employees to work in rotation and limit sudden layoffs that negatively affect workers' lives," he said.
Actions
NA deputy Pham Trong Nghia representing the northern province of Lang Son, said, "Enterprises are now serving as the backbone of the economy and as the key driver of economic growth. But now they are facing massive difficulties. The government needs to apply stronger solutions to assist them and labourers."
"However, to formulate exact solutions, it is necessary to thoroughly review and study all challenges at home and abroad, with consultancy from all stakeholders," Nghia said. "This is because Vietnam is quite open to the world economy, so all developments and fluctuations in the global economy can have certain impacts on the Vietnamese economy and policies."
The Vietnamese economy's GDP was valued at 409 billion USD in 2022 when the total export-import turnover reached 732.5 billion USD, which was 1.8 times higher than the GDP.
NA deputy Nguyen Thi Minh Trang representing the Mekong Delta province of Vinh Long proposed, that the government should require ministries, agencies, and localities to amend, supplement, and complete the laws directly related to the legitimate rights, obligations, and interests of labourers.
"It is necessary to focus on promoting measures to inspect and examine employers' compliance with legal policies on labour and employment. There should be strengthened dialogues with employees to promptly remove difficulties, and ensure balance and harmony in the rights and obligations of enterprises and employees," Trang said. "In particular, it is requested that the government and authorised agencies drastically direct the implementation of measures to promote the development of social housing and worker housing, especially pilot preferential policies integrated into mobilising capital and credit, associated with policies on the land fund."
She also said it is necessary to further clarify the government's land use planning, and project implementation locations to ensure the synchronisation of architectural infrastructure, contributing to the realisation of the project of building one million social houses by 2030.
"This is a big programme with profound humanity, helping low-income workers settle down," Trang said.
Meanwhile, NA deputy Le Thanh Van, representing the southernmost province of Ca Mau, underlined the need to improve the quality of many state cadres who directly perform administrative procedures.
"The quality of many cadres remains poor, affecting enterprises' performance and the economy's competitiveness," Van recommended.
Also, NA deputy Nguyen Manh Hung from the Mekong Delta city of Can Tho, stressed the need for long-term pro-business policies because, "the domestic demand is now decreasing strongly, with numerous unemployed people."
"For example, the VAT will be reduced from the existing 10 to 8%, but it will last only until the year's end. It is suggested that the reduction level can be 3% and last until mid-2024 so that enterprises' difficulties will be lessened and more employment can be generated," Hung said.
Source: Nhan Dan