Thu, 5th Oct 2023 04:11 (GMT +7)
Dung Quất EZ looks to develop 'green and smart' economy
Wednesday, 14/06/2023 | 09:56:32 [GMT +7]
A
A
The Dung Quất Economic Zone has been designed as a key 'green' and 'smart' and sustainable industrial complex and a breadwinner for the country's budget and the central province in 2045.
Head of the managing board of the zone, Hà Hoàng Việt Phương, said the adjustment of Master Plan on the zone, which was approved by the Prime Minister in February, will develop it as a multi-sector industry and sea-based economy centre on a total area of 45,332ha, including 1,492ha of the Lý Sơn Islands.
He said the zone will promote good infrastructure, and prioritise renewable energy and circular economy as magnetic factors to potential investors.
"The plan will help the Dung Quất EZ develop on three key pillars – industry, tourism and service – focusing on the core industries of oil refining, steel and shipyard building with the advantage of a deep-sea port system," Phương said.
"Five function areas have been assigned as eco-urban, logistics, airport and sea port service, supportive industries and high-tech farming. Lý Sơn Islands, 30km off the coast of Quảng Ngãi, will serve as a unique tourism attraction hub," he said.
Phương said the Prime Minister's Master Plan also included preferential policies for calling on more key investors in high-tech industries.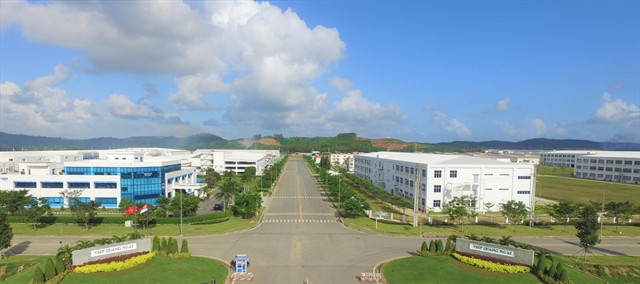 Investors would also enjoy a 10 per cent tax rate for 15 years, a four-year tax exemption and a 50 per cent cut in income tax for the following nine years, he said, adding a five-year free import tax on materials and semi-finished products used in production will be reserved for investors.
According to the latest report from the Dung Quất EZ, 346 projects have been in effect with nearly US$18 billion of investment capital, including 58 foreign direct investment (FDI) projects worth $1.84 billion.
Phương said domestic investors also poured $16 billion into 288 projects – 88 per cent of total investment in projects.
"250 operational projects created an industrial production value of VNĐ116 trillion ($4.6 billion) in 2022 – 113 times as much as the figure 20 years ago," he said.
"The zone also earned export turnover of $1.9 billion in 2022, contributing VNĐ223 trillion ($8.9 billion) to the State's budget in 2010-22. It also accounts for an 80 per cent share in the provincial annual budget and 65,000 jobs for local and neighbouring provinces," he added.
The head of Dung Quất EZ managing board also highlighted the Việt Nam-Singapore Industrial Park (VSIP) and South Korea heavy industries Doosan Enerbility Việt Nam (Doosan Vina) as two successful investment projects in the province.
Doosan Vina has invested $315 million to develop a 101ha industrial complex since 2006, earning revenue of $424 million from giant industrial equipment exports, he said.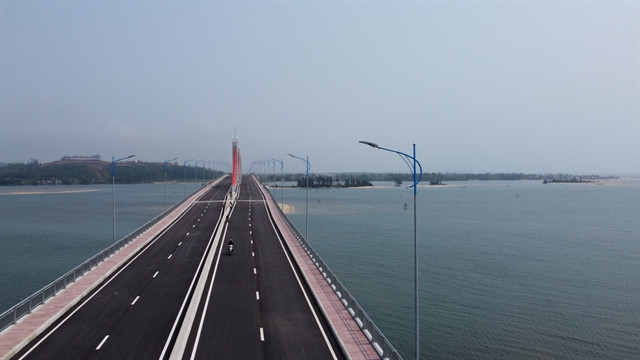 Meanwhile, VSIP – an iconic co-operation of Việt Nam and Singapore – had an investment capital of $337.8 million on 660ha, reserving industrial production space for projects in the fields of leather, textiles and garments, foodstuffs and beverages, creating more than 13,500 jobs for local residents and experts.
Hebei Xindadong Textiles Company of mainland China was seen as the biggest investor in the park with $38 million, followed by Hong Kong shoemaker Properwell, and Singapore's UMW Equipment Systems – an industrial and heavy machinery plant.
A deep-sea port system (19 to 21m deep) is seen as an advantage for investors as it could handle cargo vessels with 250,000 Deadweight tonnage (DWT), and it hosted 40 million tonnes in 2022.
Bình Sơn oil refinery is now refining 85 per cent of domestic crude and 15 per cent of crude imports, and the Dung Quất Refinery upgrading and expansion project was built with an investment of $1.8 billion in its second phase.
The expansion of the Dung Quất Refinery plant will help increase capacity of the refinery plant from 6.5 million tonnes of crude oil to 8.5 million tonnes per year.
The Dung Quất EZ has been bolstering connections with the Chu Lai Economic Open Zone in Quảng Nam along with the deep sea ports and airport systems of the two neighbouring provinces.
In early June, Dung Quất EZ granted an investment licence to Messer, an industrial gas company from Germany, with an investment of $133.3 million to build a plant on 7.24ha.
Source: Vietnam News