Tue, 6th Jun 2023 06:21 (GMT +7)
Doctors warn bird flu cases rising abnormally this summer
Tuesday, 19/07/2022 | 09:47:08 [GMT +7]
A
A
Hospitals in Hà Nội have reported an increasing number of people infected with influenza A since early this month, even though the flu is usually more prevalent during the transition between winter and spring.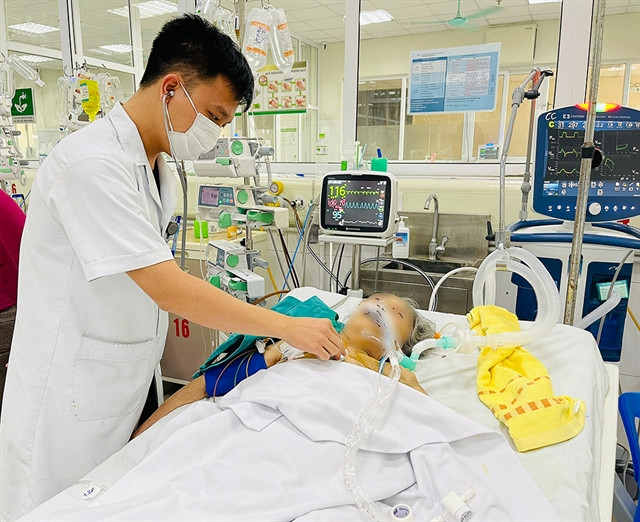 An elderly patient infected with influenza A is treated at National Hospital for Tropical Diseases. — Photo courtesy of the hospital
At least one outbreak of influenza A and transmission chains have been detected in the city. Some influenza A cases are in serious condition and require breathing support.
The National Hospital for Tropical Diseases has recorded a cluster of influenza A cases, including 20 workers at an industrial park in a suburban district of Đông Anh. The patients, aged 20-30 years old, arrived at the hospital with similar symptoms; headaches, fever, and body aches. Through rapid testing, most of the patients were found to have influenza A.
According to the patients, there are many other cases with similar symptoms in the industrial zone where they work. More than ten children with flu symptoms, who are relatives of workers, tested positive for influenza A later.
Avian influenza or bird flu refers to the disease caused by infection with avian (bird) influenza (flu) Type A viruses, including H1N1, H5N1 and H7N9.
The symptoms of bird flu virus infections in humans can range from mild illness to severe symptoms such as pneumonia and include fever coughing, a sore throat, runny or stuffy nose, muscle or body aches, headaches, fatigue, and shortness of breath or difficulty breathing. Less common signs and symptoms include diarrhoea, nausea, vomiting, or seizures.
Bird flu virus infection in people cannot be diagnosed by clinical signs and symptoms alone; laboratory testing is needed. Bird flu virus infections are usually diagnosed by collecting a swab from the upper respiratory tract (nose or throat) of the sick person. Testing is more accurate when the swab is collected during the first few days of illness.
According to the hospital, within the last two weeks, nearly 100 people have been found with bird flu. Of those, the hospital has recorded some severe cases. Many cases have pneumonia and are being monitored for treatment. Some severe cases require ventilation.
Doctor Văn Đình Tráng from the hospital's Department of Microbiology - Molecular Biology said that out of 100 samples brought to the department in the last few weeks, 60 per cent tested positive for influenza A.
Influenza virus disease is common in the cold season. However, for people with weak immune systems such as the elderly, pregnant or young children, the risk of the illness is year-round, according to Doctor Nguyễn Kim Thư, head of Virology - Parasitology Department of the National Hospital for Tropical Diseases.
Young patients with influenza A usually only have mild symptoms. However, for the elderly, people with cardiovascular and respiratory diseases, and children under five years old, the disease poses a higher rate of severe progression and death.
"As the illness tends to spread widely, people with symptoms of acute sneezing and a runny nose should limit contact with elderly people, particularly those with many underlying diseases. People should take the initiative to vaccinate against influenza A early," he said, noting that the bid flu this year came earlier than usual.
"When people have symptoms of influenza A, such as headaches, fever, runny nose, fatigue or chills, they need to go to a medical facility for examination, so that they can receive early and appropriate treatment," Thư recommended.
Doctor Lê Xuân Toản from the Department of Infectious Diseases, Đống Đa General Hospital said that from June to now, the hospital detected 166 patients with influenza A, of which 84 needed to be hospitalised.
All hospitalised patients were those with serious underlying diseases and pneumonia. Most patients with pneumonia would have to use the antiviral drug tamiflu, antibiotics, anti-inflammatories and expectorants, and would be closely monitored.
Patients with severe progression and severe pneumonia would have to receive breathing support and resuscitation measures.
Meanwhile, in the northern province of Quảng Ninh, over the past week the Department of Tropical Diseases under Bãi Cháy Hospital also recorded a sudden increase in the number of patients with influenza A.
On average, 20-30 patients were admitted to the hospital every day due to influenza A.
Nguyễn Thị Ánh Chi from Hạ Long City said that when she noticed a cough and a mild fever, she tested herself for COVID-19 at home and the result was negative.
At the hospital, she was diagnosed with influenza A and had to be hospitalised for treatment. After four days, she felt better.
Doctor Hoàng Thị Thanh Hoa, from the Tropical Diseases Department of Bãi Cháy Hospital, said that influenza A's spread at this time was partly because people were paying less attention to wearing masks in public spaces.
Moreover, during the summer holidays, people tended to travel and meet more so the spread rate increases, Hoa said.
The Pediatrics Department of Bãi Cháy Hospital also saw an increasing number of children infected with influenza A, receiving about 20 child patients with bird flu a day.
Doctor Hà Thị Duyên from the department said that to prevent influenza A, parents should give their children an annual flu vaccine about one month before the flu season, usually falling in March, April, September and October.
When children have severe signs such as diarrhoea, high fever, lethargy, poor appetite, and vomiting, they need to be hospitalised for treatment.
In addition, parents should provide their children with a healthy diet, improve their immune system, and avoid crowded places, especially when many bird flu cases were reported.
Source: Vietnam News