Fri, 8th Dec 2023 10:48 (GMT +7)
Cruising along the jade Nho Que River: An unforgettable travel experience for visitors to Ha Giang
Thursday, 30/03/2023 | 09:10:51 [GMT +7]
A
A
Although it was launched later than many other tours and tourist destinations in Dong Van Karst Plateau Global Geopark, the journey to discover Nho Que River by boat has quickly attracted great interest from visitors to the northern province of Ha Giang.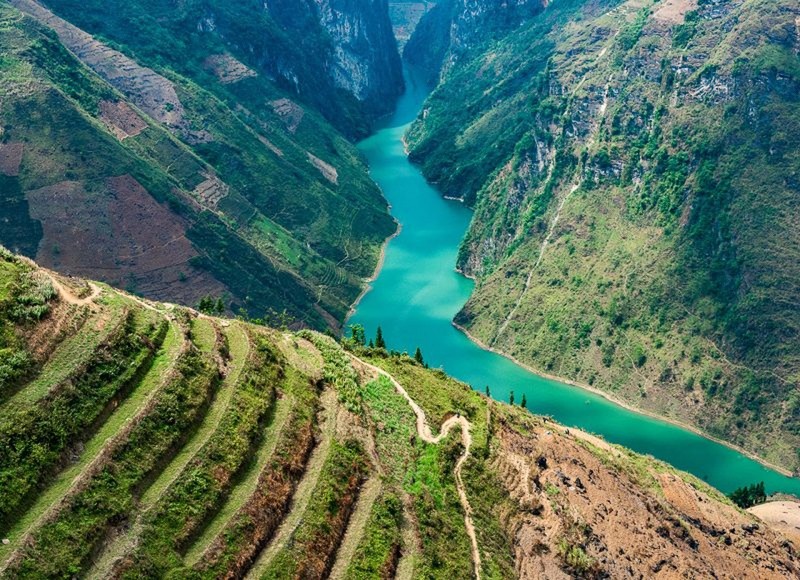 Nho Que River starts its flow in the Nghiem Son Mountain region of Yunnan Province, China. As it enters Vietnam, it becomes a border river through the communes of Lung Cu and Ma Le in Dong Van District, Ha Giang Province, and then continues to Cao Bang Province before joining the Gam River.
Although its section in Vietnam is only about 50km long, it crosses special terrain areas, creating majestic and spectacular landscapes, especially the 800m-deep Tu San Canyon - the deepest canyon in Southeast Asia.
In the past, the river water was mainly utilised for irrigation and fisheries on the riverbanks. It was difficult to do tourism activities on the river because of the strong flows and many rapids. Since a number of hydropower plants were built on Nho Que River, the water has been regulated, making it easier to unlock the tourism potential of the river.
There are many stops for tourists to enjoy the scenery during their journey from Dong Van District to Meo Vac District, then crossing the winding Ma Pi Leng Pass.
Even on cloudy days, Nho Que River still stands out in the deep abyss because of its very special jade colour. The river looks like to a soft silk strip, making the whole Dong Van Plateau appear more gentle and poetic.
In 2019, the Tu San Agriculture and Tourism Service Cooperative was established to manage and improve the quality of tourism products, thus promoting the potential of natural landscape and indigenous culture. The cooperative has launched boat tours along Nho Que River, offering exciting travel experience for visitors.
Boat tours on Nho Que River often last about 1.5 hours, allowing visitors to gently cruise on the deep jade water, enjoy the fresh and cool air, and admire the magnificent cliffs, immense green forests as well as waterfalls falling from above cave entries.
The boat will take a rest at the entrance of Tu San Canyon for tourists to take photos in front of the two giant cliffs.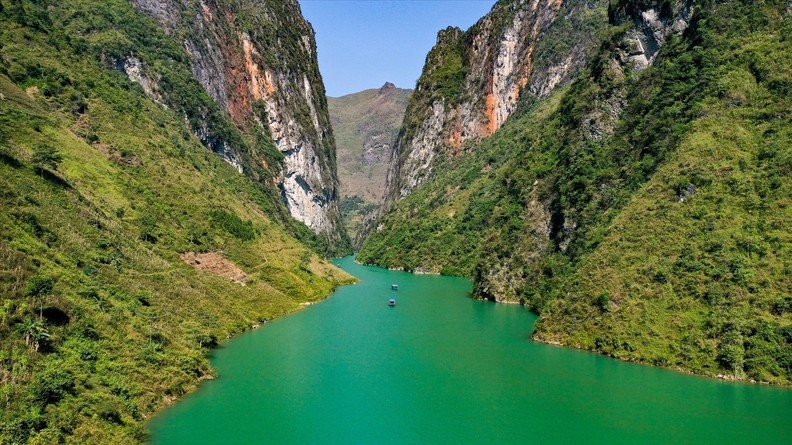 According to geological documents, Tu San Canyon on Nho Que River has a cliff height of nearly 900m, a length of 1.7km, and a depth of nearly 1km. At the foot of the canyon, where the sun cannot reach, the air is always cool.
Looking up to the blue sky, one can see countless old trees and vines clinging to two great walls of stone, which might have been there for millions of years, creating an overwhelming beauty that can leave deep impression on any visitor.
Tu San Canyon has been selected to be placed at the centre of the logo of Dong Van Karst Plateau Geopark.
In 2009, the Ministry of Culture, Sports and Tourism recognised this area as a national scenic landscape relic while Nho Que River was honoured as one of the unique geological tectonic valleys of Vietnam.
During boat tours, visitors can swim in the river, kayak or SUP (stand up board), go fishing, and camp on the riverbanks.
As for those who are interested in local culture, they can walk through corn fields and buckwheat hills to explore the lives of people in villages of Ta Lang and Hau Chua, which are home to H'mong and Giay ethnic groups.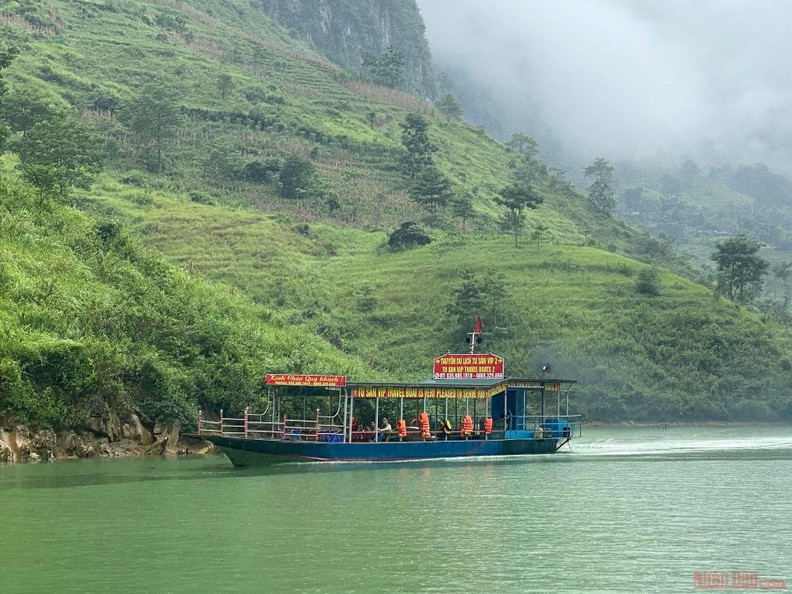 In addition to tours on the lake side of Nho Que 1 Hydropower Lake in Pai Lung Commune, Meo Vac District, visitors can also experience the other side of Nho Que River during a boat tour in Nho Que 3 Hydropower Lake in Ku Vai Commune, Meo Vac District.
Instead of sailing through the spectacular Tu San Canyon, the tour takes visitors to explore more poetic and quieter ambiance of Nho Que River.
Tourists are introduced to the life and culture of people living around the lakebed, visit beautiful attractions, and enjoy traditional cuisine of locals.
Visitors can come to Nho Que River at any time of the year because the river and its banks are beautiful in their own nuances in every season. In spring, the clear jade water is adorned with pink peach blossoms and white plum blossoms. Summer is the best time to play water sports. When autumn comes, the forests change their leaves, immersing the space in a romantic atmosphere. Winter is when the Buckwheat Festival takes place with a wide range of exciting activities.
Nho Que River has risen into a bright spot attracting domestic and international tourists to Ha Giang Province. A trip to a remote and wild but enchanting place featuring mountains, forests, rivers, and the rustic lifestyle of the Northeast region will surely bring unforgettable impressions to any vacationers.
Source: Nhan Dan