Sun, 28th May 2023 13:01 (GMT +7)
British Council postpones IELTS tests in Vietnam
Thursday, 10/11/2022 | 14:42:28 [GMT +7]
A
A
The British Council has announced the postponement of all IELTS tests scheduled to be held in Vietnam from Thursday until further notice.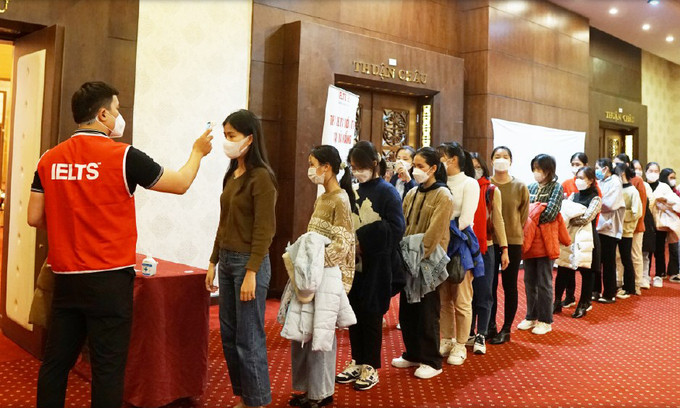 IELTS candidates received an email from the British Council on Wednesday informing them about it.
Its website says: "Unfortunately, the situation is beyond our control and affects all foreign language tests.
"Resumption of testing is subject to approval by the Ministry of Education and Training, with whom we are working closely to restore operations as soon as possible.
"We will be providing a free transfer to all affected test takers, and we will reach out to all of you directly via email when the test sessions are allowed to resume."
British Council's announcement came after the Ministry of Education and Training on Tuesday asked education departments at all cities and provinces to review the organization of foreign language tests in their areas and report to the ministry.
A ministry's circular said only organizations and individuals that receive approval or renewed approval from the ministry can organize foreign language tests.
Dinh Quang Tung, a teacher at an IETLS center in HCMC, said the website has stopped receiving computer-based exam applications until November 16.
IDP, another institution that organizes IELTS tests, has also stopped accepting applications for the test until the end of this week.
British Council and IDP are the two units organizing IELTS tests in Vietnam.
An IELTS certificate is used for admissions to educational institutions, work and immigration purposes and is recognized in more than 140 countries.
In Vietnam, many universities use it for entrance examinations and recognition of foreign language output standards.
Source: VnExpress