Thu, 5th Oct 2023 01:59 (GMT +7)
7 Quy Nhon summer travel experiences to enjoy from dawn till dusk
Monday, 29/05/2023 | 08:04:35 [GMT +7]
A
A
Watching the sun come up on 'Queen' beach, camping overnight at an ancient village or trying signature shrimp pancakes are among the top travel experiences on offer in Quy Nhon, sometimes described as 'Vietnam's Maldives.'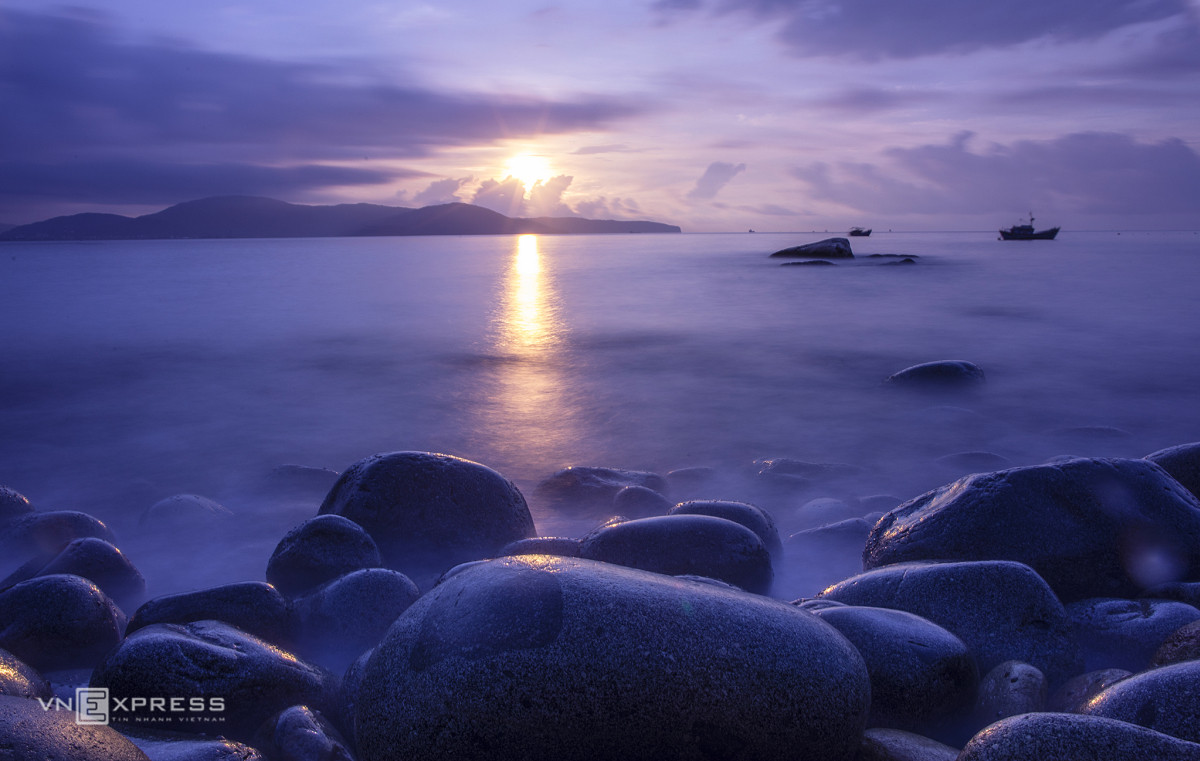 Dawn on Queen (Hoang Hau) Beach, located on Ghenh Rang Hill, two kilometers from downtown Quy Nhon.
According to the locals, Queen Nam Phuong, consort of Bao Dai, Vietnam's last king, chose the spot for a private holiday with her husband in 1927, thus giving the beach its name.
A unique, distinct feature of the beach is the presence of hundreds of round stones like giant bird's eggs.
The poet's grave lies on Thi Nhan Hill in Ghenh Ranh Tourism Area, a few minutes' walk from Hoang Hau Beach.
The beach is not far from the tomb of Han Mac Tu, a talented Vietnamese poet who tragically died young.
Tu's poems emerged during the 1920s-30s as the heartbroken voice of a young soul. He contracted leprosy, then an incurable disease, in 1937 and spent the rest of his life at Quy Hoa Leprosy Village, established in 1929 by a French priest named Paul Maheu. He died two years later, just 28 years old.
Photo by Ngoc Thanh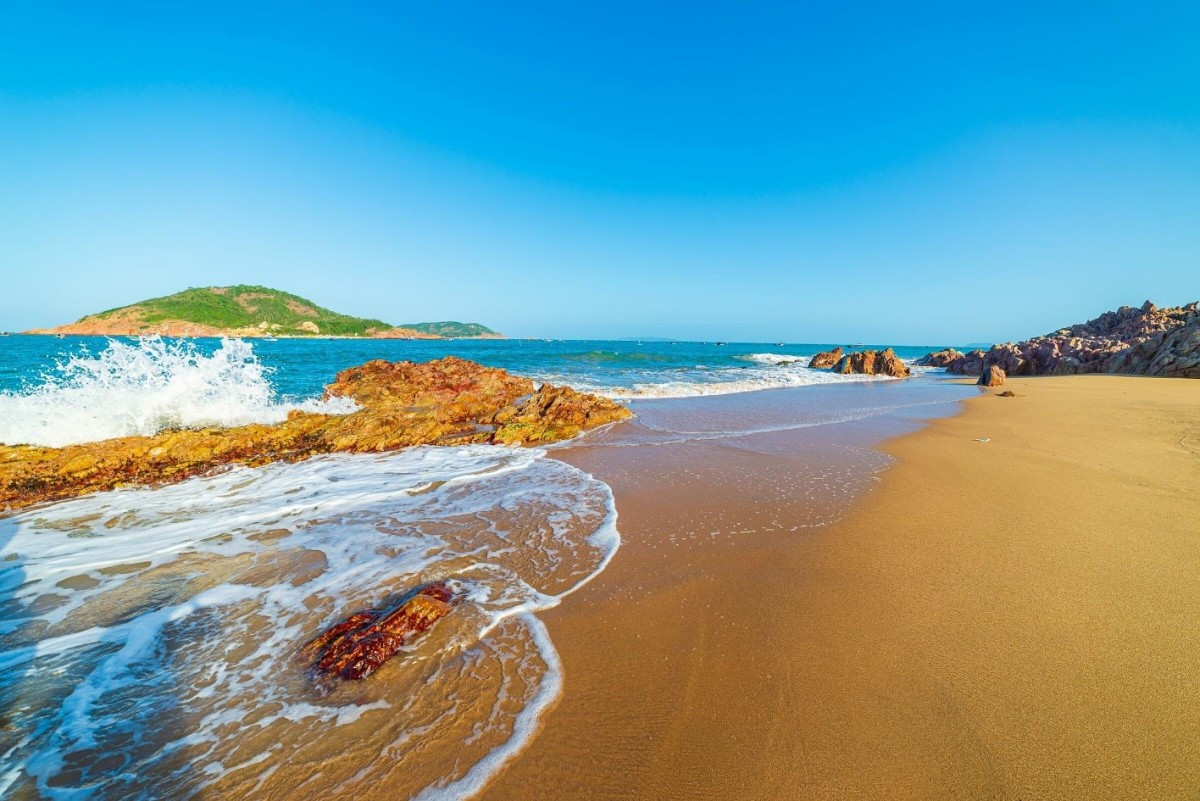 Covering an area of only one square kilometer by Quy Hoa Beach in Ghenh Rang Ward, Bai Xep is said to be the oldest fishing village in the city.
The village is home to around 100 people, all of whom earn their living fishing and/or raising shrimp and certain varieties of fish in the shore areas.
In 2016, the village became famous after it was listed by American news site Business Insider as "one of 16 hidden gems" of Asia.
Some locals have started homestay businesses and coffee shops in response to the tourism boom.
One of the best ways to relax here is to rent a bamboo rod and go fishing.
Photo by Huu Khoa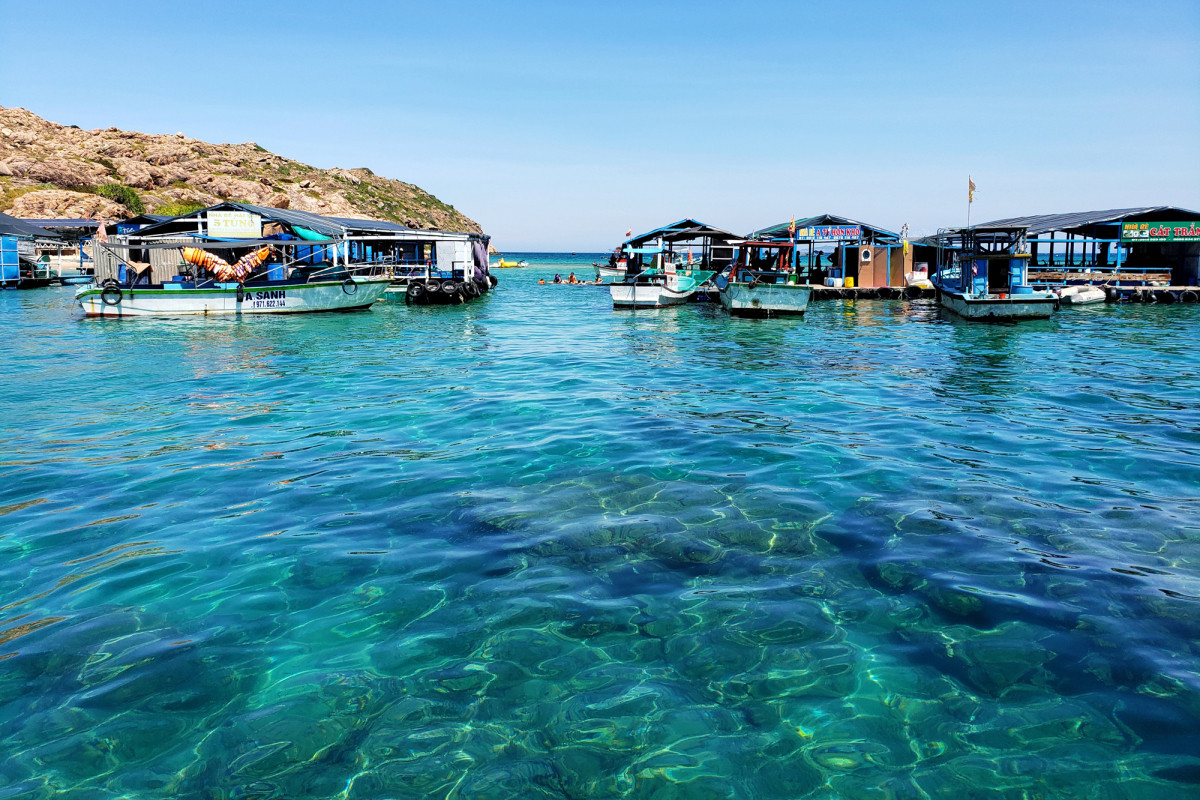 Just three minutes from Nhon Hai fishing village by canoe is Kho (Dry) Islet, the most populous islet in Quy Nhon. It is difficult, if not impossible, to find a place to stay overnight here.
A range of typical beach activities can be enjoyed here, including diving among coral, adventure beach games and snacking on seafood.
A boat or jet ski can be rented for VND300,000-500,000 ($13-22) per group or VND50,000 per person.
A small sandbank in the middle of Kho Islet is a sea turtle conservation area. At night one can see sea turtles laying eggs here.
Photo by Nguyen Chi Nam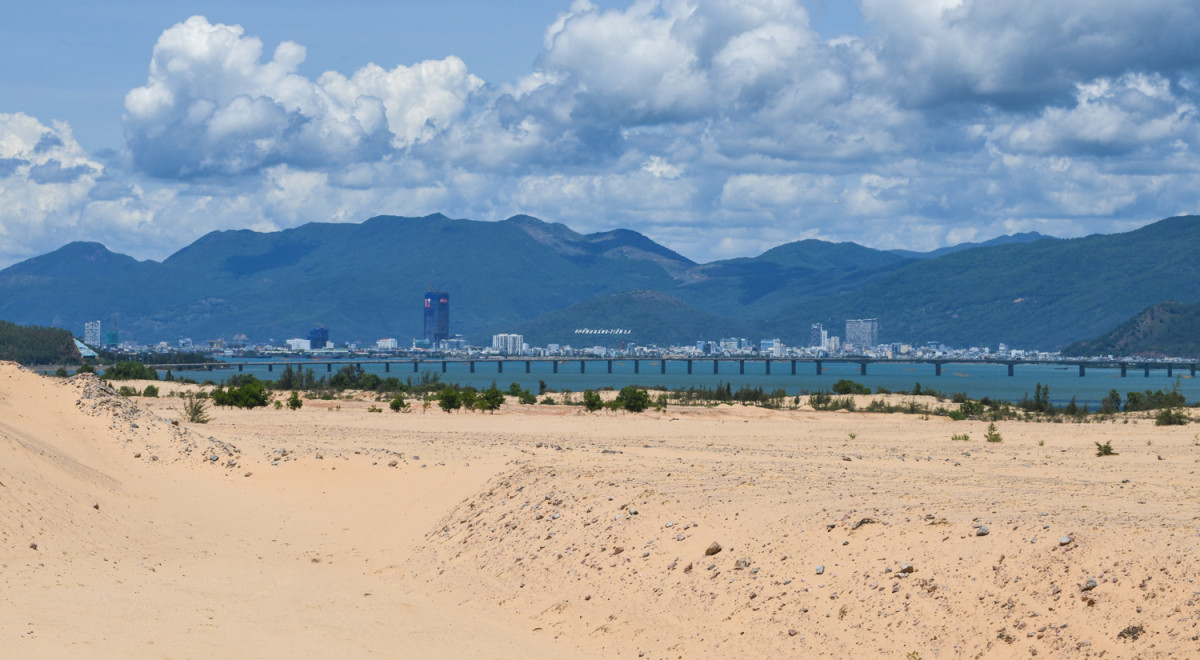 Around 10 km from downtown Quy Nhon, Phuong Mai Peninsula has large sand dunes with a view towards Thi Nai Lagoon.
The sand dunes in Phuong Mai are said to be ideal for sandboarding because of the height from 20 to 100 m above sea level and the moderate slope.
Phuong Mai used to be deserted, though nowadays, the peninsula has transformed into a popular tourist destination thanks to infrastructure development.
Photo by Kieu Duong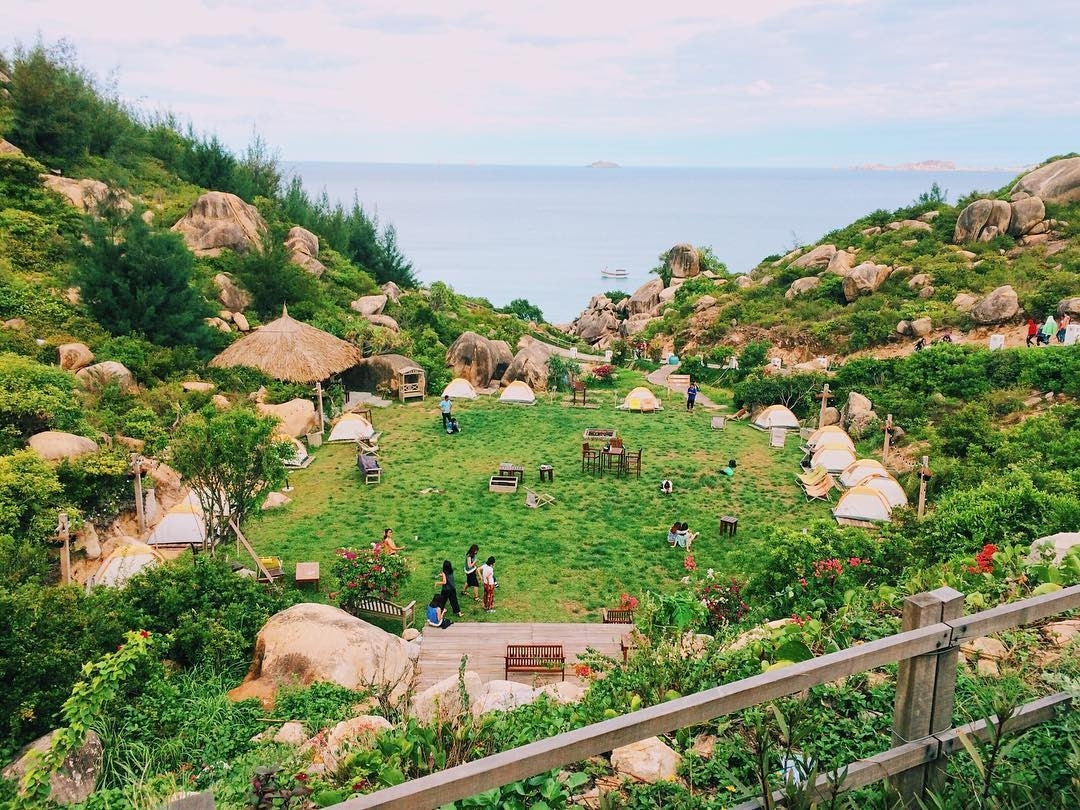 Around 30 kilometers from downtown Quy Nhon is the Trung Luong camping site, which has emerged as a popular eco-tourism destination in recent years.
The picnic area is open from 8 a.m. to 8 p.m. daily. Those not carrying a tent can rent one for about VND300,000 per night for two.
At night, visitors can sit around a campfire and enjoy BBQ under the starry sky.
Photo by Nguyen Phuoc Hoai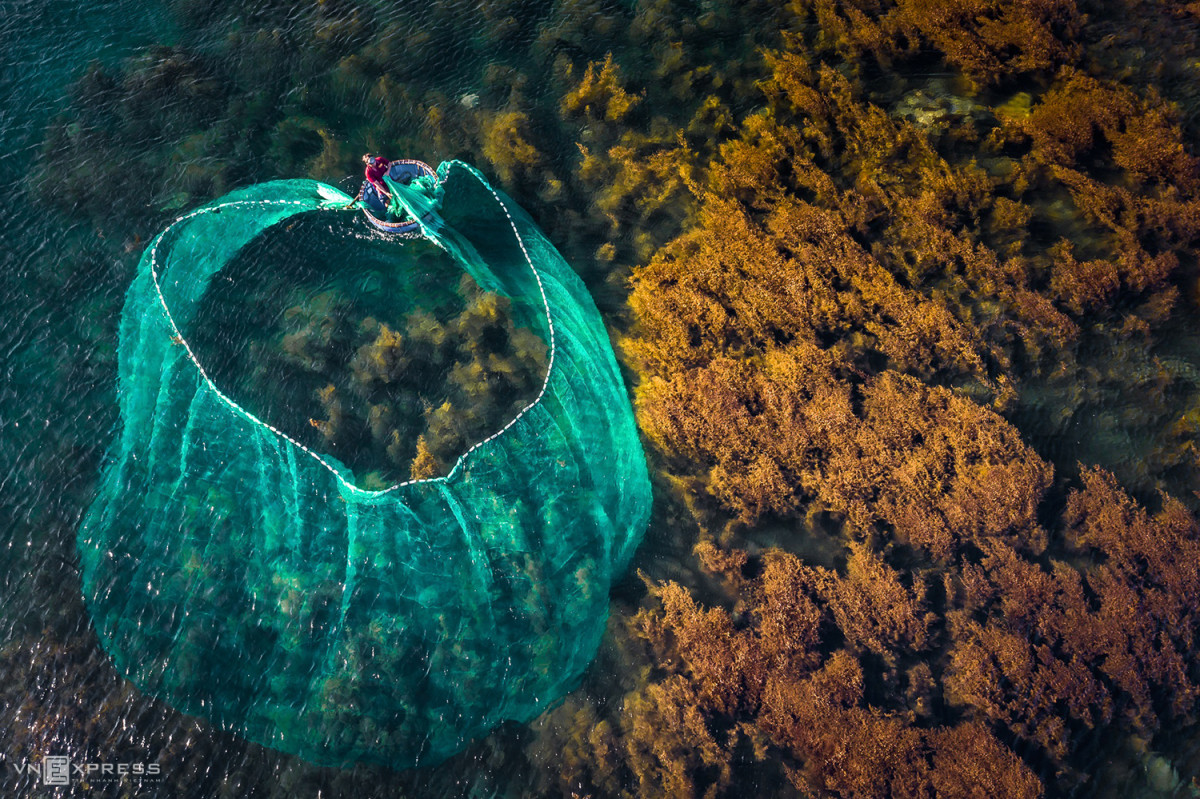 Fishermen paddle a coral boat along the Nhon Hai coast, covered by a forest of sargassum.
Nhon Hai Beach, about 30 km from downtown Quy Nhon, has been gathering the attention of tourists in recent years.
Locals say that layers of the seaweed called Sargassum which usually thrives on coral reefs and underwater rocks emerge from the water surface once they are fully grown, during the dry season between May and July.
This is also the ideal time to harvest seaweed that is used as medicine for goiter and as fertilizer, so this is the time of year that fishermen go out in their coracles with fishing nets.
Photo by Vy An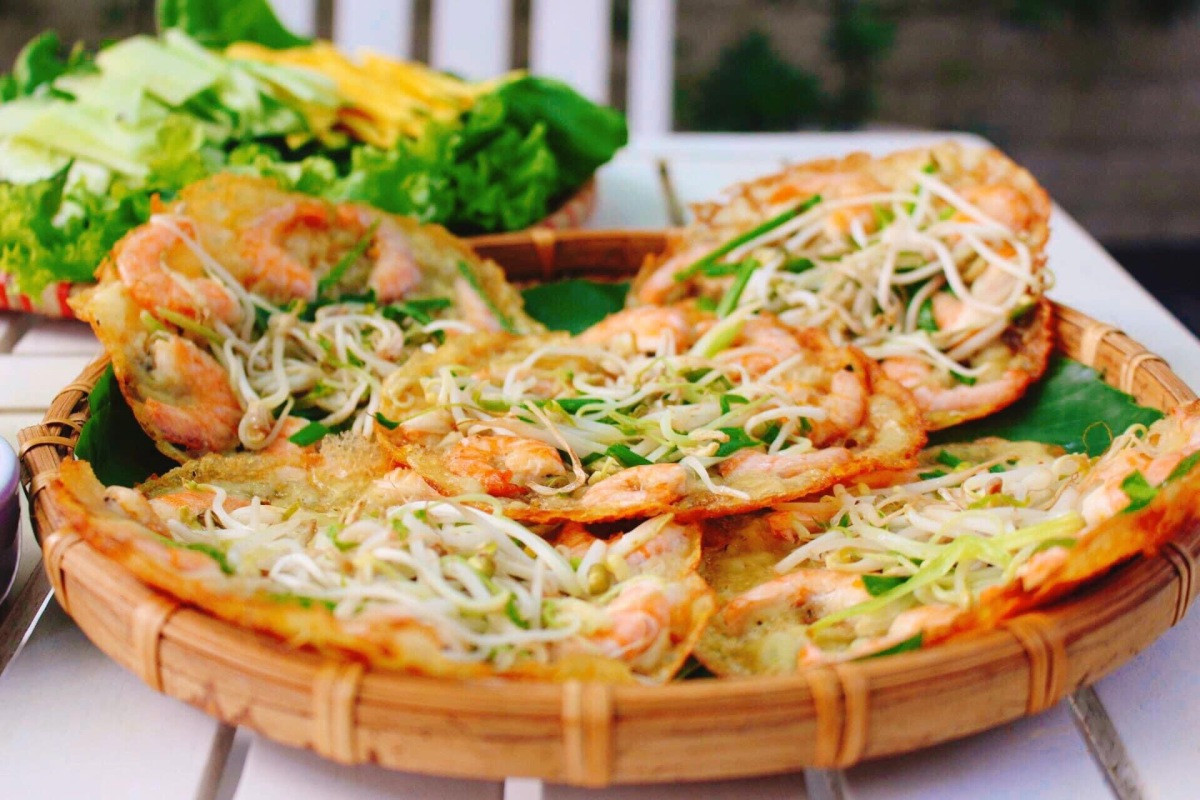 A must-try culinary treat on a Quy Nhon tour is the 'jumping shrimp pancake.'
The special name of the dish comes from special ingredients that creates the signature pancakes of Binh Dinh Province - red, round and fresh shrimps that are tossed in the frying pan. To this crispy pancake are added bean sprouts, onion, and green onions.
It is served with a tray of greens herbs, rice paper, and sweet fish sauce. Take a piece of rice paper, add the herbs and a piece of pancake, roll it and dip into the fish sauce before munching away.
The best jumping shrimp pancake can be found at Gia Vy 2 Restaurant on Dien Hong Street or Mrs. Nam's shop near My Cang Bridge on Tuy Phuoc District.
As one of Vietnam's top beach paradises in central Vietnam, most food stalls in Quy Nhon are open until midnight.
If you want to taste more of Quy Nhon cuisine, do not miss chicken rice on Le Hong Phong Street, banh hoi (rice vermicelli woven into intricate bundles) served with pork offal on Nguyen Chanh and Tran Phu streets, seafood on Xuan Dieu Street, fish noodles on Nguyen Hue Street and jelly-fish noodles on Phan Chau Trinh Street.
This summer, Quy Nhon is expected to become more crowded and bustling as VnExpress Marathon Sparkling Quy Nhon will take place on June 11, and is expected to attract 10,000 participants.
Runners will start at 3 a.m., and run across the city's most stunning coastal roads such as Xuan Dieu, Nguyen Tat Thanh, Thi Nai Bridge, and Phuong Mai sand hill.
Source: VnExpress