Sun, 28th May 2023 13:46 (GMT +7)
VTV owns 2022 World Cup broadcasting rights
Friday, 28/10/2022 | 10:21:30 [GMT +7]
A
A
Việt Nam Television (VTV) has finally owned right to broadcast the 2022 FIFA World Cup this November.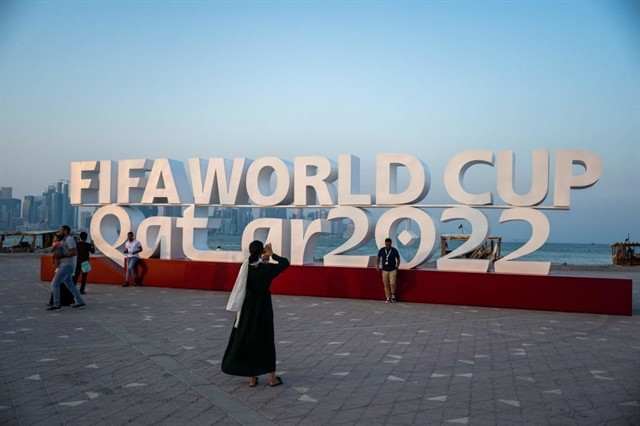 VTV on October 26 announced that after months of negotiation, the State-owned TV broadcaster will exclusively air the world's largest football competition live in Việt Nam.
VTV is licensed the rights to broadcast all programmes relating to the coming World Cup in Vietnamese territory, including the broadcasting rights on television (terrestrial, cable, satellite, Internet Protocol Television) and radio and on mobile and internet platforms, with the over the top (OTT) service included.
Accordingly, all 64 matches of the tournament will be aired live on channels VTV2, VTV3, VTV5, and VTV Cần Thơ, as well as through its VTVGo application, along with new-format commentary shows before, at interval time and after each match.
VTV refused to disclose the price of the deal, but sources said the national TV broadcaster is likely to spend no less than US$15 million, which is about $3 million higher than the 2018 World Cup, thanks to the support of sponsors and partners.
Those interested in sharing the FIFA World Cup 2022 media copyright in the territory of Việt Nam must have an agreement with VTV and must be approved in writing by FIFA.
Elsewhere in Southeast Asia, countries such as Malaysia, the Philippines, Brunei, Cambodia, Timor Leste and Indonesia have all secured the broadcasting rights of the tournament.
The FIFA World Cup 2022 tournament is scheduled to take place in eight localities from November 20 to December 18 in Qatar.
This year's tournament will be the last one with 32 teams, with the next one featuring 48.
Group A: Qatar, Ecuador, Senegal, the Netherlands
Group B: England, Iran, the US, Wales
Group C: Argentina, Saudi Arabia, Mexico, Poland
Group D: France, Australia, Denmark, Tunisia
Group E: Spain, Costa Rica, Germany, Japan
Group F: Belgium, Canada, Morocco, Croatia
Group G: Brazil, Serbia, Switzerland, Cameroon
Group H: Portugal, Ghana, Uruguay, South Korea
Source: Vietnam News