Wed, 4th Oct 2023 13:43 (GMT +7)
VN-Index extends five-session rally, albeit with declining liquidity
Wednesday, 28/06/2023 | 09:08:15 [GMT +7]
A
A
Shares extended the rallying streak on the Hồ Chí Minh Stock Exchange but liquidity decreased significantly.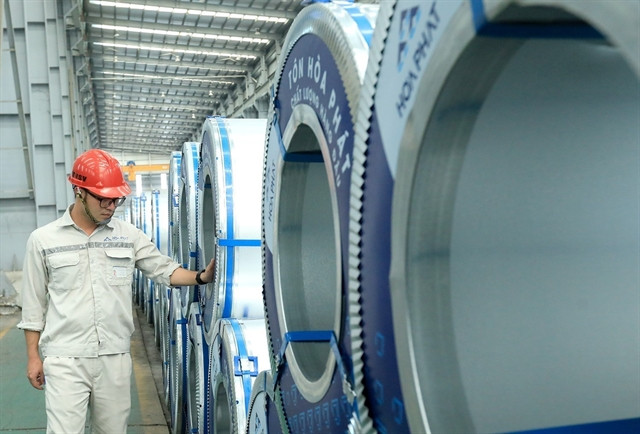 The VN-Index edged up just 0.2 per cent to end Tuesday at 1,134.33 points, its slowest growth rate in the past five-session rally.
However, liquidity dropped to 722 million shares worth VNĐ14.7 trillion (US$620 million), down 31 per cent in volume and 28 per cent in value compared to Monday's levels, as well as the lowest since June 20.
Foreign traders were net sellers on the southern bourse for a third day in a row, responsible for a net sell value of VNĐ468 billion.
Steel giant Hòa Phát Group (HPG) and Vingroup's trio of stocks – Vincom Retail (VRE), Vinhomes (VHM) and Vingroup (VIC) – were the market's main supporters. HPG increased 2.4 per cent while VRE climbed 2.8 per cent and VHM and VIC grew by less than 1 per cent each.
Despite the overall net selling, foreign traders continued to show interest in Hòa Phát's shares. HPG topped their buying list with a net value of VNĐ139.5 billion on Monday. Since the beginning of June, foreign investors have net bought VNĐ1.2 trillion of shares in Việt Nam's largest steelmaker, bringing the total for this year to VNĐ4.2 trillion, making HPG the most sought-after share by foreign traders on the stock exchange.
Apart from the supply-demand dynamics, the relatively optimistic recovery prospects of the steel industry in general, and Hòa Phát in particular, may be attracting foreign investors. Not only industry leaders but also many analysts believe that the steel industry's most challenging period has passed.
According to the Vietnam Steel Association (VSA), steel production in May reached two million tonnes, a 3.1 per cent increase compared to the previous month. Export volume experienced impressive growth of 29.7 per cent month-on-month, reaching 822,657 tonnes, nearly 52 per cent higher than the same period last year.
In May, Hòa Phát's sales of steel products (construction steel, hot rolled coil, and billet) reached 530,000 tonnes, a 20 per cent decrease compared to the same period last year but a 16 per cent increase from April. This marked the company's highest steel consumption since the beginning of the year.
According to Yuanta Securities Co, the market's uptrend is expected to continue as it enters the closing week of the net asset value of funds in the second quarter of 2023. The VN-Index may retest the resistance zone of 1,135 – 1,145 points in the next session.
However, analysts also highlighted the increasing short-term risks, indicating that it may be a challenging period to find high profits. The market's growth indicators are pointing towards the overbought zone, suggesting the possibility of corrections in the next trading sessions.
On the Hà Nội Stock Exchange, in contrast, the HNX-Index declined for the third consecutive day, albeit with a minor decrease of 0.1 per cent, closing at 230.82 points.
Liquidity also significantly declined, with only 76 million shares valued at VNĐ1.4 trillion being traded. This represented a 38 per cent decrease in volume and a 34 per cent decline in value compared to Monday's levels.
Source: Vietnam News