Fri, 8th Dec 2023 10:27 (GMT +7)
Vietnamese rescuers join hands with int'l forces to save victims of earthquake in Turkey
Monday, 13/02/2023 | 08:10:08 [GMT +7]
A
A
The rescue mission of the Vietnamese Ministry of Public Security discovered and coordinated with international forces to rescue a victim trapped in the rubble caused by the 7.8 magnitude earthquake in Turkey on February 11, the first day of their rescue operation in Adiyaman city.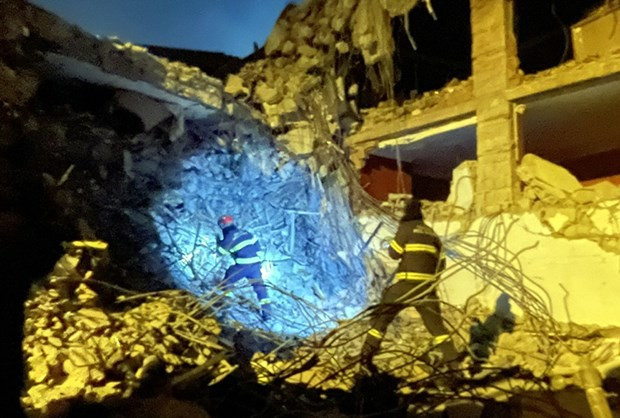 According to head of the team Colonel Nguyen Minh Khuong, the Vietnamese rescue team arrived in the site at 7:30am on the same day. With Vietnam's specialised equipment and Turkish motorised vehicles, Vietnam's rescue team actively worked and almost completely cleaned the site on 6:30pm on the same day, removing hazardous elements that can cause collapses.
They also used ultrasound and cameras to search for victims, and detected signs of life in collapse area.
Immediately after their detection, the Vietnamese rescue team coordinated with the Turkish coordination agency and the Pakistani rescue team to rescue a 14-year-old victim at 10:10pm.
The international rescue mission of the Ministry of Public Security of Vietnam, consisting of 24 well-trained and experienced soldiers who have participated in many rescues, arrived in Turkey on February 9.
The Vietnamese embassies in Turkey and Syria said they have been keeping close contact with local authorities and the Vietnamese community in the two countries to get information about the possibility of Vietnamese casualties in the earthquake. They have also prepared plans to quickly deploy citizen protection measures in case of necessity.
The embassies said so far, there was no information on Vietnamese citizens dead or injured in the disaster.
The embassy in Turkey reported that six Vietnamese citizens have been affected by the earthquake, and they are facing many difficulties. The embassy has provided financial support and goods to help them overcome the difficult time.
In recent days, the embassies have deployed a number of practical activities to support rescue work such as raising funds and providing essential supplies for victims affected by the earthquake.
Source: Nhan Dan