Wed, 4th Oct 2023 13:30 (GMT +7)
Vietnamese products impress visitors at int'l food expo
Wednesday, 13/09/2023 | 14:30:00 [GMT +7]
A
A
The Vietnamese pavilion has received impressive attention from visitors at the ongoing international Fine Food Australia 2023 Expo taking place from September 11-14 in Sydney.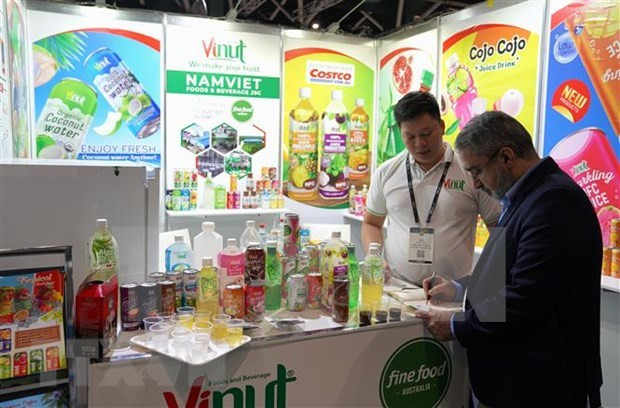 Nguyen Phu Hoa, head of Vietnam Trade Office in Australia, said that many Vietnamese products have attracted importers, distributors and locals at the event such as coconut juice, longan, dragon fruit, coffee, tea, instant noodles, rice, and aquatic and handicraft products.
He revealed that in 2023, the office will take part in several international exhibitions and organise a "Vietnamse products week" to promote the country's exports while seeking a linkage to international partners. He said he hopes that the presence of the Vietnamese pavilions at Australia's leading international exhibitions will support the penetration of Vietnamese products in the host country.
The stall also provides foreign partners with information on Vietnamese major enterprises.
Vo Trung Hieu, Vinamilk's International Business Director, highlighted that the event is a good opportunity for Vietnamese enterprises to directly approach buyers and representatives of supermarkets and retail chains who are seeking for partners. He highlighted that Vietnam has signed several trade accords with foreign partners which is an advantage, helping consumers to favour "Made in Vietnam" products.
Tristan Tran, a Vietnamese product distributor in Australia, said the increasing sales of Vietnamese products have consolidated trust of local consumers on products from Vietnam.
The expo is expected to provide an overview of the food market in Australia as well as the world for Vietnamese agricultural manufacturers, share experiences and update market trends, new regulations on food preservation, traceability and cultivation as well as harvesting.
As the food industry's leading international trade event, the annual Fine Food Australia showcases food and drink from across Australia and the world, bringing together thousands of businesses and hundreds of experts in the food and beverage, hotels and restaurants industry, manufacturers, exporters, importers, wholesalers, retailers, buyers, suppliers, and service providers.
Source:VNA