Sun, 10th Dec 2023 14:34 (GMT +7)
Vietnamese PM, Brazilian President discuss measures for augmenting ties
Wednesday, 27/09/2023 | 10:54:54 [GMT +7]
A
A
The leaders were unanimous in fostering ties in new areas of common interest. They highly valued the important documents relevant to diplomacy, education - training, defence, and agriculture signed during this visit.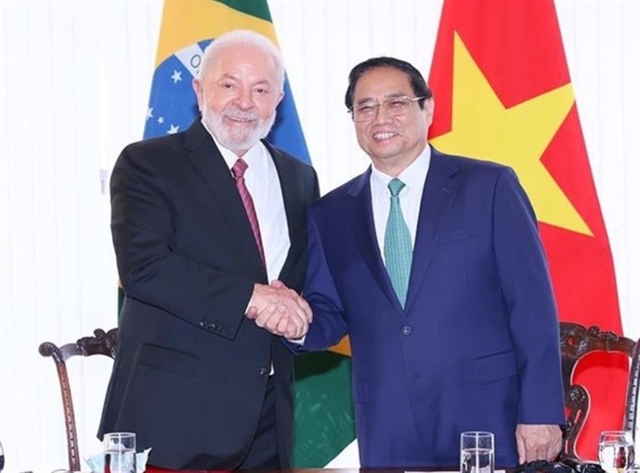 Vietnamese Prime Minister Phạm Minh Chính and Brazilian President Luiz Inacio Lula da Silva held talks in Brasilia on September 25 (Brazil time) as part of the Vietnamese leader's official visit to the South American country.
Welcoming PM Chính and the high-ranking delegation of Việt Nam, the Brazilian President expressed his belief that the visit would help develop the two countries' traditional friendship and sound cooperation to a new height, thus actively contributing to peace, stability, and development in the two regions and the world.
PM Chính voiced his delight at the growing Việt Nam-Brazil relations and stressed that Việt Nam attached importance to the ties with Brazil, one of its leading partners in Latin America.
The two leaders noted with satisfaction that bilateral relations had been flourishing and becoming increasingly effective and substantive, especially in politics-diplomacy, parliament, economy, trade, defence-security, agriculture, science-technology, culture, education, and people-to-people exchanges.
Frequent high-level meetings and mutual visits had been maintained. Besides, bilateral trade had increased steadily to approximately US$6.8 billion in 2022 and $3.3 billion in the first half of 2023, demonstrating Brazil as the top and a highly potential trading partner of Việt Nam in Latin America, they said.
Both sides agreed to keep increasing mutual visits and meetings at all levels between the countries' Parties, States, Governments, and parliaments; coordinate to organise activities marking the 35th anniversary of bilateral diplomatic ties in 2024; effectively implement the existing political consultation and economic-trade cooperation mechanisms, and hold the third meeting of the Joint Committee for Economic-Trade Cooperation soon; and strive to raise bilateral trade to $10 billion by 2025 and $15 billion by 2030.
They also agreed to continue promoting the start of negotiations on a free trade agreement between Việt Nam and the Southern Common Market (MERCOSUR), of which Brazil is a member. They held that once signed and taking effect, this agreement would create momentum for business, trade, and investment partnerships, thus generating substantive results for enterprises and people of Việt Nam and MERCOSUR member countries while enhancing inter-regional economic connections.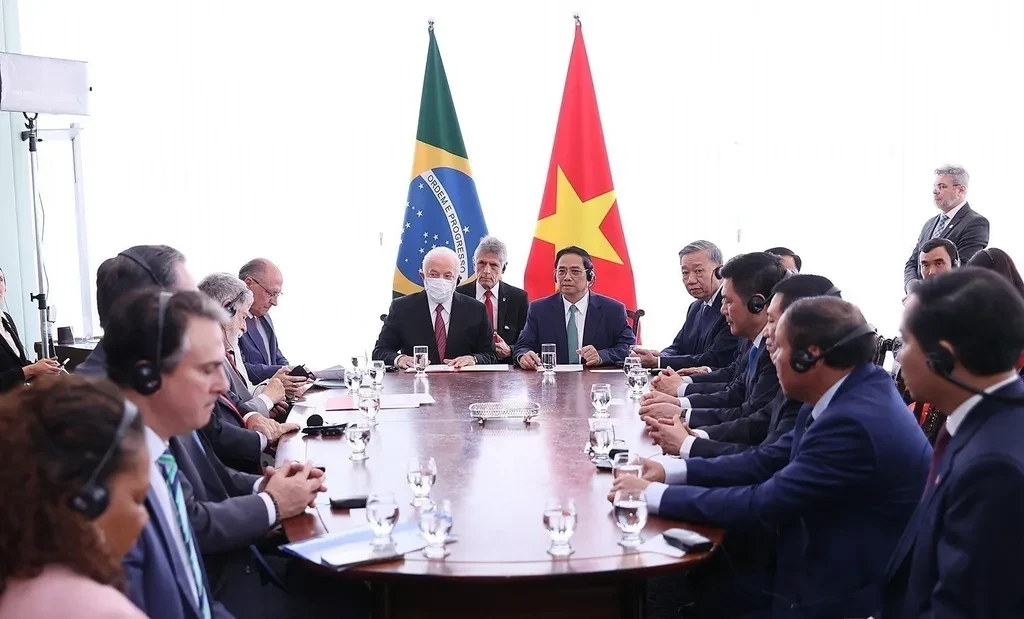 PM Chính asked Brazil to provide conditions for increasing the import of Vietnamese goods to help balance bilateral trade.
PM Chính and President Lula da Silva concurred that their countries would step up discussion to soon reach consensus on Brazil's recognition of Việt Nam's market economy status. They also agreed to promote the signing of a double taxation avoidance agreement.
They agreed to enhance cooperation in defence - security by boosting the negotiation, signing, and effective implementation of related cooperation deals. The countries would also coordinate with each other within multilateral mechanisms and activities that both take part in.
The leaders were unanimous in fostering ties in new areas of common interest. They highly valued the important documents relevant to diplomacy, education - training, defence, and agriculture signed during this visit. They agreed to augment collaboration in trans-national crime combat, sports (including football), innovation, digital transformation, green development, renewable energy, climate change fight, bio-fuel, conservation of tropical forest ecosystems and biodiversity, and protection of the Mekong and Amazon river ecosystems.
Talking about regional and multilateral cooperation, both host and guest spoke highly of their countries' coordination, cooperation, and mutual support at international organisations and multilateral forums such as the United Nations, the Non-Aligned Movement, the South - South Cooperation, and the Forum for East Asia - Latin America Cooperation (FEALAC).
The Vietnamese side showed support for and congratulated Brazil on becoming a sectoral dialogue partner of the Association of Southeast Asian Nations (ASEAN). PM Chính affirmed that Việt Nam would be ready to assist Brazil to strengthen cooperation with ASEAN and bring the ASEAN-MERCOSUR relations on par with the cooperation potential and strengths of each side.
The two leaders shared the view that the parties concerned need to resolve international differences and disputes by peaceful means, not use or threaten to use force, and respect international law and the UN Charter.
The Brazilian side voiced support for the peaceful settlement of disputes in the East Sea (known internationally as the South China Sea) on the basis of international law, including the 1982 UN Convention on the Law of the Sea (UNCLOS), and the guaranteeing of security, safety, and freedom of navigation and overflight in the waters.
On this occasion, President Lula da Silva invited Vietnamese Party General Secretary Nguyễn Phú Trọng, President Võ Văn Thưởng, and Chairman of the National Assembly Vương Đình Huệ to visit Brazil.
PM Chính also conveyed General Secretary Trong and President Thưởng's invitations to re-visit Việt Nam to President Lula da Silva, who accepted the invitations with pleasure and affirmed that he would pay a visit to the Southeast Asian country at an early date.
Concluding the talks, the Vietnamese and Brazilian leaders adopted a joint communiqué and witnessed the signing of some cooperation documents between their countries.
After that, they joined a press conference to inform about the talks' outcomes.
PM Chính's trip is the fifth visit to Brazil by a Vietnamese leader since the two countries set up diplomatic ties in 1989, and also the first in 16 years.
Source: Vietnam News