Wed, 29th Nov 2023 16:23 (GMT +7)
Vietnamese ancient tea finds foothold in US and Europe
Friday, 19/05/2023 | 08:52:06 [GMT +7]
A
A
For a long time, Bac Ha district has been famous as the capital of "shan tuyet" tea in Lao Cai; in which Ban Lien commune's tea is the pride of Bac Ha and the first 5-star product of the province to find a foothold in the US and Europe.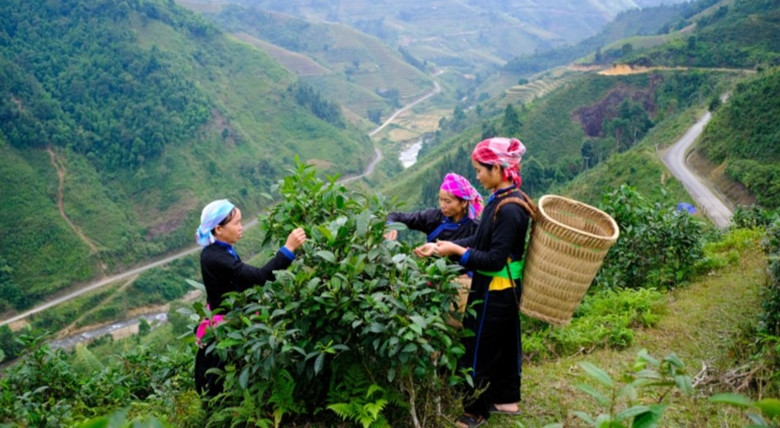 Located more than 30 kilometers from the center of Bac Ha district, Ban Lien upland commune has long been famous as the leading tea-growing area of Lao Cai province with many ancient "shan tuyet" tea trees. These products are invested by the people and produced under strict processes both ensuring safety and preserving their distinctive, high-quality, distinctive flavors, creating brands now present in many markets.
It is expected that by 2025, Bac Ha's "shan tuyet" tea area will be expanded to 1,500 hectares of organic cultivation, an increase of 803ha compared to 2022.
As a poverty alleviation crop, tea has now become a key industrial crop of Lao Cai. According to calculations, in 2020, the average value of income from fresh bud tea production reached over VND236 billion. In 2022, the income value of fresh tea production in the province increased by over VND274 billion, 1.16 times higher than in 2020.
Many tea regions with high yield and good quality are famous in the country.
To improve quality, the Lao Cai Department of Agriculture and Rural Development has recognized 6 leading tea growers that are qualified for seedling production with the quantity of 22.5 million seed cuttings per year, ensuring the quality and quantity supplied for seed production facilities for new planting in the province.
With the goal of maintaining the role of the main crop of tea, the agricultural sector of Lao Cai province has set out a plan in 2023 to plant 1,055 hectares of new tea, with the goal that by 2025, the concentrated tea area in the province will reach 8,420 hectares.
Along with expanding the area and building areas specializing in clean and safe tea, Lao Cai is also interested in supporting the development of technology for processing tea products.
Source: en.dangcongsan.vn