Sun, 10th Dec 2023 14:37 (GMT +7)
Vietnam to build three undersea cables, ministry says
Wednesday, 15/02/2023 | 09:25:28 [GMT +7]
A
A
Vietnam aims to build three undersea Internet cables of its own by 2025, the Ministry of Information and Communication has announced.
That would bring the total number of cables the country can use to 10.
On the sideline of a meeting last week about problems with Vietnam's undersea cables that have disrupted Internet connections recently, Nguyen Hong Thang, head of the Vietnam Telecommunications Authority, said a short-term solution is to purchase more data to compensate for the data lost due to the malfunctioning cables.
However, Vietnam's long-term agenda is to add more undersea cables of its own. After meeting with telecom firms, the Ministry of Information and Communications expects that Vietnam could be connected to 10 undersea cables by 2025. The country is currently connected to five.
Within this year, two new cables, the ADC and the SJC2, are expected to come into operation, increasing the number of undersea cables available to Vietnam to seven.
Nevertheless, the fact that four out of five currently available cables are experiencing issues at the same time is a huge challenge for Vietnam's Internet infrastructure. Besides the fact that Vietnam has too few cables, the country is not able to actively fix problems on cables it does not own when issues arise.
"We cannot wait until there's enough demand to expand our bandwidth. We need to be ready for there to be new cables branching in multiple directions, not being dependent on only 1-2 directions like we are right now," said Thang.
Another suggestion put forth was the formation of consortiums, or unions of businesses, to be responsible for the operation of undersea cables. However, forming a consortium would take time as it requires the participation of multiple parties, as well as agreements on several aspects of cooperation. As such, the goal is now to construct cables that fall under the ownership of Vietnamese businesses, so they could play a more active role when it comes to managing the cables, Thang said.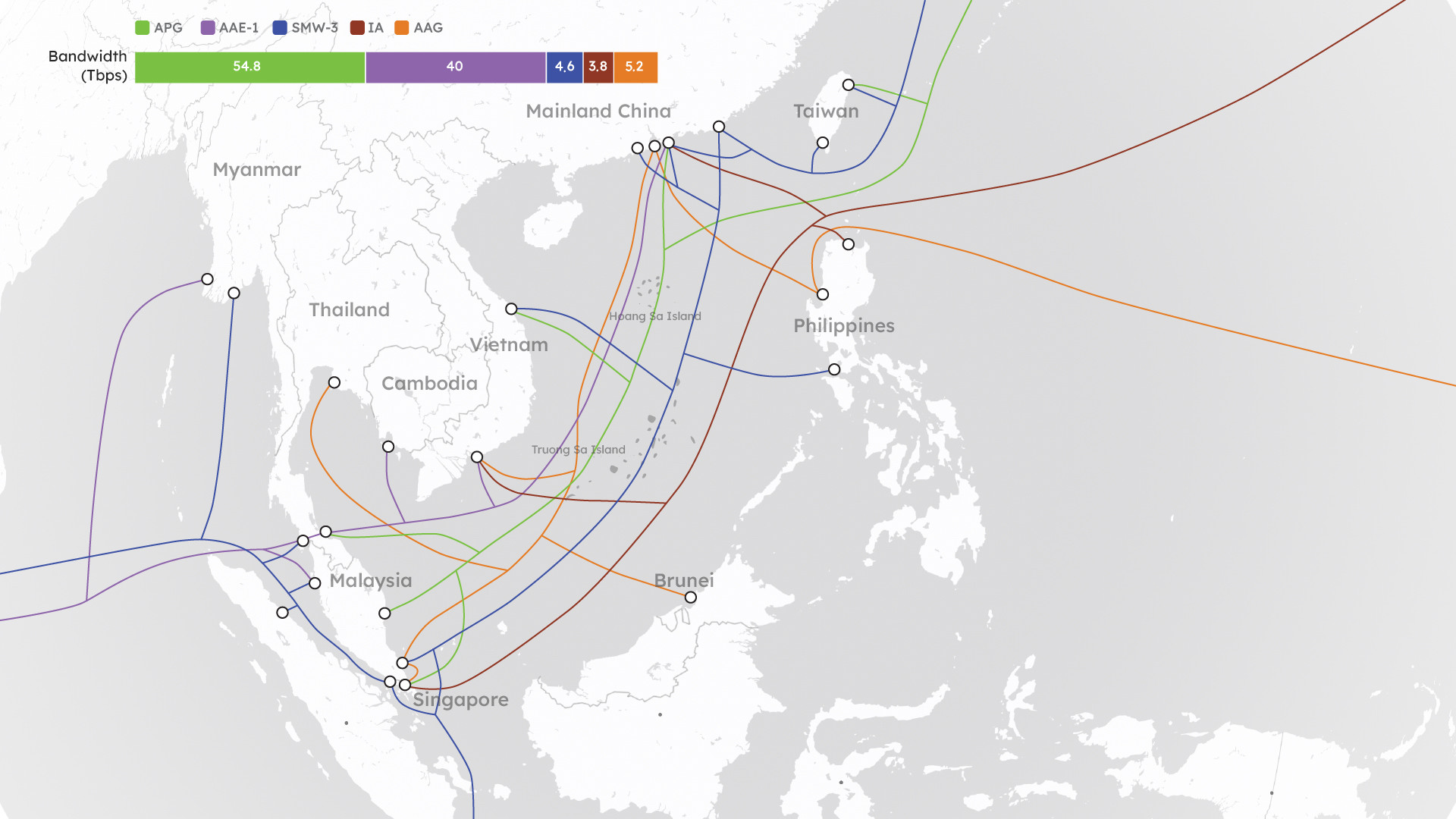 Hubert Souisa, an independent infrastructure consultant in the Netherlands, said that he's "a proponent of the idea that Vietnam starts to develop regional connections, for example to Malaysia and Thailand, with different landing points in Vietnam to improve the diversity and resiliency of its infrastructure."
Singapore and Hong Kong are currently two major connectivity hubs for the region, with a high density of undersea cables and data centers. Statistics by military-run Viettel have revealed that 80% of content demand in Vietnam comes from foreign services like Google and Facebook.
If Vietnam were to increase its number of cables, it would have an advantage over Singapore thanks to its larger area, leaving more room for connections, according to the information ministry.
"When undersea cables connecting with Hong Kong and Singapore encounter issues, we can see how much of an opportunity Vietnam has to become a connectivity hub for the world," Hung said.
Source: VnExpress