Thu, 5th Oct 2023 04:13 (GMT +7)
Vietnam's book on wildlife conservation wins UK prize
Monday, 26/06/2023 | 09:14:32 [GMT +7]
A
A
Written and illustrated by two Vietnamese authors, a graphic novel about a conservationist trying to save a sun bear has won the 2023 Yoto Carnegie Medal for Illustration.
The award was announced Wednesday by the Yoto Carnegies, the U.K.'s longest-running book award for children and young people that recognizes outstanding reading experiences created through writing and illustration in books for children and young people.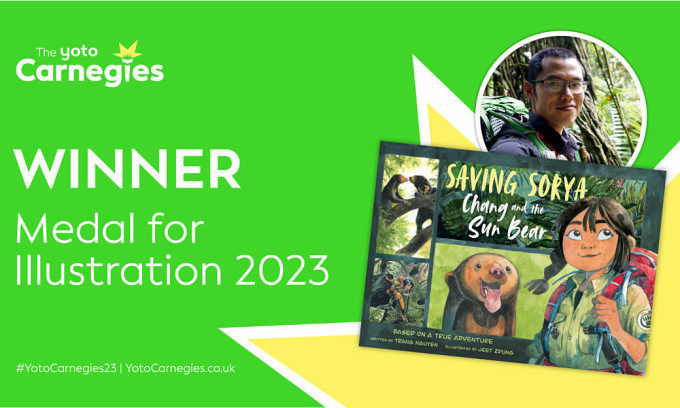 The book, "Saving Sorya: Chang and the Sun Bear," written by Trang Nguyen, 33, a renowned conservationist herself, is inspired by Trang's real-life story.
"The "beautiful" manga-inspired illustrations – including scenic watercolors and detailed, pencil sketched journal entries – work together to offer "something new to discover on each re-reading" and inspire and educate young wildlife activists," the Yoto Carnegies said in a statement.
The book with watercolor illustrations is about a girl named Chang and a sun bear named Sorya.
Chang tries to help Sorya, a sun bear cub, grow to adulthood and be rehabilitated to the wild where it faces the threat of poachers.
To create 120 graphics for the book, printed on environmentally-friendly paper, Hanoi-based artist Nguyen Tien Dung, who calls himself Jeet Zdung, spent two months living in a forest to make sure he could reproduce the nature as accurately as possible.
He also volunteered to work at several bear rescue centers to provide himself with more real-life experiences to make his work as real as it could.
The judges praised Zdung's "clever use of panelling" and infusion of graphic novel and manga styles to deliver "drama and impact" as well as creating "perfect synergy" between the visuals and the text.
In his acceptance speech, the illustrator said: "Together with Trang Nguyen, we hope these books will contribute to the conservation of wildlife by sharing with the readers what we know, what we love and care about. For me, this is a long and enduring journey. We hope that the impact of the prize will be felt widely and draw attention to the plight of the Sun Bears and other wildlife."
"I imagine myself as one of them, as Sorya, a naive orphan Sun Bear, hanging around in a corner, trying to replace her mother's cuddles with sucking on her own toes. I don't want these creatures to gradually disappear. I want to see the vast forests filled with the life of strong and free beings," said the 35-year-old artist.
The book was originally written in Vietnamese and when it was issued by Kim Dong publishing house in 2021, 3,000 copies were sold out in three weeks.
The two authors donated all profits earned from selling the Vietnamese books to projects that protect and preserve wildlife.
In 2021, Kim Dong sold the book's copyright to U.K. publisher Pan Macmillan.
The two authors were rewarded with £5,000 ($6,350) for winning the prize.
The winners will also each receive £500 worth of books to donate to a library of their choice.
As Trang and her organization have set up libraries for children in localities near Vietnamese national parks to heighten their reading skills and knowledge of conservation, Zdung's donation will be supporting this effort.
Trang is the founder of WildAct, a non-profit which monitors the illegal wildlife trade and organizes educational programs for youths.
She was named in the BBC 100 Women 2019 and 2020 Forbes 30 Under 30 Asia lists.
Source: VnExpress