Sun, 10th Dec 2023 14:18 (GMT +7)
Vietnam puts forth proposals at UN conference on least developed countries
Thursday, 09/03/2023 | 09:39:57 [GMT +7]
A
A
Deputy Minister of Foreign Affairs Le Thi Thu Hang suggested improving internal capacity and national competitiveness on the basis of strengths and characteristics of each least developed country at the 5th United Nations Conference on the Least Developed Countries (LDC5) in Doha, Qatar, from March 5-8.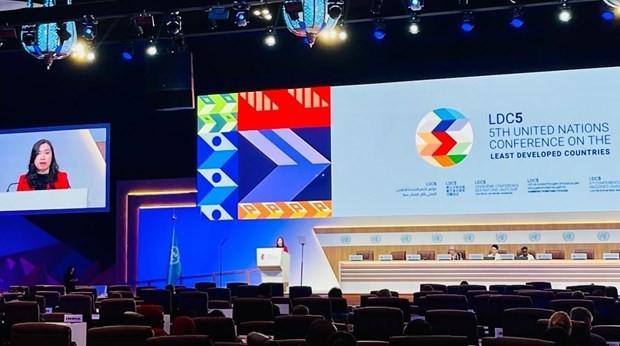 The role of trade and international integration as growth engines should be promoted, she said, stressing the need to ensure rules-based, equal, transparent and inclusive multilateral trade, and enhancing market access for these countries.
The Vietnamese official also suggested stepping up science-technology and innovation in order to create breakthroughs for growth, and called on developed countries to transfer technology, improve capacity, and provide financially support for the LDCs in green transition and carbon emission reduction.
Hang highlighted the role of peace, international cooperation, and partnerships in addressing global challenges.
She used this occasion to share Vietnam's experience in socio-economic development, during which internal and external forces are combined together and people are taken as the centre, momentum and target.
Vietnam is willing to work as a bridge between development partners and the LDCs, especially through the South-South and tripartite cooperation models, she affirmed.
The conference was attended by about 5,000 delegates, including heads of state, senior leaders of the LDCs, the UN Secretary-General and the President of the UN General Assembly, and representatives from many international organisations, academia, the press, and the business community.
The participants examined the implementation of the Istanbul Programme of Action since 2011 and set orientations and priorities for cooperation in the 2023 - 2031 period with the aim of helping the LDCs swiftly leave the group and properly implement the 2030 Sustainable Development Goals (SDG) roadmap.
The conference adopted the Doha Declaration, affirming strong commitments to materialising the Doha Programme of Action adopted by the UN General Assembly in March 2022.
While in Doha, Hang held meetings with bilateral and multilateral partners such as the Cuban Minister of Foreign Trade and Investment, the Foreign Ministers of India, Benin, Uganda and Eswatini, and Deputy Foreign Ministers of Kazakhstan and Venezuela, the World Bank Vice President and the UNESCO Deputy Director General.
They sought ways to strengthen collaboration in different spheres like politics, diplomacy, delegation exchange, economy and trade, and coordination at multilateral forums.
Source: Nhan Dan