Thu, 5th Oct 2023 02:37 (GMT +7)
Vietnam contributes to completing draft documents at AIPA meetings
Wednesday, 09/08/2023 | 10:57:40 [GMT +7]
A
A
The Vietnamese delegation made important contributions to reviewing and completing draft documents at the meetings of the ASEAN Inter-Parliamentary Assembly (AIPA) Committee on Political Matters and AIPA Committee on Economic Matters, within the framework of the 44th General Assembly of AIPA in Jakarta, Indonesia on August 8.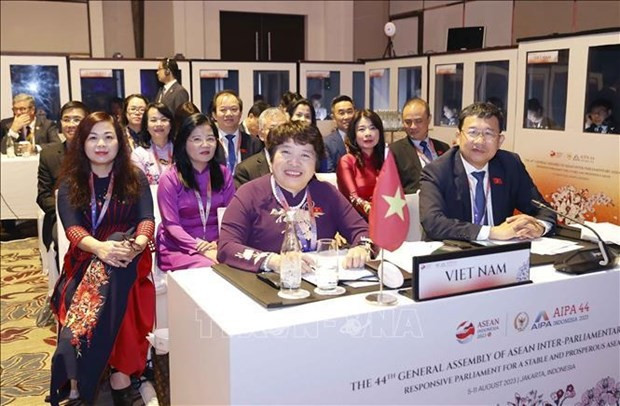 During the meeting of the AIPA Committee on Political Matters, countries considered and adopted a Resolution on the Report of the Meeting between ASEAN-AIPA leaders on the occasion of the 42nd ASEAN Summit, and a Resolution on the Report of the 14th AIPA Advisory Group Meeting (AIPA Caucus).
They also discussed and adopted four draft documents, including a Resolution on sustaining peace, security and stability in the region through dialogue and cooperation which was proposed by Indonesia and co-sponsored by Vietnam. They also reviewed a Resolution proposed by Malaysia on the threat of terrorism, extremist violence and radicalisation, and a Resolution initiated by Malaysia on the role of parliaments in addressing water security, energy security and food security in ASEAN. The final draft document was proposed by Indonesia on parliamentary cooperation contributing to long-term peace in Myanmar.
The Vietnamese delegation presented a report on the outcomes of the AIPA Caucus 14, which was hosted by the Vietnamese National Assembly from July 10-12 in Phu Quoc, the southern province of Kien Giang.
During the discussions on global and regional issues of shared concern, Vietnam reaffirmed its viewpoint and shared stance with ASEAN, emphasising the significance of maintaining peace, security, stability, safety and freedom of navigation and overflight in the East Sea/South China Sea.
The Vietnamese side also highlighted the importance of peacefully settling disputes in accordance with widely recognised principles of international law, including the 1982 United Nations Convention on the Law of the Sea (UNCLOS), fully and effectively implementing the Declaration on the Conduct of Parties in the East Sea (DOC), and working towards the early conclusion of a substantive and effective Code of Conduct in the East Sea (COC) that is in line with international law, including the 1982 UNCLOS.
Source: Nhan Dan