Wed, 29th Mar 2023 04:27 (GMT +7)
V.League 1 round-up: Hà Nội Police FC open season in style, Nam Định find last minute victory
Monday, 06/02/2023 | 08:08:51 [GMT +7]
A
A
Newly-promoted Hà Nội Police FC claimed an emphasizing 5-0 victory against Bình Định FC in their return to the V.League 1 in more than 20 years.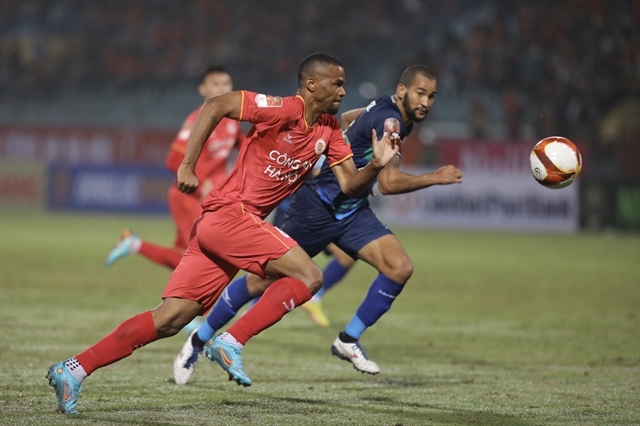 The opening day of the 2023 V.League 1 was filled with goals and excitement.
Newly-promoted Hà Nội Police FC claimed an emphatic 5-0 victory against Bình Định FC in their return to the V.League 1 after more than 20 years.
After a transfer market spending spree that saw them bring multiple superstars to their ranks, Hà Nội Police FC's strength and domination was demonstrated on Friday.
Although coach Paulo Foiani opted to keep national team stars Phan Văn Đức and Hồ Tấn Tài on the bench, Hà Nội Police FC still kept control of the match.
In the 10th minute, Gustavo Rodrigues gave the visitors their first warning, hitting the post from close range.
Just eight minutes later, Rodrigues got the opening goal for his team, scoring from a rebound after a shot from Nguyễn Xuân Nam.
Bình Định could have equalised in the first half, had Viktor Lê's shot been more accurate.
Lê's golden chance was rued even more by the Bình Định fans when Hà Nội Police FC doubled their lead in the 37th minute.
New signing Vũ Văn Thanh was fouled inside the box, and the referee quickly pointed to the spot. Jesus Jhon Cley converted the penalty and ended the first half 2-0 to the home team.
Bình Định's manager, Nguyễn Đức Thắng, brought on two substitutes, which initially brought a wind of change to the team's play.
But Bình Định's response only lasted for 25 minutes, as the star power of Hà Nội Police was too good, especially on counter-attacks.
From such a counter in the 70th minute, Xuân Nam dribbled past four Bình Định defenders before playing a perfect pass to Juvhel Fred, who scored.
Fred, a former Eintracht Frankfurt player who played a season in the Bundesliga and scored against Bayern Munich, quickly completed his hat-trick in just thirteen minutes, scoring two easy goals in the 81st and 83rd minutes.
Hà Nội Police still pushed on for another goal, but substitutes Tấn Tài and Văn Đức could not capitalise and the match ended 5-0.
Elsewhere in Nam Định, in one of Việt Nam's biggest and craziest stadiums, Thiên Trường, host Thép Xanh Nam Định FC found a last-minute win against Hồ Chí Minh City FC.
The hosts, with a new sponsor, spent huge during the pre-season, bringing a new spirit to a team that is usually considered relegation contenders.
Nam Định dominated for the entirety of the match, and sometimes had a possession of almost 80 per cent. Their strikers, however, were impatient and blew many chances.
When spectators at Thiên Trường seemed to be facing a goalless draw, drama came in the fifth minute of added time.
Striker Hendrio Araújo da Silva's shot hit HCMC FC's defender Campbell inside the box, and the hosts were given a penalty. From the spot, Hendrio converted with a cheeky shot, and Thiên Trường erupted in joy as Nam Định got their three points.
Another newcomer also made their debut at home, as Khánh Hòa met Thanh Hóa at home at the August 19th Stadium.
Khánh Hòa's V.League 1 return was spoiled by the visitors, as Velizar Popov's Thanh Hóa opened the scoring right in the 8th minute courtesy of Bruno Cantanhede's wonder strike from around 20 metres.
Thanh Hóa kept on pressing, and made the home team sweat in the first half. Khánh Hòa had some great counters, but their strikers could not find the net.
Not quite satisfied with the one goal advantage, Popov brought on Paulo Conrado and Lâm Ti Phông to boost the attack.
And Ti Phông proved Popov's decision right when he scored against his former team to double Thanh Hóa's lead in the 70th minute.
Down two goals with nothing to lose, Khánh Hòa pushed forward and got a goal from a header by Douglas in the 89th minute. But it was too late for the hosts and the match ended 2-1 to Thanh Hóa.
In Vinh Stadium, hosts Sông Lam Nghệ An struggled in attack after losing their star striker Phan Văn Đức to Hà Nội Police FC, and had to settle for a 1-1 draw against SHB Đà Nẵng.
Sông Lam Nghệ An opened the scoring through 18-year-old midfielder Trần Nam Hải's great strike in the 45th minute, but Đà Nẵng quickly equalised seconds later.
Both teams push on for the win in the second half, but both defences played exceptionally well, especially the foreign centrebacks and the match ended in a 1-1 draw, a result that both teams can be satisfied with.
With the results on Friday, Hà Nội Police FC are currently leading the table, with Thanh Hóa in second and Nam Định in third.
The V.League 1 will continue on Saturday with the controversial Hoàng Anh Gia Lai, fresh off their feud with the VPF, playing Hồng Lĩnh Hà Tĩnh at home, while last year's runners-up Hải Phòng FC host Becamex Bình Dương.
The match of the week, the Hà Nội derby between champions Hà Nội FC and Viettel, will be played on Sunday.
Source: Vietnam News