Tue, 6th Jun 2023 05:42 (GMT +7)
Trading garbage for money in Quảng Ninh
Sunday, 09/10/2022 | 08:50:33 [GMT +7]
A
A
After 6 months in operation, the "Garbage ATM" programme, named VRacBank, from Quảng Ninh Cement and Construction Company have gathered 20 tonnes of recylable trash and transferred out VNĐ100 million (US$4,190) to people across the city.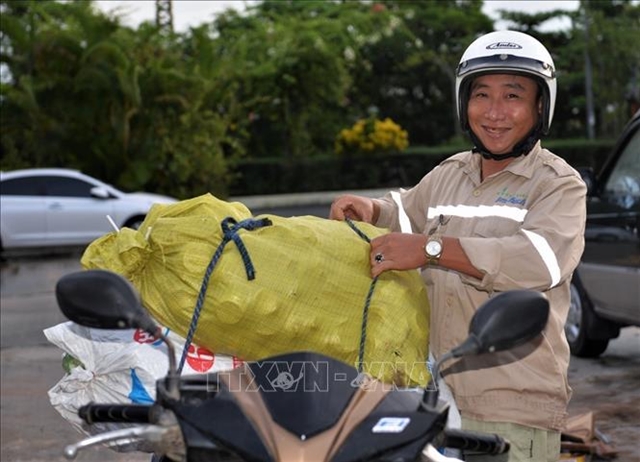 The first programme of its kind, it was created on April 1, 2022, and looks to retrieve sustainable resources for production, as well as play a big role in garbage disposal and environmental protection in Quảng Ninh's move to a green economy.
Every Wednesday and Friday mornings, workers of Quảng Ninh Cement and Construction Company, as well as residents of Phương Nam Ward, collect plastic, metal, paper, fabrics and other materials to exchange them for money.
Vũ Thị Thuần is one of the most prolific contributors to this activity. She collects recyclable trash every day and delivers it to the Quảng Ninh Cement and Construction Company.
"Although the money's not much, if you collect a large amount of trash, it will help with daily expenses and most of all, protect the environment," said Thuần.
According to company workers, they always sort out their garbage at home and bring recyclables to the factory.
Outside of the VRacBank programme, the company and Phương Nam Ward collaborated to organise programmes such as the "Reducing Plastic Waste Art Competition", which spread awareness for students on recycling and sorting out garbage.
"The VRacBank scheme helped many workers and residents protect the environment," said Nguyễn Thị Dáng, Deputy Chairwoman of Phương Nam Ward People's Committee.
"The company has collaborated with local authorities to rally citizens in collecting recyclable garbage," Dáng added.
The idea for this project came when clinkers, a non-renewable material used to create cement, was running out and increasing in price. Quảng Ninh Cement and Construction Company researched and decided to use garbage as an alternative, therefore solving the material problem, reducing cost and reducing waste in households and factories.
"A kilogram of plastic waste when heated will generate 4,000 to 4,500 KCal, equivalent to burning a kilogram of 5C coal dust," said Vũ Trọng Hiệt, Deputy Director of Quảng Ninh Cement and Construction Company.
"The garbage collecting company will chop the plastic into small pieces and burn it into clinker. The waste burns in the oven at 1,400 degrees Celsius, so will not generate smog or toxic exhaust," Hiệt added.
According to Hiệt, the company saved 10-15 per cent of coal volume due to this new renewable material. In a year, the use of recyclable trash will generate a profit of VNĐ13 billion (US$544,000), but the benefits to the environment and society are much greater.
Here's how the exchange of trash into money works; when garbage is brought to the company to exchange, after measurements, collectors receive a ticket that has the amount of money and the number of bonus points accumulated.
Collectors can choose to immediately receive money, or save it in their accounts for later. People who can collect more than 100 kilograms of garbage will have special vehicles that come to their home to deliver the garbage to the factory.
When a collector's account reaches 300 bonus points, if he or she has not withdrawn their money yet, the company will pay the interest of the remaining amount of money in the account, with a rate two times higher than the current savings interest rate of Vietnamese banks.
There are currently 600 VRacBank accounts, with a total of 113,000 bonus points.
"We are expanding the network of waste purchasing and sorting to all of Quảng Ninh," said Hiệt. "We are also organising a competition to collect garbage across Uông Bí City on October 5, with the winner earning VNĐ10 million (US$418)." 
Source: VNA