Fri, 8th Dec 2023 09:31 (GMT +7)
Trà Vinh to host 2023 Southern Festival Week
Monday, 20/11/2023 | 08:00:42 [GMT +7]
A
A
The 2023 Southern Culture, Tourism and Food Festival Week will be organised in Trà Vinh Province from November 21 to 27.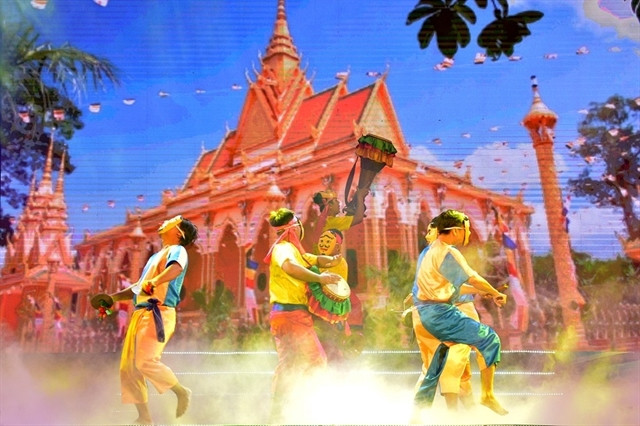 It will feature dozens of economic, cultural and sports activities to promote the culture, tourism, and economy of in the Mekong Rivel Delta provinces.
It will include a series of trade fairs displaying specialty products of Trà Vinh and neighbouring provinces, such as Sóc Trăng, Vĩnh Long, Bạc Liêu and Cà Mau, and seminars on investment and tourism promotion.
Food courts displaying traditional dishes, including sweet soups and cakes, and fruits from local farms, will be also featured.
The event will include traditional music, song and dance shows by hundreds of performers from leading art troupes of Trà Vinh and other provinces in the region.
Boat races, folk games, cooking, and sports competitions will also be featured.
"We hope our event, the 2023 Southern Culture, Tourism and Food Festival Week, will help boost our economic and tourism development, as well as introduce the traditional culture and lifestyle to visitors," said Dương Hoàng Sum, director of the province's Culture, Sports and Tourism Department, who is also a member of the organising board.
The week's highlight will be the Ok Om Bok Festival, also called the Festival of Worshipping the Moon, a very important cultural event celebrated by the Khmer ethnics.
The Ok Om Bok Festival is recognised as a national intangible cultural heritage by the Ministry of Culture, Sports, and Tourism.
The event takes place under the full moon in the 10th lunar month, which is when it changes from the rainy season to the dry season and rice harvesting occurs.
It is also a religious ritual of the Khmer to commemorate the Snake God Nagar, who once turned into a trunk of wood to help Buddha cross the river, according to legend.
The Khmer believe the moon is a god who controls the weather and crops throughout the year.
On this occasion, they offer farm produce to thank the gods for favourable weather and a bountiful harvest.
Trà Vinh, located 130km south of HCM City, has a coastline of 65km and is located downstream of the Mekong River.
The province has diversified natural tourism resources and cultures. It has many riverine islands and fruit orchards offering year-round harvests.
Trà Vinh is home to about 330,000 Khmer people, accounting for 31 per cent of its population, and 143 Khmer pagodas.
Source: Vietnam News