Thu, 5th Oct 2023 02:13 (GMT +7)
Technology application – new requirement for digital newsroom governance
Friday, 18/08/2023 | 09:10:47 [GMT +7]
A
A
The Vietnam Journalists' Association in collaboration with the Post and Telecommunications Institute of Technology on August 17 organised a workshop on the application of technologies in digital newsroom governance in Hanoi.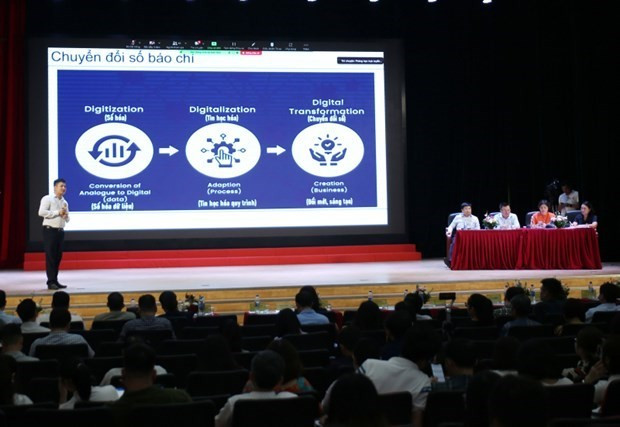 Speaking at the event, deputy head of the Party Central Committee's Commission of Popularisation and Education and Chairman of Vietnam Journalists Association Le Quoc Minh said that a new era of digital journalism, digital technology, converged technologies, and content has been formed and is developing strongly. Convergence of content and technologies is seen as a key to opening a new path for modern journalists and newsrooms.
He said that the integration and convergence in both content and publication form of a newspaper is necessary, whereby the "digital editorial" model becomes the inevitable trend of the world press agencies as well as those in the Vietnamese press.
Building a digital newsroom will completely change the face of the journalism industry, which is also a premise to ensure concentration in directing and orienting information, ensuring consistent, timely and convincing information, especially on complicated and sensitive issues.
Among the technologies that will have a strong impact on press and media activities today, the most prominent is the application of artificial intelligence (AI) and blockchain in digital newsroom management as well as in production and distribution of press and media products.
According to Minh, besides providing updates on press technologies, the workshop aimed to clarify the legal corridor on digital journalism and digital newsrooms, especially the Party's guidelines and policies and the State's laws on digital transformation in the press, toward building a professional, humane and modern journalism and media, in line with the orientation of the Resolution of the 13th Party Congress. The event would also seek practical and feasible solutions to help develop digital newsrooms at press agencies in Vietnam.
Source: Nhan Dan