Wed, 4th Oct 2023 14:51 (GMT +7)
Science and technology contribute over 30% of added value to agricultural production
Monday, 07/08/2023 | 08:50:42 [GMT +7]
A
A
Science and technology have contributed over 30% of added value to agricultural production and 38% of added value to the production of plant varieties and livestock breeding, according to the assessment of the Ministry of Agriculture and Rural Development (MARD).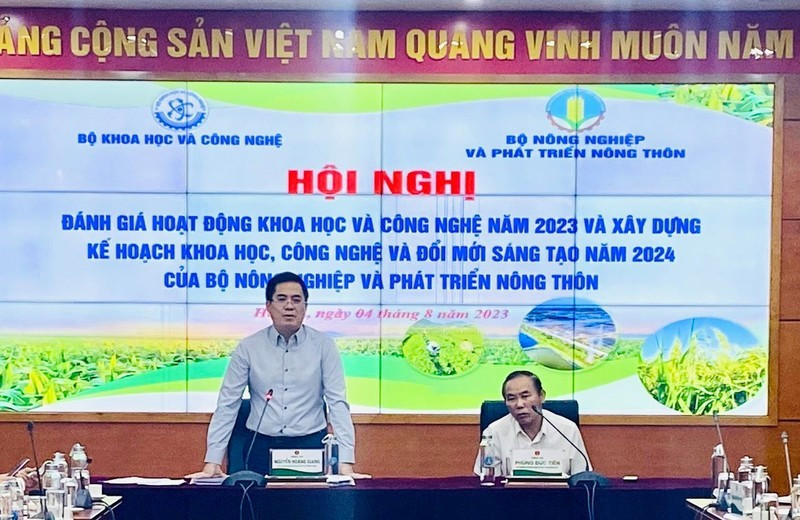 The information was announced by the MARD at a conference on evaluating science and technology activities in agriculture in 2023, which was held in Hanoi on August 4.
The MARD report states that science, technology, and innovation activities of the ministry cover many fields, including cultivation, husbandry, fisheries, forestry, irrigation, processing, post-harvest preservation, agricultural mechanisation, rural development, and others.
Science, technology, and innovation have played an increasingly important role and actively contributed to agricultural growth in the past years.
The MARD said that the effective implementation of programmes on developing national products, high-tech agriculture, and conservation and sustainable use of genetic resources has made great contribution to maintaining the export of key agricultural products.
Speaking at the conference, Deputy Minister of Science and Technology Nguyen Hoang Giang said that leaders of the MARD and the Ministry of Science and Technology pay strong attention to science, technology, and innovation activities in service of agricultural development. Such activities have brought about visible results, making practical contributions to achievements of the agricultural sector as well as improving the value of national key agricultural products.
Source: Nhan Dan