Mon, 4th Dec 2023 10:47 (GMT +7)
Salted coffee: A Hue specialty
Tuesday, 03/01/2023 | 08:36:59 [GMT +7]
A
A
Hue has always been known for its rich and wonderful food culture. In addition to various traditional cakes, there is a unique drink that visitors must try when in the ancient capital: salted coffee.
Over the past 10 years, salted coffee has become quite popular among local people and tourists visiting Hue as a "must-try" drink.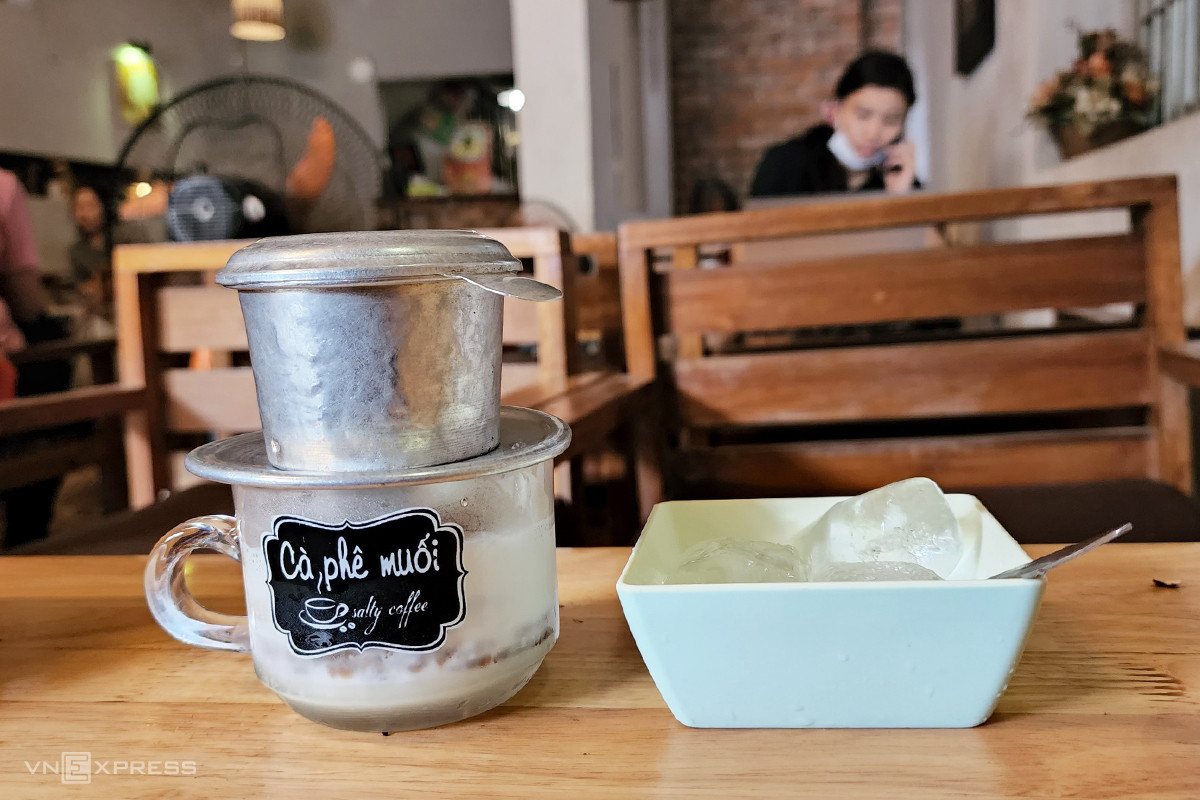 Ho Thi Thanh Huong, 40, an architect, is the owner of two salted coffee shops in Hue. In 2010, she and her husband opened a coffee shop on Nguyen Luong Bang Street. Not knowing what to name the shop, Huong named it after his favorite love story: "Salted Coffee," a novel that was published on social networks. In the early days, the shop only sold traditional coffees. Later on, she and her husband thought about creating their own drink. After doing a bit of research and experimenting with different drinks, they came up with the idea of creating salted coffee.
The waiter will bring the customer a cup with condensed milk at the bottom, to which is added fermented milk and salt. The coffee flows into the cup through a traditional Vietnamese filter placed on top of the cup. The color changes when the coffee is mixed with the ingredients in the cup. The customer just needs to stir and enjoy the coffee. First-time drinkers may find the salted coffee a bit strange or difficult to drink because of the combination of salty, sweet and bitter flavors.
"The coffee shop has existed for more than 12 years using our exclusive recipe," said Huong. "In the early days, not so many people knew about our salted coffee, so we did not have many customers. Later, more people got to know about the coffee, and we started having more customers."
Huong says that her greatest joy is when she meets customers who know about the Hue-branded salted coffee.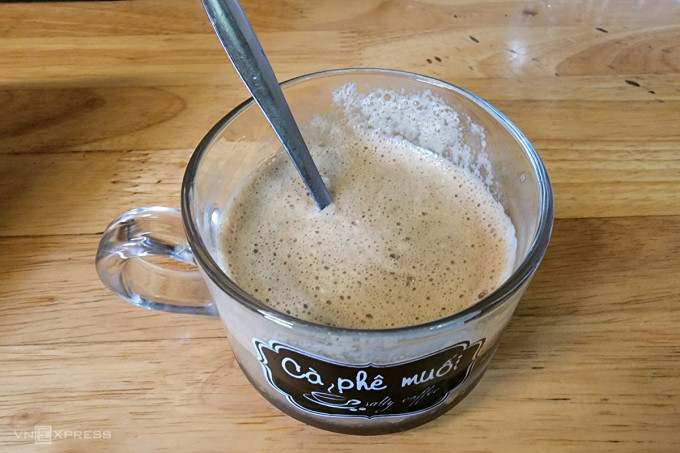 In addition to the first salted coffee shop opened in Nguyen Luong Bang street, Huong and her husband opened another shop on Dang Thai Than Street, where they live. As their home is close to the Citadel, the place is always crowded. Every day, the shop is open from 6:30 in the morning to 22:00 at night. During peak hours, customers have to queue to order the drink. The shop serves about 500 cups a day, and each cup costs VND15,000 VND (US$0.63).
As a long-time customer of the shop, Hong Minh, 23, who comes from Quang Dien District, feels that salted coffee has a slightly bitter, aromatic and salty taste, which she says can't be found anywhere else.
"Since my student days, I have been drinking salted coffee at the shop," said Minh. "It sounds strange, but it is a harmonious combination of bitter, sweet and salty. It is such an impressive combination."
Huong and her husband have been approached by people who want to collaborate to open more branches in other provinces. But they have declined because they want to keep salted coffee in Hue to keep it as a unique feature of the ancient imperial capital.
Source: VnExpress