Wed, 4th Oct 2023 13:51 (GMT +7)
Salt-making community boosts Sa Huỳnh heritage conservation
Monday, 21/08/2023 | 09:06:41 [GMT +7]
A
A
Local salt farmers have been building their own community-based tourism as an added value after years of successfully producing unique high-quality salt on the centuries-emerged field – part of the newly-recognised Sa Huỳnh National Special Heritage.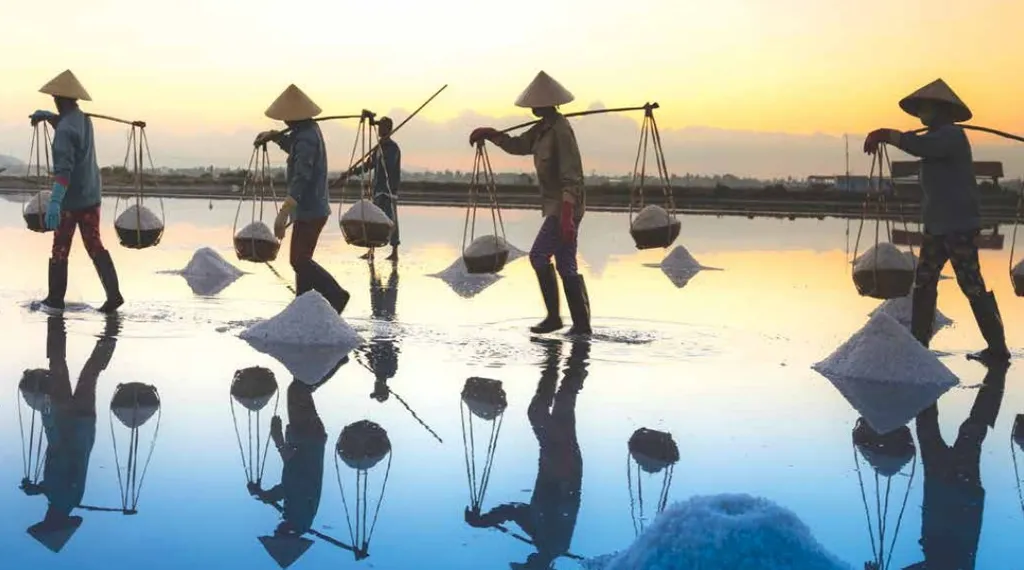 Local farmers have been building their own community-based tourism from the ancient craft and lifestyle of making salt.
The newly recognised Sa Huỳnh National Special Heritage sees high-quality salt production in Tân Diêm Village in Quảng Ngãi Province serve as part of craft-experience tours, which retell the stories of salt making and trade in the coastal central region.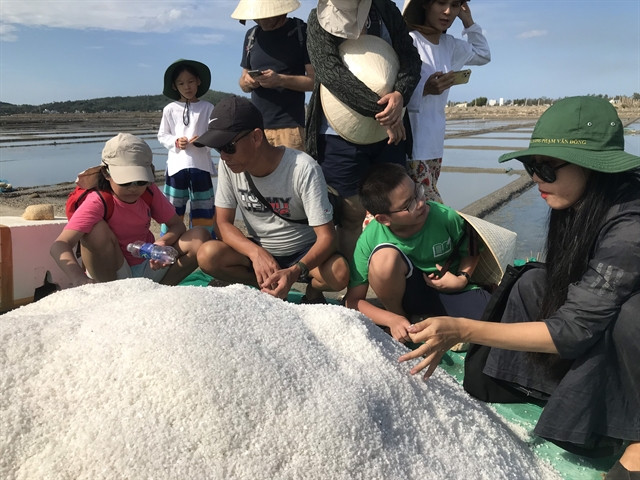 Nguyễn Thìn, 60, who has been working in the local salt industry for 40 years, is now a field guide in the Sa Huỳnh community tourism cooperative, where dozens of families are either producing salt or engaging in tourism services.
"It's a very new job. We were acquainted with manual work, so verbal introductions are a challenge for us. We tell stories about how farmers turn seawater into crystal pieces under scorching sun to inspire visitors," Thìn says.
"Sharing experience and skills of making salt among visitors now becomes part of our work, to help communicate the trade nationwide and globally. More people visiting the village will help preserve the traditional craft."
Thìn, whose family has worked in the salt trade for three generations, says half of the villagers here have returned to the traditional style by doing the salt crystallising process on the ground rather than on plastic sheets.
Salt makers have acknowledged the value of pure salt in terms of non-plastic contamination and healthy consumption in the market, he explains.
He says salt makers could increase their income by 30 per cent by applying organic production and focusing on higher value with pristine quality.
"This means they select the best salt on the first and second crystallised layers with a higher price rather than mass collection," he adds.
Nguyễn Thị Thanh Ngọc, who serves as a member of the hospitality and folk art performance team at the village, says local women cook fresh seafood from the sea and aquatic farms for tourists visiting the craft village.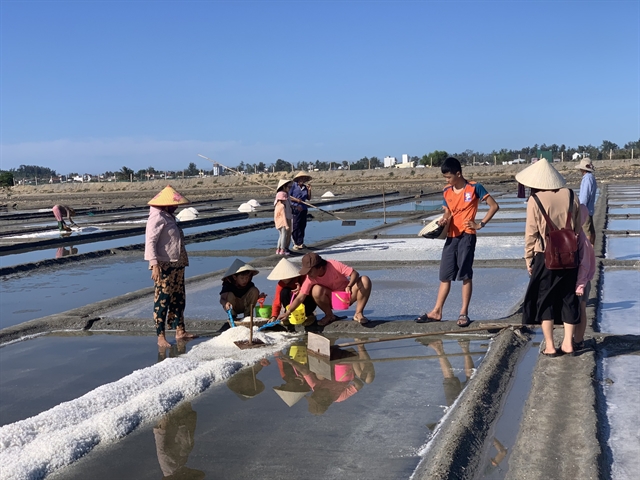 "Sa Huỳnh is known as a land of the best quality seafood. We collect salt in summer, while harvesting fish and seafood in the rainy season. The wetland ecological system surrounding salt fields offers a safe shelter for nurturing fish and other marine species," she says.
"That's why villagers reserve fresh dishes for visitors and traditional art performances for night-stays in the village."
Ancient craft culture
Sa Huỳnh salt fields, which cover 110ha, in the south of Quảng Ngãi, were once providers of salt exported to Europe during the French colonial era from the 19th century onwards.
The site is home to 1,200 farmers in Phổ Thạnh Commune – the core zone of salt fields and the heritage site of the Sa Huỳnh Culture, believed to date back nearly 3,000 years – but only 25ha is used for high-quality salt production and eco-tour services.
"Our products are not only salt, but the lifestyle of salt villagers and their traditional culture that has been rooted in the land for generations. The site is now seeking to link ecotourism, education and conservation of culture and the ancient craft," says Phạm Hồng Thắm, 30, who is founder of a high-value salt production unit called SAHU.
"We began building an education base and ecotourism service as key factors for future sustainable development and a well-protected ecological system for preservation of the trade and our community of salt producers," Thắm says.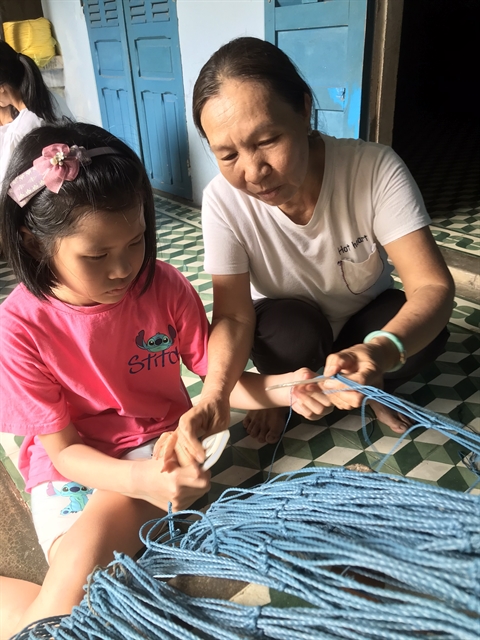 "Community-based tourism in the salt village will play as a key communication and a link with environment protection that will help improve the quality of traditional salt to the provincial brand level," she says.
The founder of SAHU says the high price of organic salt will persuade all the villagers to change completely to 'clean and green' and non-plastic production.
The Sa Huỳnh community-based tourism cooperative is building eco-tour links with other communities in the mountainous Hoà Bắc Commune in Đà Nẵng City, Chàm Islands and Hội An ancient town of Quảng Nam, and the wetland Bình Sơn District of Quảng Ngãi to promote heritage tours.
Nguyễn Bảo Việt, a lecturer in Đà Nẵng, says community-based tourism will be a sustainable livelihood for the salt production community, supporting the living standards and conservation of the ancient craft and centuries-old culture of the coastal central region.
"The tour service will promote the unique tourism products of Quảng Ngãi – where ancient craft heritage has been well-preserved from previous centuries," Việt says.
"It also helps link the salt trade with other traditional craft communities including fishing, water rice and ceramics, which have all emerged from the Sa Huỳnh Culture."
He adds the ancient crafts in Sa Huỳnh are still being preserved and developed by local communities, and they will continue to do so in the future, focusing on sustainable livelihoods and nature conservation targets.
Việt says the Sa Huỳnh salt village is seen as a giant canvas for school students and researchers, as well as archaeologists and culture studies enthusiasts, to broaden their understanding of the ancient craft and trade as well as its modern incantations.
The local community is seeking support from the Global Environment Facility in building tourism and Sa Huỳnh salt field conservation, as well as connections with universities and schools in heritage education for younger generations, SAHU founder Thắm says.
She says the company has been producing 17 products, including 'salt flowers' (surface crystalised salt layer) and bamboo tube cooked salt – for export.
"The sustainable production does not over-exploit the salt field, while tourism and education bring more value to local farmers," she says.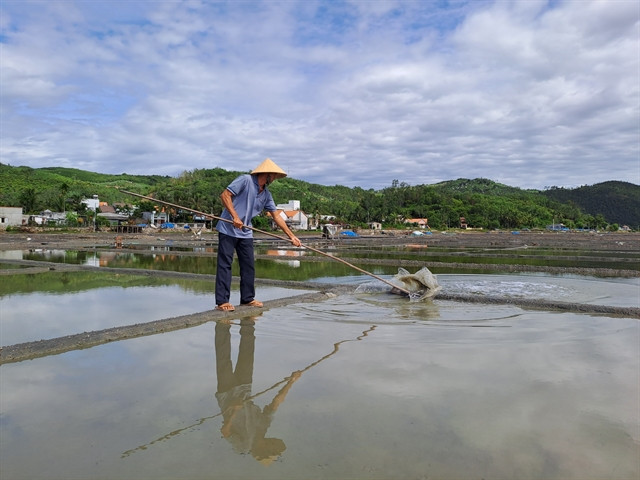 "The development of community-based tourism will play a key role in the sustainable growth of the village as it promotes nature and cultural conservation as well as environment protection."
In 2023, Sa Huỳnh archaeological relics of the Sa Huỳnh Culture were recognised as a National Special Heritage by the Prime Minister.
The Sa Huỳnh salt eco-tour will be the second community-based tourism on the site after the first Gò Cỏ Village eco-tour was launched in Phổ Thạnh Commune, a unique heritage complex to preserve An Khê Lagoon, with un-excavated archaeological value.
Source: Vietnam News