Sun, 28th May 2023 14:09 (GMT +7)
Road to Olympia winner brings glory to his hometown
Friday, 07/10/2022 | 09:29:06 [GMT +7]
A
A
By scoring 205 points, the 12th grader won the laurel wreath and a cash prize of US$40,000.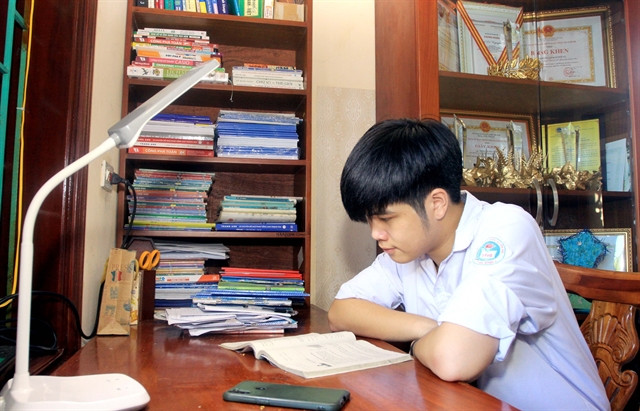 Đặng Lê Nguyên Vũ, a student from Bắc Duyên Hà High School in Thái Bình Province, has brought pride to his family and hometown after being crowned champion of 'The Road to Olympia Peak'.
By scoring 205 points, the 12th grader won the laurel wreath and a cash prize of US$40,000.
The Road to Olympia Peak began in 1999 as the country's biggest knowledge contest on TV for high-school students. The competition includes four parts: 'Warm-up', 'Overcoming obstacles', 'Speed-up' and 'Finishing'. Participants have the chance to win valuable prizes in weekly, monthly and quarterly rounds.
After the contest, he was roundly congratulated by his family, friends, teachers and community.
His success is the cumulation of more than two years of hard work.
Vũ's nearest competitiors were: Vũ Bùi Đình Tùng from Trần Phú High School, Hải Phòng City; Bùi Anh Đức from Sơn La High School, Sơn La Province; and Vũ Nguyên Sơn from Hà Nội's Amsterdam High School.
Vũ's father is a soldier, and his mother is an officer in the Department of Labour, War Invalids and Social Affairs in Hưng Hà District. His grandmother is a teacher.
He has been trained in independence and self-discipline. He also has a habit of self-study, reading and watching TV to have more social knowledge.
Vũ has the same name as the coffee giant Trung Nguyên Group's chairman in Đắk Lắk Province.
Talking about his name, Vũ told Thanh Niên (Youth) newspaper: "I don't understand why my parents gave me that name. But I'm happy to have the same name as a successful person. I also admire businessman Đặng Lê Nguyên Vũ and hope to gain the same achievement in the future."
Vũ was given the nickname 'speed king' after winning the maximum of 160 points in the quarters. He is the only contestant to hold this record after 22 years of The Road to Olympia Peak competition.
He said he watched the 11th Olympia final on TV with his family in grade 1, hoping to become a contestant in this contest in the future.
Vũ kept watching this show as a high school student.
The contest requires broad knowledge in many different fields.
"I am determined to conquer my childhood dream and also want to prove my ability. Therefore, I registered to participate in the 22nd Road to Olympia Peak," Vũ said.
However, the high school student did not immediately receive absolute support from his relatives and friends when he told them he planned to participate in this contest.
Some told him to "stop dreaming", but Vũ just studied harder.
Besides reading textbooks and searching online documents, he also participated in groups for the Road to Olympia Peak competition to gain more experience.
"I used to think my application might not be selected because it wasn't interesting. But surprisingly, I received an invitation from the contest organisers. I'm so happy. It's a milestone to start the conquest of the laurel wreath of the contest."
With the victory in the final of the 22nd contest, Vũ has added a prestigious award to his academic awards.
He won the 2016 British Olympic Gold medal and has been a good student for many years, with remarkable math, chemistry and English scores.
Looking back on the one-year journey of participating in the Road to Olympia Peak, Vũ said this programme had brought a lot of things to him. It is to practise calmness, improve communication skills, overcome pressure, and be more confident in front of crowds and in life.
"I have an opportunity to know and become close friends with many friends across the country."
Talking about the student who brought glory to the class, school and Thái Bình Province, Nguyễn Thị Hải Yến, Vũ's teacher, said: "Vũ is a good class monitor and student in all subjects. He has a very good memory and knowledge of social issues. We are delighted he is champion of the 22nd Road to Olympia Peak competition."
To support Vũ on his journey, his school established an advisory board to help him have more knowledge in many fields and, simultaneously, encouraged him throughout the process of participating in the competition.
This is the first time that Thái Bình Province has a contestant who entered the final round and won the first prize of the contest, said Trần Hữu Nam, Secretary of Hưng Hà District Party's Committee.
Vũ's victory is not only a memorable milestone for him personally but also the honour and pride of his hometown.
Source: Vietnam News