Wed, 4th Oct 2023 14:51 (GMT +7)
Relationship with Việt Nam core pillar of UK's strategy in Indo-Pacific: British Ambassador
Friday, 08/09/2023 | 09:39:27 [GMT +7]
A
A
British Ambassador to Việt Nam Iain Frew speaks to media on prioritised cooperation areas between Việt Nam and the UK on the occasion of the 50th anniversary of the two countries' diplomatic ties (September 11, 1973-Septemter 11, 2013).
British Ambassador to Việt Nam Iain Frew speaks to the media about the prioritised cooperation areas between Việt Nam and the UK on the occasion of the 50th anniversary of the two countries' diplomatic ties (September 11, 1973-Septemter 11, 2013).
Could you share the outstanding achievements of 50 years of diplomatic relations between Viet Nam and the UK?
I think over the past 50 years, we have seen really positive and incredible development of the relationship between the UK and Việt Nam.
We are now strategic partners. We are now cooperating together on some of the big global challenges like climate change, and global and regional security.
At the same time, we are cooperating really closely together in areas like trade and development which are so important to the people of both countries.
When we look back at over the past 50 years, we can see some really big achievements in these areas.
In our economic cooperation, we have achieved a free trade agreement. This year, including Việt Nam's support, UK will be acceding to the CPTPP trade deal in the Pacific region, in fact making it a global deal.
This is a really strong example of the cooperation that we've been developing.
What we have seen under our strategic partnership is our cooperation broadening out not just in economic development. We are working on security and defence, migration challenges, climate, and energy. We're exploring opportunities in areas like education and healthcare for the benefit of our people.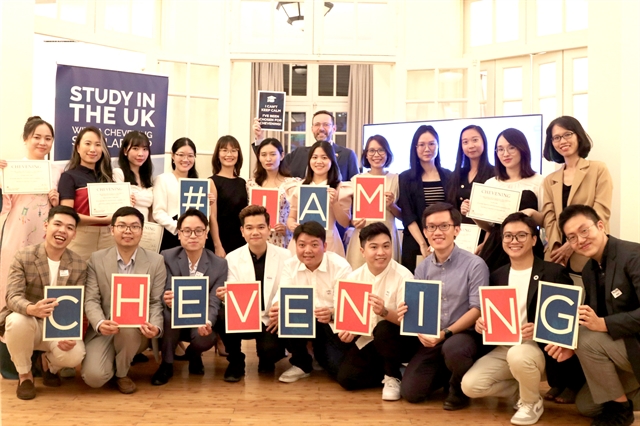 What are the priority cooperation areas between Việt Nam and the UK in the future?
We have seen great trade success over recent years including the increase of 29 per cent in trade in 2022. That's something I think we can exploit more the potential of: great trade and investment between our countries.
I want to see the success of Vietnamese companies in the UK and UK companies in Việt Nam.
That's what the UK Government and my team in the embassy are working very hard on, helping some of the growing sectors of our economies to develop further.
For example, in the healthcare and pharmaceutical sector, the need of our population is always developing and we have expertise to share with each other so I'm really excited and positive about the potential.
In education, I'm really excited about the potential to have not just Vietnamese students studying in the UK but also UK-quality education available in Việt Nam in a number of schools.
I think as Việt Nam's economy develops and innovates, we should be working together more in areas like technology, and renewable energy where there is a huge potential, and other areas that support our economic development like financial and professional services.
I think the UK has expertise in these areas and Việt Nam has the ambition to develop. We have a great partnership and a great match between our countries.
What is Việt Nam's position and role in the UK's strategy in the Indo-Pacific region?
The UK Government has issued an important document called the Integrated Review, which sets out a foreign security and development policy for the period ahead.
A core part of that is the relationship we have in the Indo-Pacific region and within that the relationship we have with Việt Nam and ASEAN are two very important pillars.
That's because the Indo-Pacific region is currently, and in the future, the dynamo of growth in economic development. It's also because of the increasing connection between our people and travel between our countries which we want to see further development, and strategic significance and challenges in this region which we are all aware of.
That sets out a strategic level the reason why we should be working more closely together. In practice, we are seeing our leaders, businesses, and diplomats spending more time with each other and investing in the relationship to build the possibility in the future.
Could you share expectations on business cooperation between the two countries?
In areas like the pharmaceutical sector, there are big UK companies operating here in Việt Nam like AstraZeneca, GSK. I think these investments and partnerships also support the economic development of Việt Nam.
Whether it is in the supply chain, in trading or in education, I think high-quality investment from UK companies is not just about building factories but also helps economic development here.
Another area which is really important for the UK economy and becomes increasingly important for Việt Nam is the financial sector. There are some big UK international banks operating here for many decades, including Standard Chartered and HSBC.
Some of these big companies are committed to a long-term future in Việt Nam.
In addition to that, I want to see an increasing number of small and medium-sized businesses building cooperation with each other.
I want to see that investment coming with innovation and exploitation of new digital technology and the development of a green economy.
I think in all of those areas, we've got huge potential and UK companies that arrived already are going to be here in the future.
The UK market is open and welcoming to Vietnamese products and services. We have seen a huge increase in Vietnamese exports to the UK. We also welcome UK consumers receiving high quality products and services in Việt Nam.
Could you comment on Việt Nam's potential to become a clean energy power in Southeast Asia? How can the UK help Việt Nam to strive for this ambition?
I think Việt Nam has huge potential to become a regional clean energy superpower.
The energy transition is a big challenge to all countries as we try to reach net zero and transition our power generation and grids away from coal fired power plants, from high carbon energy to low carbon energy like solar power, wind power both onshore and offshore and hydropower.
I think developing this requires lots of investment and framework.
We are working together with our G7 partners to help Việt Nam in the Just Energy Transition Partnership (JETP).
That looks to develop and support the development of that framework in Việt Nam for investment and ensure that Việt Nam's economy continues to grow in a sustainable way and attracts investment from companies looking for clean energy opportunities.
Given the regional and global growing demand for energy, I think Việt Nam with a long coastline and very sunny climate has huge potential in both solar and wind power to not just support its own development but to export and support the energy needs of other countries in the region.
The Việt Nam-UK relations are not just about political and economic cooperation. People-to-people exchange is also part of it. What are the opportunities and challenges of people-to-people exchange between the two countries?
The connection between people is one of the most important things. All we can do is to facilitate it.
I think one of the ways to do that here in Việt Nam is through the British Council which is the UK institution supporting British arts and culture globally.
This year the British Council has a number of activities. They have built and supported partnership between UK and Việt Nam, between industries and institutions. We have institutions to support that but I think it does not always require much financial support, sometimes it's about connecting people.
I think one of the challenges may be helping the countries to learn more about each other. I want to use this opportunity to help more Vietnamese people understand what the UK is about to make connection between people and I want Vietnamese people to be in the UK so they can explore some of the opportunities themselves.
I think the challenge is distance but we can work together help overcome them.
Source: Vietnam News