Fri, 8th Dec 2023 10:35 (GMT +7)
PM offers solutions to promote fishery, forestry industries
Friday, 14/04/2023 | 08:24:15 [GMT +7]
A
A
PM Chính was speaking at the conference with Việt Nam Timber and Forest Products Association (Viforest) and Việt Nam Association of Seafood Exporters and Producers (Vasep).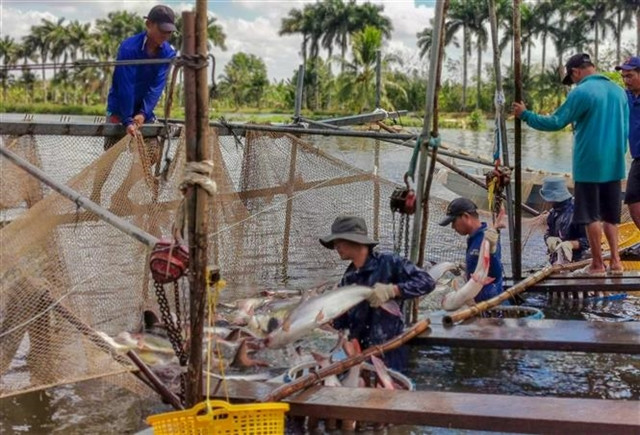 Prime Minister Phạm Minh Chính has asked for efforts to be enhanced to remove any difficulties and promote the production and export of forestry and fishery products.
His request comes as the industries saw a slowdown in the first quarter of this year.
PM Chính was speaking at the conference with Việt Nam Timber and Forest Products Association (Viforest) and Việt Nam Association of Seafood Exporters and Producers (Vasep) held on Thursday, aiming to remove difficulties for the industries which bring more than US$10 billion in trade surplus each year, and raise measures for development.
Statistics from the Ministry of Agriculture and Rural Development showed that the timber and forestry industry set the goal of achieving an export revenue of $17.5 billion this year, after registering $17.1 billion in 2022. The fishery sector aimed to earn an export revenue of $10 billion in 2023 after posting an increase of 23.8 per cent to reach $11 billion in 2022.
However, in the first quarter of this year, the total trade value of agroforestry–fishery products dropped by 11.2 per cent over the same period last year to $20.63 billion. Of the figure, export was at $11.19 billion, down 14.4 per cent and import at $9.44 billion, down 7.2 per cent. The sector ran a trade surplus of $1.76 billion in the quarter, down 39.6 per cent.
The export of timber and forestry products saw a significant drop of 28 per cent, and fishery products 27 per cent. Exports to major markets also slumped, such as a decline of 37 per cent in timber to the US and nearly 50 per cent in seafood.
The number of orders also dropped, forcing producers to switch to short-time work, affecting production, business and the lives of nearly 10 million labourers.
Chính pointed out that as the prolonged impacts of the COVID-19 pandemic, the export market was narrowed due to falling demand, increasingly fierce competition between major economies, fluctuating prices of commodities and adjustments in macro-economic management policies.
The forestry and fishery industries still faced a number of difficulties including heavy reliance on imported raw materials, complicated developments of trade disputes, falling consumption demand in major markets like the US, EU and Japan, importers sourcing from more diverse markets and changes in policies of countries, he said.
He asked the focus to be placed on removing difficulties in markets, institutions, and credit for the production, processing and export of forestry and fishery products. The industry must switch to sustainable, multi-valued integrated production, enhancing competitiveness associated with developing the processing and preservation industries.
Priorities must be on ensuring food safety, protecting the ecological environment and encouraging the development of green, organic and circular agriculture.
PM Chính stressed that the production must be based on the market demand and regional competitiveness to develop a technology and innovation–driven value chain.
He urged attention to trade defence instruments with international commitments and the established laws of Việt Nam, which was the key to protecting the domestic industry and creating conditions for expanding the markets in a rapid but sustainable way.
At the conference, the PM asked ministries and localities to remove difficulties for enterprises, make effort to diversify markets, establish supply chains, cut costs and simplify procedures.
A close watch must be placed on the market developments, internationally and regionally, and adjustments in policies of countries to have analysis and forecasts and develop prompt response plans.
While the export market was shrinking, enterprises should take advantage of the domestic market with a population of 100 million, he said.
He also urged enterprises to effectively take advantage of trade agreements to expand the market, strengthening digital transformation and innovation to create breakthroughs.
For the timber industry, he urged the focus to be on developing the raw material areas with sustainable forest management certificates.
For the fishery, the PM asked the Ministry of Agriculture and Rural Development to research and raise solutions to overcome the EU's IUU yellow card and expand export markets.
Policies for the development of the industries must be completed, including policies related to origin traceability, he asked. Policies should be raised to attract private investment and strengthen public-private partnership to modernise the sectors.
The Ministry of Finance was in charge of raising support in terms of tax exemption, reductions, and deferrals for 2023.
The Ministry of Industry and Trade would boost trade promotion programmes to expand markets and support enterprises in dealing with trade defence lawsuits.
According to Vietforest, the Government should consider the establishment of exhibition centres of regional and international scale in Hà Nội and Đà Nẵng. The existing ones in HCM City were still of small scale.
Fishery and forestry were important industries of Việt Nam. Việt Nam's fishery products were exported to more than 170 countries and territories, making Việt Nam among the top seafood exporters in the world.
Timber and forestry products were among the top 10 export products of Việt Nam with an average export value of around $11 billion per year.
Source: VNS