Wed, 4th Oct 2023 12:50 (GMT +7)
PM arrives in Jakarta to attend 43rd ASEAN Summit
Tuesday, 05/09/2023 | 09:18:24 [GMT +7]
A
A
Prime Minister Pham Minh Chinh and a high-ranking delegation of Vietnam arrived in Jakarta, Indonesia, on Monday morning (local time) to attend the 43rd ASEAN Summit and Related Meetings.
The Vietnamese delegation was welcomed at Soekarno - Hatta International Airport by Indonesian Minister of Tourism and Creative Economy Sandiaga Uno, and other Indonesian and Vietnamese officials.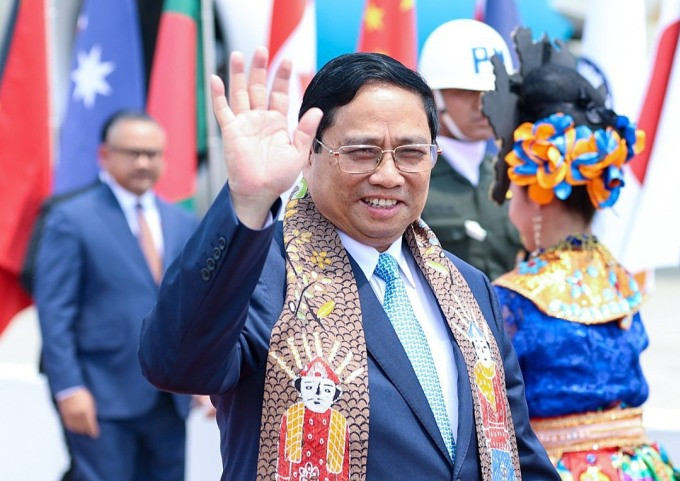 PM Chinh's attendance at the 43rd ASEAN Summit is made at the invitation of Indonesian President Joko Widodo, Chair of the 43rd ASEAN Summit and Related Meetings.
His attendance at the event aims to continue implementing Vietnam's foreign policy of independence, self-reliance, peace, cooperation and development, diversification and multilateralism in line with the Resolution of the 13th National Party Congress and the Directive No. 25 of the Party Central Committee's Secretariat; and convey the major message of the Party, State and Government to ASEAN and international friends about a Vietnam of friendliness, cooperation, integration and more active, proactive and effective participation in the regional processes.
The 43rd ASEAN Summit and Related Meetings will take place in Jakarta from September 4-7, marking the culmination of Indonesia's ASEAN Chairmanship in 2023.
In line with the Chair's theme of "ASEAN Matters: Epicentrum of Growth", the summit provides an opportunity for ASEAN leaders to discuss and chart the directions for strengthening the ASEAN Community and making the bloc the focal point of growth amidst the complexities and changes in the current global and regional landscape.
At the 43rd ASEAN Summit, participating countries are scheduled to review the implementation of the ASEAN Community Vision 2025 and blueprints in the three pillars of politics-security, economy, and culture-society.
They will also seek measures to deepen relations between the Association of Southeast Asian Nations (ASEAN) and its partners and compare notes on regional and international issues.
On this occasion, the group will approve and acknowledge many important documents, including the ASEAN Community Vision 2045 and the Declaration of ASEAN Concord IV, and documents on specific cooperation areas within the bloc and between ASEAN and its partners in food security, digital economy, blue economy, agriculture, e-vehicle ecosystem, family development and gender equality, pre-school education, and integration of people with disabilities, among others.
PM Chinh will share Vietnam's viewpoints and propose initiatives and directions in many cooperation fields in order to materialize the theme of "ASEAN Matters: Epicentrum of Growth", and consolidate the building of a united, strong ASEAN Community that holds an increasingly important role and position in the region and the world.
He will also meet with leaders of other countries and international organizations to boost bilateral ties and exchange views on issues of shared concern.
Source: VnExpress