Fri, 8th Dec 2023 09:29 (GMT +7)
Phu Tho: Festival honours UNESCO intangible cultural heritages across Vietnam
Monday, 24/04/2023 | 16:22:13 [GMT +7]
A
A
A festival to honour and showcase Vietnam's UNESCO-recognised intangible cultural heritages of humanity is underway in the northern province of Phu Tho from April 22 to 24, as part of the local 2023 Hung Kings Temple Festival and Culture and Tourism Week of Ancestral Land.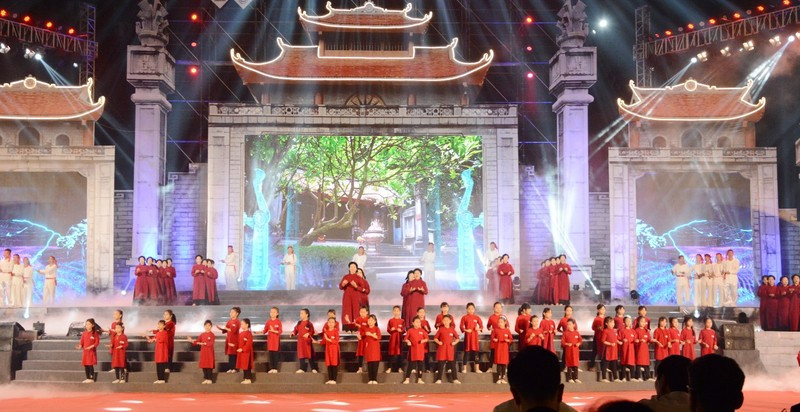 Visitors are treated to performances in 15 cultural heritage genres, with the involvement of nearly 1,000 artisans and artists from 13 provinces and cities nationwide which possess the heritages, including Hue court music, Bac Ninh's Quan ho (love duet) singing, Central Highlands' space of gong culture, Phu Tho's Xoan singing, and the art of Don ca tai tu music and song in southern Vietnam, among others.
Nguyen Dac Thuy, Director of the provincial Department of Culture, Sports and Tourism, said that the exchange and performance of intangible cultural heritages this time are expected to help artists and artisans to learn about the value of heritages from across the country and make contributions to protecting and promoting their value.
Phu Tho authorities will create the best conditions possible for participating delegations to exchange experiences in heritage management, conservation, and promotion, he stated.
Also within the Hung Kings Temple festival and culture-tourism week, the People's Committee of Viet Tri city, Phu Tho, in collaboration with the Phuong Ly Media company, on April 22, organised a show of Ao dai (Vietnamese traditional long dress). The event broke three Guinness Vietnam records for the longest ao dai that features a 178-metre flap and weights 200kg; the longest runway of over 500 metres; and the highest number participants wearing ao dai, at nearly 4,000.
Phu Tho is regarded as the ancestral land and the root of the Vietnamese people. In this place more than 4,000 years ago, Hung Kings founded the country of Van Lang, the first state of Vietnam. From this cradle, valuable cultural heritages of the Vietnamese people took shape, including the worshipping of the Hung Kings and xoan singing.
The commemoration of the Hung Kings has been made a national holiday, and is observed on the 10th day of the third lunar month, which falls on April 29 this year.
Source: Nhan Dan