Wed, 29th Nov 2023 15:38 (GMT +7)
Phú Quý Island: the new destination for beach lovers
Monday, 22/05/2023 | 08:08:34 [GMT +7]
A
A
Rugged Phú Quý is making waves as one of the nation's standout holiday isles.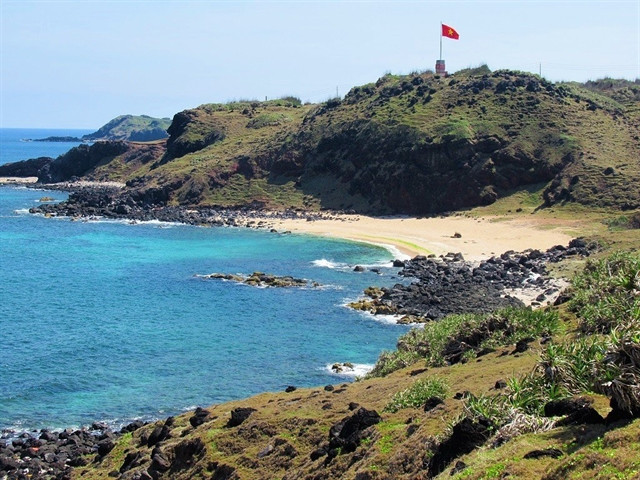 If you are a lover of beautiful beaches and are too familiar with famous ones in Phú Quốc Island, Cam Ranh Bay or Đà Nẵng, and are looking for beaches that still retain their wild and idyllic beauty, then do not miss Phú Qúy Island in the southern central province of Bình Thuận.
As Phú Qúy is quite far out, situated about 120km off Phan Thiết City, it has that remote, wild allure. At the moment, it's mostly young Vietnamese travellers who visit. So this is an up-and-coming destination that's worth visiting while it remains rather undiscovered.
The small island (16−18sq.km) is home to approximately 30,000 people. That's why it remains quite untouched by commercial tourism, so it's less developed than other islands around the country. But it has good accommodations such as some affordable small guesthouses and homestays, abundant seafood and friendly locals.
Other reasons to visit include stunning seascapes, remote natural beauty, and rustic charm. Think big bays, volcanic-rock cliffs, crystal-clear waters, sacred sites, flourishing orchards and primeval forests. Hikers and snorkelers will be in heaven here, as there are viewpoints to climb to and coral reefs to explore. Read on to discover what to eat and do on the island.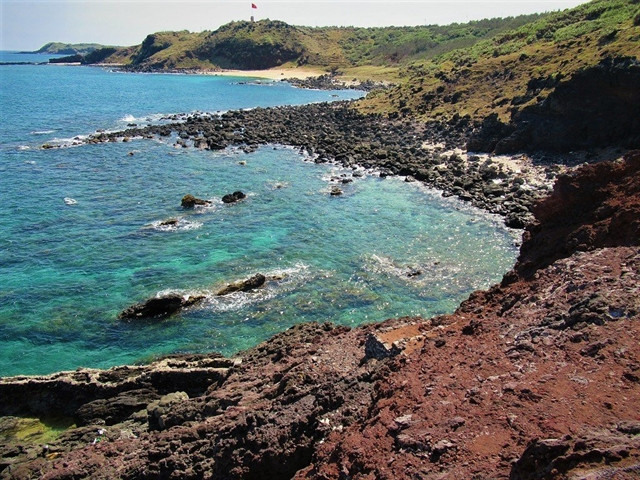 In recent years, Phú Quý Island has become a more popular destination on the travel list.
Tourists have learned about Phú Quý only over the last two years, due to its location. The numbers of travellers remain at a high number, and are mostly backpackers.
During the Reunification Day holidays (April 29 to May 3) of this year, Phú Quý welcomed about 10,000 tourists, a third of the island's population. In the whole year of 2022, the number of visitors to Phú Quý was about 93,000 people, the highest ever.
Nguyễn Thị Tú, who is from Phú Quý and works in HCM City, said: "After more than three years of not returning to my hometown, on this holiday I went back and I was very surprised by the thousands of tourists there."
"The restaurants on the island are all overcrowded, and the roads are many times busier than before. Hundreds of colourful rental motorbikes move on the island. I was so surprised at this change," she said.
Huỳnh Văn Mão, owner of a local restaurant, said: "When I first opened the restaurant, the customers were mainly locals. Since the COVID-19 pandemic has been controlled, Phú Quý tourism has developed rapidly. My restaurant has doubled its tables to 50, serving about 300 guests, but during national holidays, there are still not enough tables for guests."
Attraction of untouched beauty
Nguyễn Văn Linh, deputy director of the Phú Quý Island Tourism Cooperative, said: "After the COVID-19 epidemic was under control, the travel trend changed. Tourists now tend to go to beaches that still retain their wild features rather than travelling in famous cities like Phú Quốc, Nha Trang or Đà Nẵng."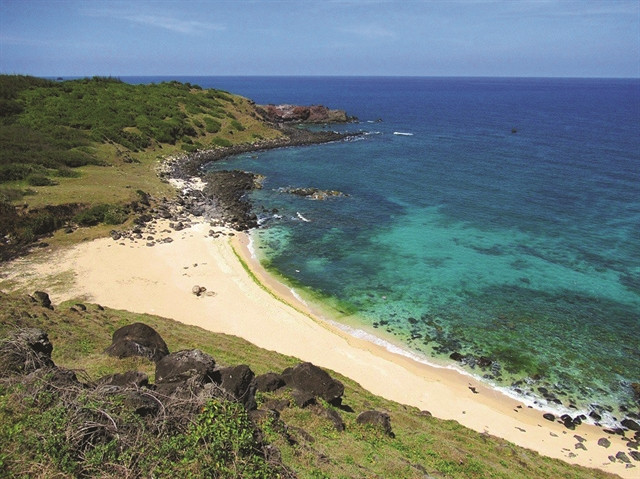 If you travel in Phú Quý, you should not miss attractive landmarks like Gành Hang Cliff, Triều Dương Bay, Linh Quang Pagoda, Phú Quý Flagpole, Phú Quý Lighthouse, Mộ Thầy Temple, Bãi Nhỏ Beach and more.
Surrounded by the deep blue ocean, the most distinctive characteristic of Phú Quý Island is the gorgeous beaches and bays. The water there is the best and clearest among the many islands of Việt Nam.
Bãi Nhỏ Beach and Gành Hang are in the southwest of the island and can be accessed via a steep and grassy path from the main road. In the shadow of the Phú Quý Flagpole, Bãi Nhỏ Beach looks like a slice of black rock and white sand with bright-blue water. This spot is not suitable for swimming but it's a good idea to hike along the rugged cliffs that stretch on both sides of the beach.
Gành Hang is one of the most beautiful beaches of Phú Quý with a crescent shape hemmed in by rock outcroppings. The beach is small but very good for swimming. The sea here is blue year round. This is an ideal place for tourists who want to immerse themselves in nature.
There is a large cliff facing the sea, creating a majestic scenery.
Triều Dương Bay is another good place for swimming spot where you can spend a whole day. It boasts a long, wide stretch of white sand beach with casuarina forests in the background. Their shade is perfect for indulging at a lazy, peaceful picnic.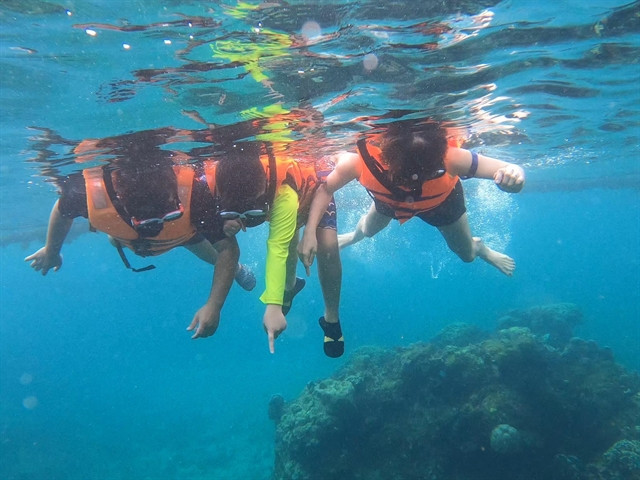 To enjoy more sparkling seas and soft sands, take a boat trip to some of the small islets around Phú Quý [which consists of more than 10 islets]. These include Hòn Tranh, Hòn Den, and Hòn Hai. For an all-round memorable 'sea experience', get your host to arrange a tour where you catch fish to eat on a raft house for lunch.
At 106m above sea level, the sacred mountain top of Cao Cát is one of the highest spots on the island. Over time, the volcanic rocks have eroded to form deep grooves featuring visually arresting horizontal lines. Climb to the top to see why it's dubbed, "the Grand Canyon of Việt Nam".
This is also the location of the Linh Sơn Pagoda, a monastery boasting a particularly majestic statue of Buddha. People often go on a pilgrimage here to pray for peace. But there are plenty of benches and lookout points for simply enjoying an epic sunset.
Another stunning vantage point is from the lighthouse at the foot of Cấm Mountain west of the port. Climb the stairs to enjoy the kind of sweeping views that make you marvel at the vastness of this beautiful world. Entry is free. But be sure to leave a donation to contribute to the upkeep of this attractive landmark.
Delicious seafood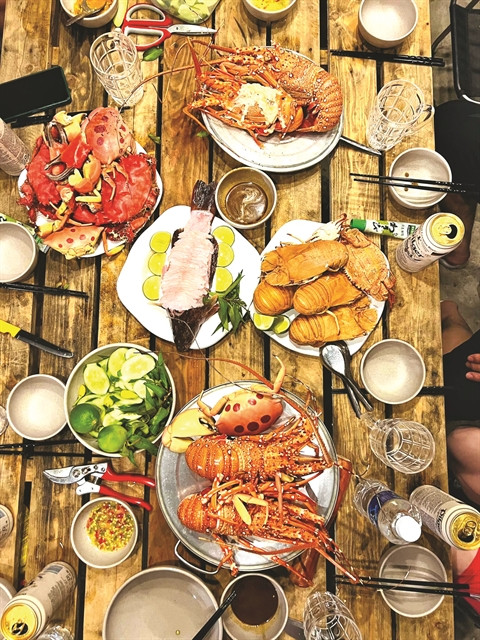 Going to the island, the famous dish that no one can ignore is seafood. Seafood on Phú Quý Island includes the famous 'moon' crab, which is very tasty with fragrant meat. Some other delicious dishes to try are king crab, grouper, red grouper, and snail salad, so if you are seafood lover, come here and you will find the best ones in Việt Nam.
The most famous dining option in Phú Quý is fresh, delicious and affordable seafood straight from the ocean. Sea cucumbers and crabs are among the most popular seafood on the island.
Tourists can find informal local seafood restaurants set around the island. Trần Hưng Đạo Street in Tam Thanh Commune is the gathering point of bigger restaurants. Another option for seafood is floating restaurants clustered just offshore at Bai Phu Bay. These places are set up on open-air terraces and offer a relaxing atmosphere.
Phú Quý's street food may not be varied but has still a decent selection. Street food vendors can be seen along the main streets, but the busiest places are Võ Văn Kiệt Street in Tam Thanh Commune and around Long Hải market.
The most popular street foods here are savoury pancakes filled with freshly caught shrimp and pork, fresh spring rolls filled with herbs, fish cake and pork, rice vermicelli with fried tofu and shrimp dipping sauce. VNS
Get to Phú Quý Island
The only way to go to Phú Quý is by speed boat. So you need to get to the port in Phan Thiết to catch a boat to the island. Depending on the type of boat, the journey will take 2.5 to 3.5 hours.
There's no airport in Bình Thuận Province.
However, the nearest airports to Phan Thiết are from Cam Ranh Airport (about 195km), and Tân Sơn Nhất Airport in HCM City (about 210km).
The option of flying to Tân Sơn Nhất Airport then continuing the journey to Phan Thiết is most popular among backpackers because there are plenty of buses and trains operating the route between HCM City and Phan Thiết.
It will take about two to three hours to get to Phan Thiết by bus or train from HCM City or Cam Ranh City.
Travellers prone to seasickness are advised to take motion-sickness medication beforehand.
On the island, you can rent a bicycle or motorbike with a cost of only about VNĐ150,000-200,000 (US$6.5-8.5) per day.
The best time of the year to explore Phú Quý is during the dry season, between December and June. But the ideal swimming months are March through April, when the seas are calm.
On the island, there are currently no resorts or high-class hotels. It's only motels, inns and hotels. For regular days, you can comfortably book a hostel or homestay. But if you come here on public holiday seasons, you should book in advance. Also, staying in a homestay is the most interesting option, and will bring you close to local people and you will learn a lot. The price of hotels and motels on the island is from VNĐ100,00 to 800,000 (US$4.3 to 34) per day.
Source: Vietnam News