Wed, 29th Nov 2023 16:32 (GMT +7)
National Committee to support people with disabilities in employment
Wednesday, 19/04/2023 | 09:00:59 [GMT +7]
A
A
Việt Nam has more than 7 million people with disabilities, just over 7.06 per cent of the national population of people aged two and above.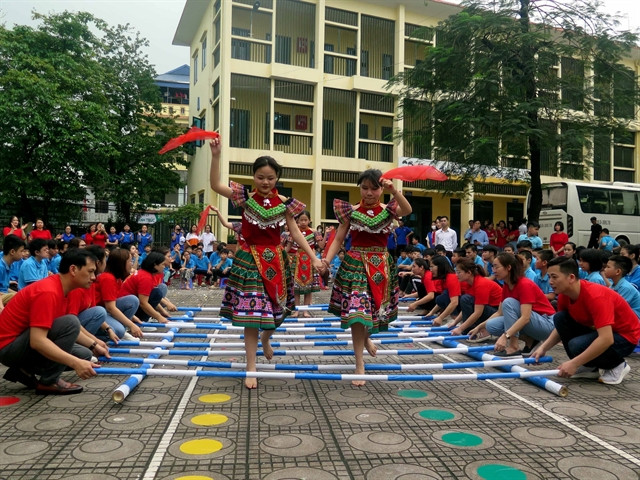 Around 20,000 people living with disabilities will be offered training to help improve their lives.
Start-up models will also be rolled out to encourage those in difficult circumstances to launch careers and increase their salaries.
The plan was revealed by Deputy Minister of Labour, Invalids and Social Affairs Nguyễn Văn Hợi.
Việt Nam has more than 7 million people with disabilities, just over 7.06 per cent of the national population of people aged two and above.
Around 28.9 per cent of those suffer from severe disabilities with 342,329 families and individuals currently in care and receiving social welfare.
Statistics show that most of the disabled people are poor, don't attend school or have academic degrees, are of working age and live in rural areas.
Most are employed within their own families in farming, forestry and fishing sectors.
The Party, State and people are paying close attention to this group of society and are adopting many policies to improve their quality of life.
Thanks to these policies, more than 1.1 million disabled people have received monthly social allowances and free health insurance cards.
Article 4 of the Law on Persons with Disabilities says that persons with disabilities are guaranteed to participate on an equal basis in social activities; live independently and integrate into the community; enjoy exemption from or reduction of certain contributions to social activities; to be provided with healthcare, functional rehabilitation, education, vocational training, employment, legal assistance, access to public facilities, means of transport, information technology and cultural, sports, tourist and other services suitable to their forms and degrees of disability, and others in line with legal regulations.
Notably, people with disabilities who face financial difficulties have received legal assistance through consultations and litigation.
Phạm Thị Hải Hà, Deputy Director of the Ministry of Labour, Invalids and Social Affairs (MoLISA)' Department of Social Protection, said more than VNĐ28.73 trillion (US$1.22 billion) was earmarked from the state budget last year for the implementation of the government's Decree No. 20/2021/NĐ-CP dated March 15, 2021 on support to social allowance beneficiaries, and another VND480 billion for the roll-out of support policies towards disabled people in terms of education.
Apart from the state budget, many organisations and associations have worked hard to mobilise resources from different economic sectors in order to improve living standards for the disabled people.
The 2010 Law on Persons with Disabilities also provides access to vocational training and employment opportunities.
Việt Nam ratified the UN Convention on the Rights of Persons with Disabilities and the International Labour Organisation (ILO)'s Convention 159 on Vocational Rehabilitation and Employment for Disabled Persons.
The Law on Vocational Education also devotes one chapter to vocational training for disabled people, helping them become self-employed or seek employment.
The State has pledged to provide financial support and other incentives for the institutions that offer vocational education to the disabled.
Disabled self-employed people and households that create jobs for the disabled can access preferential loans in service of their production and business, and receive assistance in terms of both technology and production-consumption in line with Government regulations.
Each year, some 19,000 disabled people benefit from such vocational training programmes, more than 20,000 are supported in looking for jobs and nearly 40,000 access preferential loans.
For the role of employers, the Ordinance on Disabled Persons stipulates that the disabled should account for 2-3 per cent of the workforce of each enterprise. If not, the businesses must contribute each month to the employment fund for people with disabilities an amount equivalent to the minimum wage prescribed by the State for the disabled employees.
An ILO report showed that Việt Nam loses 3 per cent of GDP by not employing people with disabilities in the labour market.
Director of the Social Protection Department To Duc said the legal system related to people with disabilities would be reviewed this year, with a focus on breakthrough policies to enhance their accessibility to vocational education, and create jobs and stable livelihoods.
MoLISA was also building a dossier on amending and supplementing the Law on Persons with Disabilities, the Employment Law, and the Law on Social Insurance, in which suitable policies for the disabled will be integrated and supplemented, he added.
Source: Vietnam News