Sun, 28th May 2023 14:22 (GMT +7)
Measures needed to preserve Nha Trang Bay corals
Friday, 22/07/2022 | 11:03:05 [GMT +7]
A
A
Swimming and diving have been banned in part of Nha Trang Bay, one of Việt Nam's most beautiful coastal destinations. The suspension is a result of concerns over damage to the coral reef.
Coral bleaching has occurred in some parts of the bay and is especially serious on Mun Island.
Nguyễn Hà Minh Trị, a diving coach in Nha Trang, told Việt Nam News: "I have been diving in Nha Trang Bay for more than 20 years as a professional diver and witnessed a lot of changes in the reef, especially in Mun Island. A lot of coral has died, seriously affecting the ecosystem. If this continues, there will be no more marine life here."
According to a survey of the Nha Trang Bay's Management Board, in 2015, the coral reef ecosystem was in good condition and the coverage was average. In 2022, the quality of the reef had decreased to average and the coverage is now poor.
"Through preliminary survey assessment, about 60-70 per cent of corals growing close to the shore were broken and carried ashore. At Mun Island, many coral blocks weighing fifty or seventy kilograms were brought ashore on the west, southwest and north sides," said Đàm Hải Vân, deputy head of Nha Trang Bay's management board.
Many reasons are attributed to the bleaching of the reef at Mun Island, including climate change and ocean warming, but human activities on the mainland in Nha Trang City are the main factor.
Nguyễn Chu Hồi, Vice President of Vietnam Fisheries Association, said: "In recent years, climate change, an increase in the temperature of ocean water, and increasing acidification of ocean water, have had a huge impact on the once stable ocean environment and marine creatures.
"The phenomenon of coral death is quite common globally, and Việt Nam is not an exception. In addition, Nha Trang Bay is located close to the shore, so we can see the impacts from the mainland, and also upstream and mountainous areas, not mention to garbage and plastic debris from domestic and industrial waste."
In 1994, Nha Trang Bay was considered by the Government as one of the 20 best potential conservation sites in Việt Nam.
In 2001, the Government decided to establish a marine protected area on Hòn Mun Island.
Three years later, Khánh Hòa Province decided to rename this protected area to Nha Trang Bay Marine Protected Area, with an area of over 16,000ha (160sq.km), including nine islands and surrounding waters.
According to scientists, Nha Trang Bay belongs to the extended area of the World Coral Triangle, one of the most important reef systems in the world, stretching 132,636km across six countries: Indonesia, Malaysia, Papua New Guinea, the Philippines, Solomon Islands and East Timor.
Considered an under-sea tropical forest, coral reefs play an important role in marine life. According to scientists, living within the reef is 2000 to 3000 types of marine life. If coral reefs are lost, it also means that these marine species may migrate or die.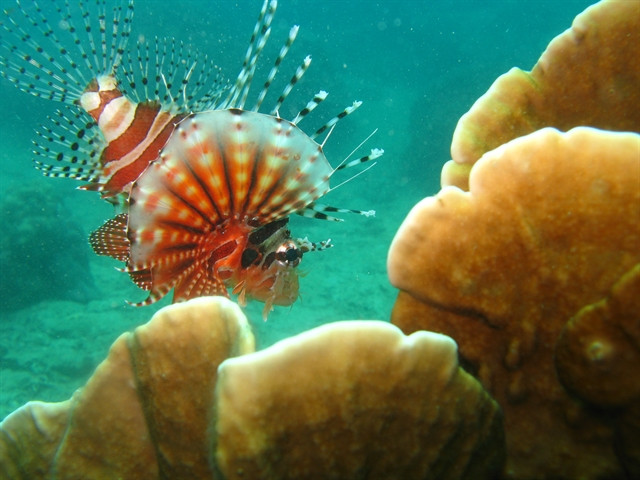 Therefore, restoring coral reefs and protecting their growth is extremely important and urgent.
The closure of diving sites at Mun Island is the first move to save the coral reefs, followed by a series of measures that can be implemented with the participation of many parties.
Hồi said: "The 'rescue' has been accompanied by many partners: Viet Nga Tropical Centre has let their divers clean the sea and collect garbage as a substrate for coral to grow. Diving clubs insist to request divers and visitors to pick up trash and participate in sea cleaning. The UNDP's Small Grants Program will sponsor a project to help improve the livelihood of people living in the Bích Đầm Community, Tre Island. This is the way to preserve coral reefs, while still helping to ensure sustainable livelihoods.
"In addition, 'public governance, private investment', a new governance measure, will be implemented. Accordingly, all sea users are obliged to contribute to protecting the sea, especially businesses that benefit greatly from the sea," he said.
Saving corals especially requires support from scientists and people with marine expertise.
According to Hồi, who is also the Chairman of the Vietnam Association of Marine Environment and Nature, scientists have identified very good coral reefs around the core of the protected area.
"Therefore, we may consider expanding the coral reef to be preserved to create an overall ecological balance between the core of Nha Trang Bay and the surrounding sea," he said.
"To restore coral, there are other technical solutions such as pruning and creating artificial substrates for corals and moving good coral reefs to degraded places for them to recover. It is also possible to make artificial reefs by sinking old ships to make habitats for corals and sea creatures."
In the immediate future, the treatment of broken corals is an urgent matter.
"I recently dived at Rơm Island, about a few hundred meters away from Mun Island. There is a lot of broken coral. If we don't quickly collect and fix broken coral branches or plant them in the substrate, they will die, and then it becomes even more difficult to regenerate the reef," Minh Trị said.
Source: Vietnam News