Fri, 8th Dec 2023 10:28 (GMT +7)
Mang Den – attractive destination in Central Highlands
Friday, 19/05/2023 | 10:05:17 [GMT +7]
A
A
Mang Den is a plateau in the Truong Son mountain range, at an altitude of 1,200m above sea level, belonging to Kon Plông District, Kon Tum province.
It is a small town surrounded by mountains and rich forest flora with a cool and mild mountainous climate all year round, and is home to the Mang Den national ecotourism area in the province.
With a cool year-round climate and average temperatures of 16-20 degrees Celsius, Mang Den is known as the 'second Da Lat' of the Central Highlands, as it is also a plateau with vast valleys and pine forests.
Located about 60km northeast of Kon Tum City, Mang Den's topography is very diverse, including many gentle hills, green pine forests, a system of gentle rivers and streams, many poetic lakes and majestic waterfalls.
In the past, Mang Den was not well known, with a population of just 7,000, mainly Bana, people living in a few sparse villages in the valleys and hillsides.
However, Mang Den has a special geographical position. It is located on an arterial road connecting the Bo Y Border Gate with the central coastal provinces. It is also a 'green road' for a long-term tourism strategy from the mountains to the sea and islands, from the coast to Cambodia.
The inhabitants of Mang Den are quite diverse such as Xe Dang, Mo Nam, Ka Dong and Hre, and have lived together since ancient times. Although they share similarities, each ethnic group has its own distinct culture.
In the past, French people visited Mang Den to do research and selected the location as a resort town. In order to construct a second Da Lat, pine trees were planted in this area. With forests spanning 93.31 percent of the natural area, Mang Den is a tranquil and fascinating spot that any traveler would love to explore in Kon Plong District, Kon Tum Province.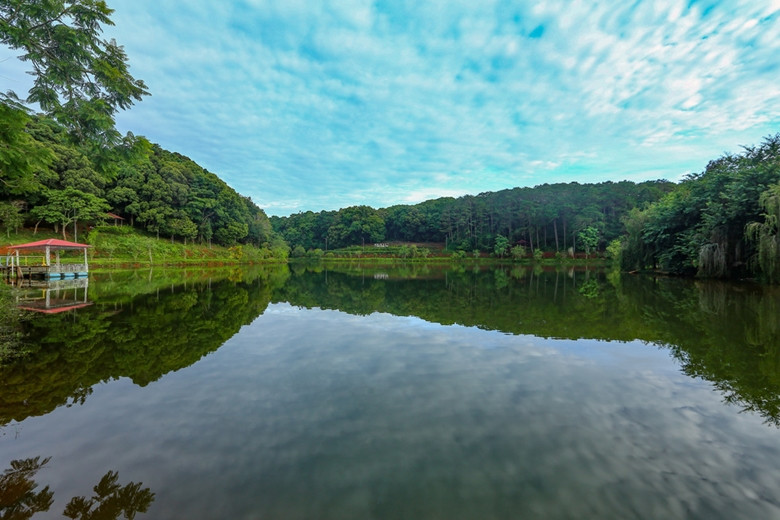 Mang Den can be visited all year round because the climate is consistently pleasant, cool, and conducive to sightseeing.
Visiting Mang Den, you can visit Kon Pring Culture and Tourism Village, Đam Bri Lake, Pa Sy Waterfall, Eban Farm and Thien My Farm, statue of Virgin Mary and the Mang Den Church with beautiful architecture - vestiges of the French.
In recent years, spiritual-cultural tourism has developed, becoming an important highlight in the overall eco-tourism of the area. That advantage comes from the natural scenery, with the masterpieces of the mountains and forests.
Mang Den ecotourism area's most special features are 7 lakes and 3 waterfalls which were the reason for the name people gave this place: "the land of seven lakes and three falls". The Pa Sy Waterfall is one of the most beautiful natural highlights of the area and a visit is therefore one of the best things to do in Mang Den. It's not so much the size of the waterfall that makes it magical, but the location, hidden between the mountains and completely surrounded by greenery, giving it a 'lost in the jungle' feel.
The Dak Ke Waterfall is, especially compared to the Pa Sy, very hidden and poorly signposted.
Among the lakes, the most famous one is Dak Ke Lake, which is peaceful and surrounded with forest. A few paths here can be used for walking around the lake. There is also a traditional Rong house right next to the lake that is used for education about the local minorities.
Mang Den is really an attractive destination for both domestic and foreign tourists. Realizing its potential benefits, the government has worked out a plan to develop this 1,500-2,000 ha green land into a national tourism zone to offer various tourism products and regarded it as one of three key socio-economic development zones of Kon Tum Province.
Source: en.dangcongsan.vn