Tue, 6th Jun 2023 06:53 (GMT +7)
Leading tuồng theatre celebrates 70th birthday
Monday, 19/09/2022 | 08:34:47 [GMT +7]
A
A
A series of tuồng or hát bội (classical drama) performances are being staged by the Bình Định Traditional Theatre to celebrate its 70th birthday anniversary this month.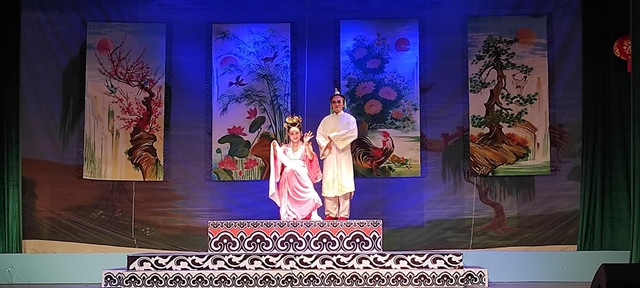 The shows feature veteran and young artists of tuồng, a traditional genre of theatre in the central region that originated in the 12th century.
Famous plays such as, Ông Già Cõng Vợ Trẻ Đi Xem Hội (The old man carries his young wife to see the festival), Hồ Nguyệt Cô Hóa Cáo (Hồ Nguyệt Cô turned into a fox) and Ôn Đình Chém Tá (Ôn Đình beheaded Tá), will be introduced.
The artists will talk about tuồng history and its development during various periods, including its evolution from a folk art into a royal art in the 17th century.
New concepts will be featured to attract and close the gap between young audiences and the art form.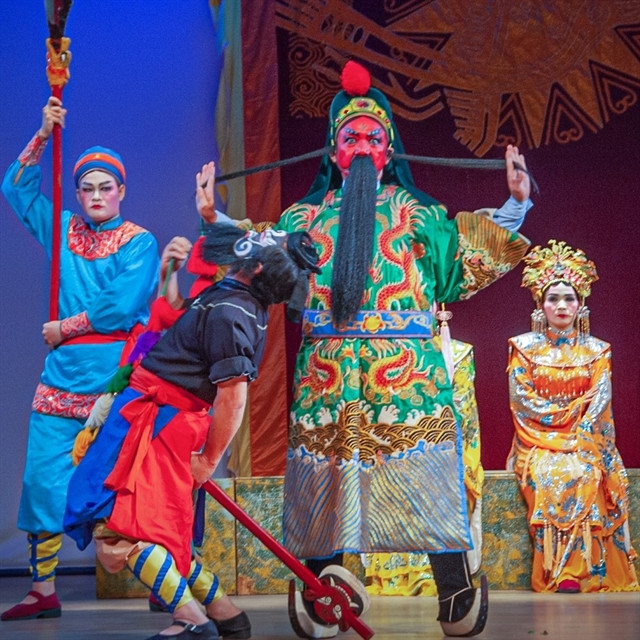 "Our young talents have trained with veteran artists after school to feature the beauty of tuồng through their career," said theatre director Văn Bá Dũng.
Dũng said that the effort to bring tuồng to young generations was the right direction for his theatre, the Bình Định Traditional Theatre.
"Drawing young audiences to tuồng is a job that will take time and require persistence. Performing for them not only requires acting, but also a combination of music, make-up and costumes to be studied, emphasising the unique characteristics of tuồng and Vietnamese culture," he said.
Bình Định Traditional Theatre offers performances of tuồng and bài chòi (folk singing), which was honoured by UNESCO as an Intangible Cultural Heritage of Humanity in 2017.
The art of bài chòi originated almost 400 years ago under the reign of the Nguyễn Lords (1558-1777). The art entertained the community during post-harvest time.
Bài chòi, which literally means a deck of cards (bài) and bamboo huts (chòi), is half a game and half a theatre performance.
It is a diverse art combining music, poetry, acting, painting and literature.
Its practitioners include performers, card-making artists and hut-making artists. Performers and their families play a major role in safeguarding the practice, and dedicated groups continue to celebrate it.
The art reflects the spirit of human solidarity. All the villagers, both audience members and players, are drawn into the joyful ambiance for the purpose of sharing happiness and solidarity.
"Tuồng and bài chòi are the spirit of Vietnamese people in the central and south regions. I hope young artists will keep it alive," said Dũng.
Shows by Bình Định Traditional Theatre are staged at the theatre, 590 Nguyễn Thái Học Street in Quy Nhơn, Bình Định Province.
Source: Vietnam News