Thu, 5th Oct 2023 03:21 (GMT +7)
Inevitable trend of green energy
Thursday, 10/08/2023 | 10:14:47 [GMT +7]
A
A
As the world is accelerating emissions reduction and energy transition to achieve carbon neutrality, investment in clean energy development is more important than ever. Realising their commitments to take the lead in the fight against climate change, the US and Europe have introduced policies that prioritise the development of clean energy and have recorded positive results.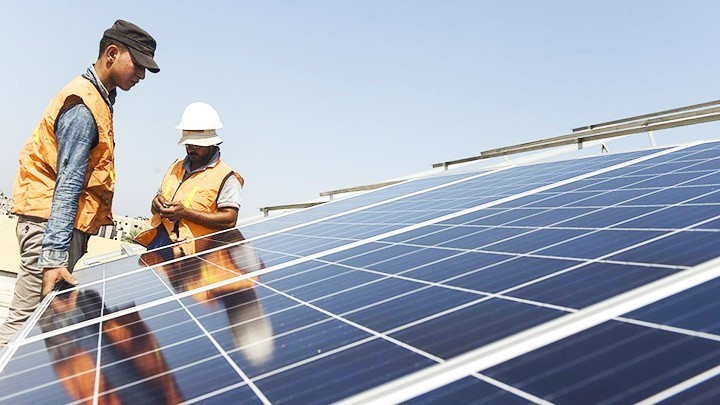 Committed to pioneering in the fight against climate change, the US has built many investment programmes to boost clean energy. The US government prioritises supporting projects to reduce greenhouse gas emissions, one of the causes of global warming.
The US Greenhouse Gas Reduction Fund, worth 27 billion USD, was established under the Inflation Reduction Act (IRA) which was passed last year. This fund is proposed to duplicate the model of more than 20 green banks in states like Michigan and Maryland, that invest in civil solar energy programmes. Non-profit green banks will help reduce risks in projects in low-income communities, by providing financial support and attracting investment from the private sector.
In June, the US government launched a 7 billion USD grant programme to help low-income communities access residential solar panels.
The US Environmental Protection Agency (EPA) recently announced two grant programmes with 20 billion USD in funding, to boost investment in clean energy nationwide, especially in low-income communities, in response to climate change. Accordingly, the "National Clean Investment Fund" worth 14 billion USD, will provide grants to support two-to-three national clean financing institutions, enabling them to partner with the private sector, to provide accessible and affordable financing for tens of thousands of clean technology projects nationwide.
US Vice President Kamala Harris said: "Students, small business owners and community leaders with innovative ideas to reduce our emissions and accelerate our clean energy transition, will see their projects become reality, all while creating good-paying jobs and a clean energy economy that works for all."
The investment in clean energy in European countries also helps many countries in the region reduce difficulties in solving the problem of energy security. In a recent letter to the European Commission, many business groups urged policymakers to accelerate investment in the energy network and promote projects to increase solar power capacity, to promptly meet the target against climate change. Using renewable energy has helped reduce power shortages during recent heat waves.
According to experts, solar power is a particularly suitable solution to cope with the hot weather of summer, when the sun's radiation is strongest during the hottest time of the day and the electricity demand for cooling systems reaches the highest level. The high production of solar power has helped some European countries meet the soaring electricity demand this summer.
In Southern Europe, Spain and Greece increased their solar installations, as the two countries faced record-high energy prices last year. According to grid operator Red Electrica, Spain's solar capacity expanded by 4.5 GW in 2022, a record high. Solar power contributed nearly 24% to Spain's electricity production in July 2023, while the rate was 16% in July 2022. In Greece, the Independent Power Transmission Operator (IPTO) said when the electricity demand soared to the highest level since the beginning of the year, solar power met 3.5 GW out of the total demand of 10.35 GW, on July 24.
In Italy, according to data from Refinitiv, rising temperature and cooling demand led to a peak in electricity demand in Sicily, on July 24, and solar power met nearly 50% of the rising electricity demand. In a country with cooler weather and less sunshine like Belgium, solar power also meets more than 100% of the electricity demand, generated during peak hours.
It can be said that renewable energy has helped many countries ease the shortage of electricity during hot summer days, in the context that top priorities are given to ensuring energy security. Amid the urgent goal of taking action against climate change, green energy transition is an inevitable trend and also a pillar field in current international cooperation.
Source: Nhan Dan