Wed, 4th Oct 2023 14:07 (GMT +7)
Hà Nội aims for 75 per cent urbanisation rate by 2030
Friday, 25/08/2023 | 09:40:34 [GMT +7]
A
A
Hà Nội aims to strive for an urbanisation rate of approximately 60-62 per cent by 2025 and is projected to reach around 65-75 per cent by 2030.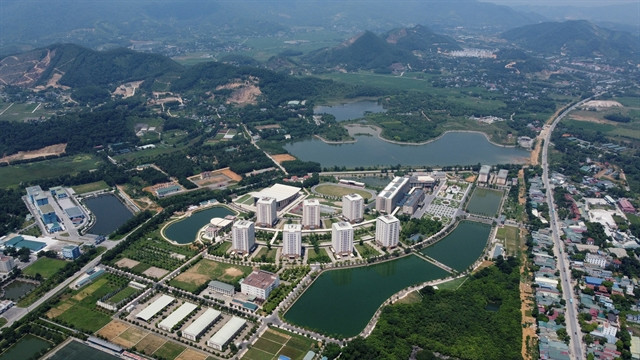 In a move towards advanced urbanisation, the People's Committee of Hà Nội has rolled out an ambitious blueprint, aligning with directives from the Hà Nội Party Committee.
They're aiming for an urbanisation rate of approximately 60-62 per cent by 2025, with an eye on a sweeping 65-75 per cent by 2030. This outlines a clear vision for the city's evolution, resonating with Việt Nam's broader goals for sustainable urban development.
The People's Committee of Hà Nội has recently formulated a plan for enacting the Action Programme of the Hà Nội Party Committee, pursuant to the Resolution 06-NQ/TW dated January 24, 2022, by the Politburo on the "Planning, Construction, Management, and Sustainable Development of Vietnamese Urban Areas up to 2030".
The aim of this strategy is to comprehensively address existing constraints and deficits, swiftly tackle challenges and hurdles, and carry out the scheduled actions to ensure high efficacy in urban planning, management, and sustainable development as mandated.
Hà Nội stipulates an in-depth and holistic execution of the goals, duties, and pivotal solutions outlined by the city's Party Committee. This is to be intrinsically linked with the application of the Politburo's Resolution 15-NQ/TW on the "Direction and Tasks for the Evolution of Hà Nội up to 2030, with a view to 2045."
The city's People's Committee emphasises that the rigorous, consistent execution of this plan must be overseen by the leadership of the city People's Committee and must involve close collaboration across various tiers, sectors, departments, and entities.
Hà Nội targets for urban construction land as a proportion of the overall natural land set at about 30 per cent by 2025, with hopes to attain between 33-36 per cent by 2030. These details will be further scrutinised during the formulation of the Hà Nội Capital Plan, the adjustment of the General Plan for Hà Nội Capital, and the City's Urban Development Programme.
By 2025, Hà Nội plans to finalise all district-level construction planning, zoning of satellite urban areas, functional zone developments, detailed plans for refurbishment regions, regeneration of dated flat complexes, and urban development schemes across the city. This encompasses the introduction of an all-encompassing set of guidelines and standards linked to planning and architecture. It also involves making necessary planning adjustments to facilitate the evolution of districts into urban districts.
The city is also committed to reaching a transport land ratio over urban construction land (inclusive of static transport) of 12-15 per cent by 2025 and 15-20 per cent by 2030. They intend for the share of public transport users to be about 30-35 per cent by 2025, rising to roughly 45-50 per cent by 2030. The anticipated average green space per urban dweller is projected to be around 7.8-8.1sq.m per individual by 2025 and approximately 12-14 sq.m per individual by 2030. The mean housing floor space per person in urban regions is slated to achieve 31sq.m per individual by 2025 and 33sq.m by 2030.
Hà Nội aims to refurbish, enhance, and finance the establishment of new hospitals. Priority is given to the swift completion of four major general hospitals situated at the city's entrances, with an objective of offering 30-35 beds per thousand inhabitants by 2025.
The ambition is to elevate the aggregate count of hospital beds in medical facilities (within specialist healthcare centres and assorted hospital tiers) to about 21,880 beds by 2025 and approximately 24,380 beds by 2030. The objective is to achieve a hospital bed ratio for urban healthcare institutions of 2.8 per 1,000 individuals by 2025, and 3.2 by 2030, maintaining at least 15 doctors for every 10,000 individuals. This is paired with human resource development to guarantee effective management post-investment completion.
The city's People's Committee is keen to achieve a higher average GRDP growth rate from 2021 to 2025 than the national level. For the 2026 - 2030 period, the GRDP is forecasted to grow at an annual rate of 8-8.5 per cent, with a per capita GRDP ranging between US$12,000-13,000. By 2025, the processing and manufacturing industry's contribution to the GRDP is set at 17 per cent, and 20 per cent by 2030. The digital economy's slice of the GRDP is targeted at 25-30 per cent by 2025, and 35-40 per cent by 2030. The cultural industry's value share in the GRDP is predicted to be 5 per cent by 2025 and escalate to 8 per cent by 2030. The value from high-tech agriculture as a portion of the total agricultural value is fixed at 70 per cent for 2025 and 80 per cent for 2030.
The city has ambitions to finalise the Belt Road 4 by 2027 and is laying down investment plans for Belt Road 5 to be initiated before 2030.
The People's Committee has directed city departments and sectors to emphasise comprehensive and extensive awareness, education, and engagement campaigns within the community to underscore the significance, role, and value of sustainable urban planning, construction, management, and advancement. They are tasked with executing the programme's strategic measures and capitalising on the political system's might to realise the established objectives.
The city is committed to streamlining its frameworks and policies, fostering a conducive environment for urbanisation, urban design, construction, management, and sustainable urban growth.
It will ramp up the administration and growth of urban regions, housing projects, harmonised contemporary urban infrastructure, and climate change adaptations.
There's a plan to develop and enhance the urban governance model, bolstering urban management efficiency and enhancing the urban living standard, all while assuring social welfare, security, order, and safety.
City departments, panels, and districts will tailor their action plans based on their respective roles and responsibilities, integrating the programme's overarching aims, strategies, and measures into their unique objectives and tasks to guarantee proficient execution. Throughout the implementation phase, tasked units are instructed to draft budgets that are both economical and aligned with established policies.
Source: Vietnam News