Wed, 4th Oct 2023 13:05 (GMT +7)
Four best diving spots in Vietnam
Monday, 19/06/2023 | 10:09:19 [GMT +7]
A
A
Vietnam's coastline stretches for thousands of kilometers and features captivating underwater experiences at its four premier diving sites.
The rich marine biodiversity of Vietnam's offshore waters makes them an ideal destination for scuba diving enthusiasts. The diving community in Vietnam is known for being friendly and enthusiastic, and the country also attracts snorkelers from around the world.
To help you plan your next diving trip, travel information site Traveldudes has published a list of the four best dive sites in Vietnam.
Nha Trang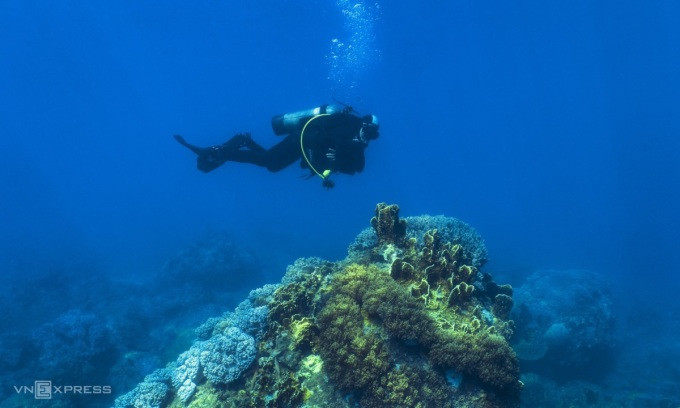 Nha Trang in the central coast offers great snorkeling from February to October, with warm weather and calm seas. Water temperature during this time is between 26 and 30 degrees Celsius, ensuring clear visibility.
The seabed of Nha Trang is adorned with coral reefs and a diverse array of fish species, including clownfish, angel fish, butterfly fish, barracuda, and snapper. Lucky snorkelers may even witness graceful hawksbill sea turtles gliding through the water.
At the Hon Mun Island Reserve, visitors can explore Madonna Rock, reaching depths of approximately 16 meters, characterized by towering cliffs and narrow caves.
The reserve hosts a diverse marine ecosystem with species like pufferfish and reef sharks. Snorkelers can even encounter stingrays, intricately structured coral reefs, and turtles.
For those seeking a combination of scuba diving and relaxation, a visit to Hon Ong Island is recommended. This unspoiled island is in Van Phong Bay, Van Ninh District, about 100 kilometers from Nha Trang. During the jellyfish and plankton spawning season from April to July, numerous whales gather near the shore to feed and hunt. Lucky visitors may even have the opportunity to encounter whales on the island.
Phu Quoc Island
The best time for diving in Phu Quoc Island is from November to May when the water temperature hovers between 26 and 29 degrees Celsius.
The southern island is teeming with tropical fish species, including butterfly fish, parrotfish, angelfish, seahorses, lionfish, and rays, creating a lively underwater spectacle. Visitors can explore Mong Tay and Doi Moi islands.
Doi Moi Island, located in the western part of Phu Quoc, in Ganh Dau Commune, requires a two-hour boat ride from Duong Dong Ward. Dive into the waters surrounding the island, visitors can swim alongside sea turtles, rays, and coral reefs.
Mong Tay Island, situated to the south of Phu Quoc in Kien Luong District, can be reached by boat from An Thoi Port within an hour or by canoe in just 30 minutes. This diving spot is characterized by underwater caves and cliffs that serve as habitats for various marine species.
Con Dao Island
Con Dao Island off the southern Ba Ria - Vung Tau Province is ideal for scuba diving from March to September when the water temperature ranges between 27 and 30 degrees Celsius.
A popular diving spot in Con Dao is Bay Canh Island. It consists of two interconnected island parts with a sandbar in the middle. The entire island is covered by primary and mangrove forests, contributing to its tropical island ecosystem, home to 882 plant species and nearly 150 animal species.
Hon Tai Island, located 5.3 kilometers from Con Dao's cruise ship area and approximately 1 kilometer from Shark Cape, boasts abundant marine resources, including coral reefs, giant clams, and sea turtles. Hon Tai Island also serves as a breeding ground for hundreds of sea turtles, and from April to September each year, thousands of baby turtles make their journey back to the ocean.
Cham Islands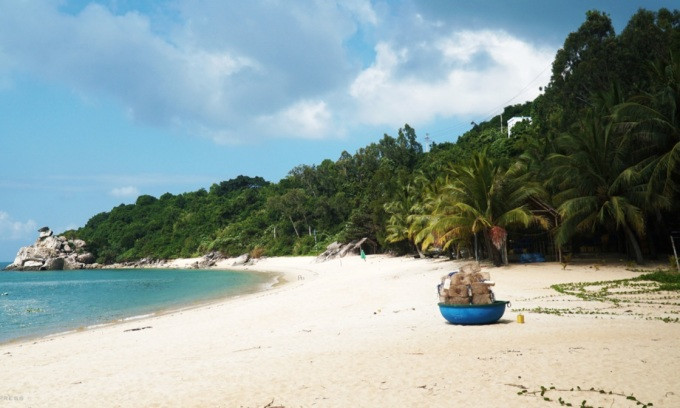 Cham Islands, recognized by UNESCO as a world biosphere reserve in 2009, is situated 18 kilometers from Hoi An city center, covering a total area of approximately 15.5 square kilometers. The best time for scuba diving in Cham Islands is from April to September when the sea temperature ranges between 26 and 29 degrees Celsius. Snorkelers can encounter sea turtles, seahorses, frogfish, and a diverse array of fish, with coral reefs playing an indispensable role in this ecosystem.
Hon Dai Island, Bai Bac Beach, and Hon Tai Island are recommended diving spots in the islands. Hon Dai , one of the largest islands, covers and protects the entirety of the Cham Islands. Visitors can enjoy a panoramic view of Hon Dai while sitting on a canoe en route from the mainland to the island. Hawksbill sea turtle and sea cucumbers are notable marine life species found in this area.
Bai Bac Beach, located at the top of the main island of Hon Lao, offers a tranquil and deserted beach suitable for relaxation and diving activities. Schools of snapper or butterfly fish are often spotted here.
Hon Tai, located near Hon Dai, the main gateway to Cham Islands, features underwater rock formations and a diverse marine ecosystem, including octopuses and cuttlefish.
Source: VnExpress