Fri, 22nd Sep 2023 08:28 (GMT +7)
Flexibility and adaptability the essence of Việt Nam's foreign policy: int'l experts
Tuesday, 04/07/2023 | 09:07:20 [GMT +7]
A
A
They've hailed the flexibility of Việt Nam's bamboo diplomacy, stressing that it is an excellent initiative and style of leadership.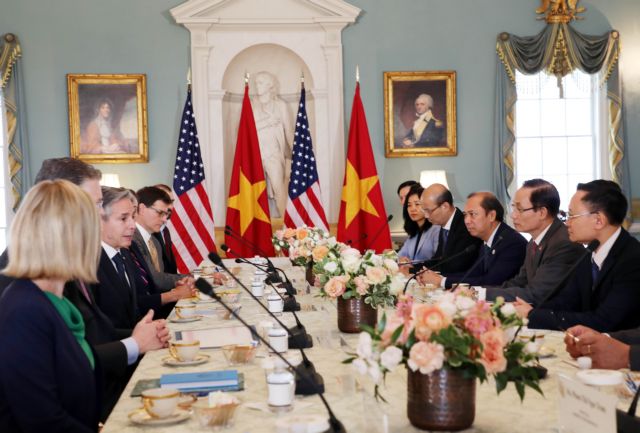 International experts have highlighted the strength of Việt Nam's foreign policy which lies in its commitment to its founding principles whilst simultaneously being flexible and adaptive to a changing world, seeking to create new relationships and increase existing ones.
They've hailed the flexibility of Việt Nam's bamboo diplomacy, stressing that it is an excellent initiative and style of leadership.
The term "bamboo diplomacy" was coined by Party General Secretary Nguyễn Phú Trọng during a diplomatic conference in 2016 and reiterated at the first national conference on foreign affairs in 2021. During these meetings, the leader likened Việt Nam's foreign policy to bamboo, with strong roots, solid stems, and flexible branches.
In an interview granted to Vietnam News Agency (VNA), Professor Go Ito from Japan's Meiji University said that the main concepts of "bamboo diplomacy" include resilience, flexibility and modesty.
Việt Nam is standing in an environment that enables the country to gain an important position in the Association of Southeast Asian Nations (ASEAN), and boost political and economic ties with Japan and the Republic of Korea (RoK), he said.
Kyril Whittaker, a researcher of Vietnamese politics and history said the foreign policy has its essence in, and represents the development of a positive and progressive foreign policy based on Marxism-Leninism and Hồ Chí Minh thought.
According to Whittaker, the foreign policy of the current day is based upon flexibility and strength, that is Việt Nam consistently develops its foreign policy based upon mutual respect in the context of independence and territorial integrity and maintains and develops increasing relationships with all countries.
He said it is most certainly a policy of 'strong roots' and 'flexible branches' as it is resilient and strong, yet open.
This can also be seen in larger ways with Việt Nam's involvement in more than 70 international organisations and forums, most clearly exemplified by the chairmanship of ASEAN in 2020 and its chairmanship of the UN Security Council for the 2020-21 tenure.
During the COVID-19 pandemic, Việt Nam's internationalism was seen in its provision of face masks and other aid to states in need. The British researcher pointed out "bamboo diplomacy" is based upon the qualities present in Vietnamese history and present-day material conditions and emphasises particular qualities which are represented in bamboo, such as resilience, flexibility, utility, and the qualities often stressed by late President Hồ Chí Minh, such as industriousness, thrift, uprightness and strength in unity.
Whittaker stressed that bamboo diplomacy means Việt Nam has an open and welcoming foreign policy which is adaptable to the changing climate and can weather tough situations. It is a policy underlined by fixed principles such as respect for independence, peace and non-interference whilst advocating openness and flexibility and an ever-increasing effort for improved international relationships and involvement in all areas.
Speaking about Việt Nam's achievements in international integration, Whittaker said these achievements are well known. At a basic day-to-day level, it is well-known as a friendly country which is safe and provides visitors with unique cultural experiences. The country is known to be one which has long-lasting and developed relationships with many nations, whilst simultaneously defending the rights of nations to independence and freedom for their citizens to enjoy peaceful development.
He pointed out that the recent visits by Prime Minister Phạm Minh Chính to China, head of the Party's Commission for External Relations Lê Hoài Trung to Cuba, Deputy Prime Minister Trần Lưu Quang to Japan and others have resulted in enhancing the friendship and cooperation between Việt Nam and other countries.
Likewise, Việt Nam's participation in international forums such as the recent World Economic Forum in Tianjin, China has resulted in bilateral meetings with the Prime Ministers of several countries such as Barbados and Mongolia with each side indicating interest in further developing cooperation between the two nations in fields such as tourism, aviation and cooperation in multilateral forums.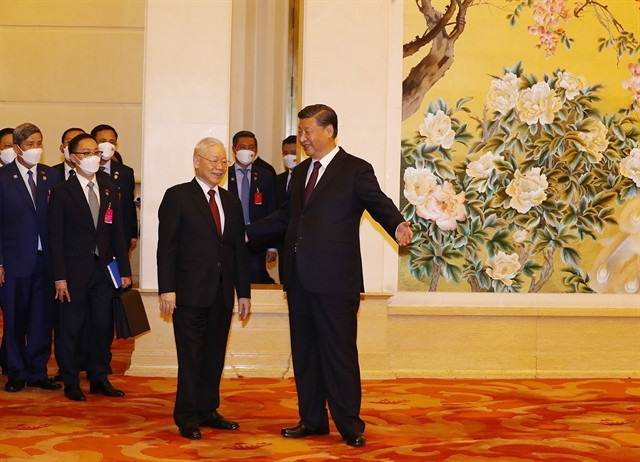 Chairman of Israel–Việt Nam Friendship Association Amikam Levy said "bamboo diplomacy" is a good policy for the sake of the Vietnamese people.
Levy, who served as Israeli Ambassador to Việt Nam from 2001 to 2003, described bamboo diplomacy as an excellent initiative, effective style of leadership, and commitment.
It is not easy to carry out the policy since the implementation may encounter many obstacles and requires a high sense of responsibility, Levy opined. But he believed that Việt Nam can surmount those obstacles soon.
Levy added that he is impressed with the CPV's leadership role in Việt Nam's socio-economic achievements and that the country has chosen the right direction, had strong leadership, and also shown its aspirations and clear commitments.
He held that Vietnamese leaders are visionary and have made dedications for the sake of the people and that Israel can learn many things from Việt Nam and also have many things to contribute to the latter.
Veeramalla Anjaiah, a senior research fellow at the Centre for Southeast Asian Studies (CSEAS) and senior journalist based in Jakarta pointed to Việt Nam's "bamboo diplomacy" for its contributions to national achievements.
In a recent article titled New impetus for strategic ties between Việt Nam and Indonesia, Anjaiah called the country is a rising star of the Indo-Pacific region and a strategic nation in Southeast Asia, with effective diplomacy.
He said Việt Nam's bamboo diplomacy is seen as a pragmatic response to the challenges facing the country in a rapidly changing world.
Wei Wei, head of the Vietnamese department under China's central TV and radio station, said external relations have helped Việt Nam improve its international position and step by step enhanced the country's reputation in the world arena.
He said the bamboo diplomacy style following direction of Party Chief Nguyễn Phú Trọng can be described as firm political stance and flexible diplomatic methods.
Source: Vietnam News