Sun, 10th Dec 2023 14:53 (GMT +7)
FDI enterprises see contradictory performance on stock market
Friday, 02/06/2023 | 08:57:18 [GMT +7]
A
A
Besides the listed FDI enterprises doing business with profit, there are names that have been delisted due to losses.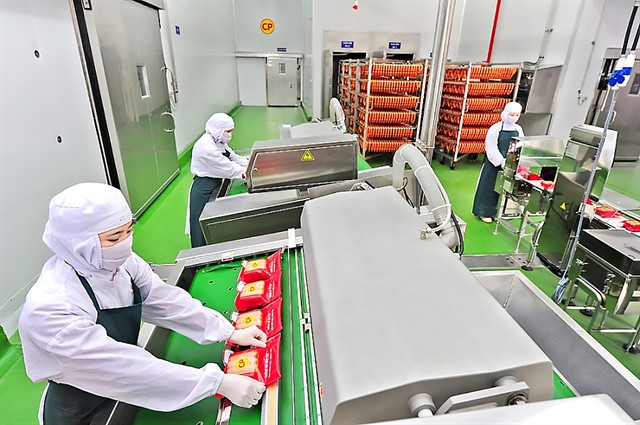 Việt Nam's stock market has many enterprises with foreign investors holding more than 51 per cent capital such as Sabeco (SAB), Bình Minh Plastics (BMP), Imexpharm (IMP), Ngọc Nghĩa Plastics (NNG), and Biên Hoà Packaging (SVI). The number of these enterprises may increase when large foreign corporations are still looking to acquire shares of manufacturing enterprises in Việt Nam.
On the other hand, the stock market lacks foreign direct investment enterprises (FDI enterprises) listed on the stock exchange. The most recent FDI enterprise on the stock exchange was Siam Brothers Việt Nam (SBV) in 2017.
In the past, the stock market also witnessed a wave of FDI enterprises seeking to go public in 2003-08 after Decree No 38/2003/NĐ-CP was issued. However, the number of these enterprises in the following years dropped, while some names were even delisted.
At the moment, only six FDI enterprises are still listed on HoSE and HNX and three other enterprises are trading on UpCOM. Besides Siam Brothers Việt Nam (SBV), the remaining names are Everpia (EVE), Mirae (KMR), Tung Kuang Industry (TKU), Taicera Ceramics (TCR), Taya Việt Nam Wire and Cable (TYA), Royal International ( RIC), Interfood (IFS), and Chang Yih Ceramic Tile (CYC).
Enterprises such as EVE, TKU, TYA, KMR, and SBV are enjoying profits every year, but profit growth is not stable. Notably, TCR recorded very erratic business results. Although it has been profitable in the last two years, the figures were still quite modest compared to the losses in the past.
Interfood (IFS) is showing a strong comeback. The owner of the Wonderfarm squash tea brand has continuously made great profits in recent years and officially erased all accumulated losses from the end of 2021. Continuing to make a profitable business in 2022, IFS has decided to spend almost all the profits to pay dividends to shareholders.
IFS, formerly known as the International Food Processing Industry Company - IFPI, was established on November 16, 1991. The enterprise has 100 per cent foreign investment capital, the original investor is Trade Ocean Holdings Sdn Bhd (Malaysia). IFS was converted to a joint stock company in 2005, then the founding shareholder also transferred all capital to Kirin Holdings Singapore Ple Ltd. Currently, IFS has a charter capital of more than VNĐ870 billion, of which foreign shareholders from Singapore hold 95.66 per cent.
Many delisted due to losses
Royal International ( RIC) has suffered continuous losses since its listing in 2008. This stock was even delisted on May 16, 2022, due to losses for three consecutive years (2019, 2020 and 2021). RIC then started trading on UpCOM from May 26, 2022 and continued to suffer heavy losses in 2022.
RIC was established in 1994 in the form of a joint venture between Hồng Gai Import-Export Trading Company (Việt Nam) and an individual investor named Juan Cheng I from Taiwan, China. The enterprise changed to a joint stock company in 2005. After many times of capital increases, RIC currently has a charter capital of VNĐ704 billion, of which its foreign shareholders Khải Việt Investment Co Ltd - a subsidiary of Khải Tiệp International Investment Company Limited with legal entity registered in Cayman - holds nearly 52.5 per cent of capital.
Similarly, Chang Yih Ceramic Tile (CYC) also suffered losses leading to delisting from main exchange in 2017 and is currently trading on UpCOM.
Among FDI enterprises that have been delisted, Full Power (FPC) was the only name that has never come back. After being delisted in August 2011 due to losses for 3 consecutive years, this company officially announced in writing that it stopped registering for trading on UpCOM in mid-2012 and no longer showed signs of return.
A number of large businesses have expressed their desire to list on HoSE, typically CP Việt Nam - a subsidiary of Charoen Pokphand Foods (CPF) from Thailand. This is a positive signal for the stock market, however, the listing time has not been set yet and investors will continue to wait.
Source: Vietnam News