Fri, 8th Dec 2023 08:45 (GMT +7)
CPTPP and UKVFTA help Vietnam-UK trade ties flourish
Friday, 07/04/2023 | 14:27:33 [GMT +7]
A
A
The United Kingdom's upcoming membership of the Comprehensive and Progressive Agreement for Trans-Pacific Partnership (CPTPP) will help both this nation and Vietnam to increase trade and investment ties, in addition to benefits from an existing bilateral trade deal that's already taking effect.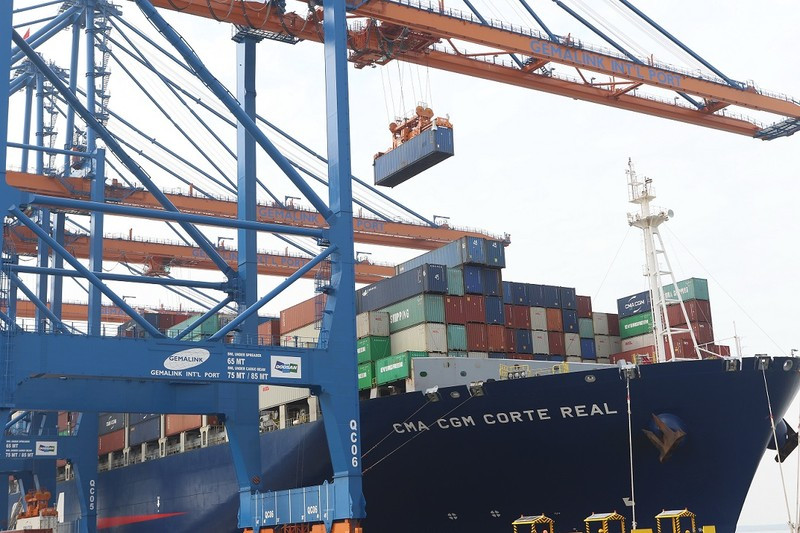 On March 31, 2023, the UK rounded off negotiations with 11 member states of the Comprehensive and Progressive Agreement for Trans-Pacific Partnership (CPTPP), which is a free trade agreement between Japan, Malaysia, Vietnam, Australia, Singapore, Brunei, New Zealand, Canada, Mexico, Peru, and Chile. It is one of the biggest trading blocs in the world, worth 15% of global GDP (or 13.53 trillion USD) once the UK joins.
The CPTPP was signed in March 2018, and has taken effect in 10 countries, except for Brunei.
"As the fifth largest economy in the world by GDP in 2021 and with a market of 67 million consumers, the UK is an attractive market for Vietnam. Expanding the CPTPP to include the UK will help the agreement to diversify their supply chains, remove trading barriers and encourage more trade for our businesses," said a statement from the British Embassy to Vietnam.
Joining the CPTPP will also mean over 99% of UK goods exports to CPTPP member states will be eligible for zero tariffs. In the long run, it could boost the UK economy by 1.8 billion GBP (2.21 billion USD) and lead to a 1.7 billion GBP (2.09 billion USD) expansion in UK exports to CPTPP countries thanks to a decrease in obstructions for goods and services.
UK Government Minister for Scotland Malcolm Offord also commented, "Finalising this trade deal is great news for Scottish business – CPTPP countries already represent a large part of the Scottish export market. It lifts the red tape for items from whisky to textiles and produce, opening new markets and increasing the global appetite for Scottish goods and services."
Key Scottish exports such as whisky could also benefit from the removal of tariffs under the agreement, with the UK having exported over 1.1 billion GBP (1.35 billion USD) worth of whisky to CPTPP countries in 2022 at current prices.
Vaughan Gething, Minister for Economy of Wales, also said, "We have always been broadly supportive of the UK government's free trade agenda and of the potential benefits new free trade agreements could bring to Wales. However, the CPTPP is significantly different from the bi-lateral negotiations that the UK has undertaken to date. The CPTPP is an existing plurilateral agreement and, whilst there is some opportunity to seek carve outs to elements of the existing deal, it has been up to the UK government to demonstrate compliance with the terms of CPTPP, rather than negotiate new provisions."
"It is also worth noting that the UK government has already signed, or is already negotiating, bi-lateral trade agreements with many CPTPP members, such as Japan, Australia, New Zealand, Canada, and Mexico.
The UK is the first European country to join the dynamic trade bloc, and the first new member since the CPTPP was created, taking it from a Pacific agreement to a truly global one.
UK membership could also benefit businesses and investors in Vietnam through modern rules that make it easier to establish, operate investments and do business in the UK, according to the embassy.
"As for Vietnam, joining the CPTPP will complement our existing UK-Vietnam Free Trade Agreement (UKVFTA), upgrading our bilateral relationship with additional preferential tariffs," stated the British Embassy to Vietnam. "The removal of trade barriers will support our mutual economic security by deepening participation in each other's supply chains and diversifying our trade. These benefits will increase opportunities for trade, supporting our economies and increasing opportunities for our businesses."
British Ambassador to Vietnam, Iain Frew, said, "This is an important milestone for the UK's trade relations with Asia-Pacific countries. UK's accession to the CPTPP will contribute additional economic strength to this progressive and dynamic trade alliance, adding 2 trillion GBP (2.46 trillion USD) to the combined GDP of the CPTPP bloc."
"I am pleased that the CPTPP will complement our bilateral FTA and further boost our growing trade relationship with Vietnam."
The UK and CPTPP member states will have to conduct procedures for the UK to formally sign into the deal within the year.
At present, the Vietnam-UK trade and investment ties are largely fuelled by the UKVFTA, which took effect in May 2021.
As part of the UVFTA, 85.6% of tariff lines for goods imported by the UK from Vietnam were eliminated in January 2021, with 99.2% set to be removed by January 2027, according to the UK's Department for International Trade.
There are also commitments under the UKVFTA on non-tariff barriers to trade concerning UK exports to Vietnam. Specifically, customs documentation issued by UK manufacturers from August 1, 2022, will not require authentication through consular transactions at Vietnamese Embassy. Furthermore, Vietnam will not impose any import or export prohibitions or restrictions on UK goods, except for the ones which are reserved in the UKVFTA, including right-hand steering vehicle, some used consumer goods, vehicles and spare parts, and logs and sawn timber harvested from natural forests.
Vietnam has committed to ensuring the simplification of customs procedures, standardisation of data and records, non-discrimination, and avoiding creating unnecessary burdens in customs procedures.
As of August 1, 2022, remanufactured goods are treated as new goods and will not be subject to any restrictions that the importing country applies for used goods. Moreover, goods imported and exported between Vietnam and the UK for repair are not subject to import tariffs.
Member of Parliament of the UK Mark Garnier said, "Vietnam is of immense importance to the UK, and we are committed to further deepening our strong trade partnership, bolstered by the signing of the UKVFTA. Vietnam's extraordinary growth story continues: 8.02% in 2023 is a remarkable achievement, demonstrating the country's resilience in bouncing back after the pandemic."
"I am delighted that UK-Vietnam trade continues to grow; bilateral trade reached nearly £6.4 billion (nearly 7.8 billion USD) in 2022, up by over 20% compared to the previous year. I am confident this relationship will continue to strengthen," Garnier said. "2023 is a hugely significant year as we mark 50 years of diplomatic ties between our two countries. I am delighted to reaffirm the UK's commitment to bolstering our trade and strategic relationship with Vietnam, and to building new commercial partnerships across key sectors."
Vietnam's Ministry of Planning and Investment reported that as of March 20, 2023, the UK's accumulative total for registered investment capital in Vietnam was 4.26 billion USD across 516 valid projects, including 8.22 million USD for the January-March period – up 50.6% year on year.
Source: Nhan Dan