Fri, 8th Dec 2023 09:41 (GMT +7)
Countries see Vietnam as model in implementing SDGs: UN official
Saturday, 18/11/2023 | 12:18:39 [GMT +7]
A
A
Many countries consider Vietnam as a model in implementing sustainable development goals (SDGs) and promoting the reform of the UN development system, United Nations Resident Coordinator in Vietnam Pauline Tamesis has stated.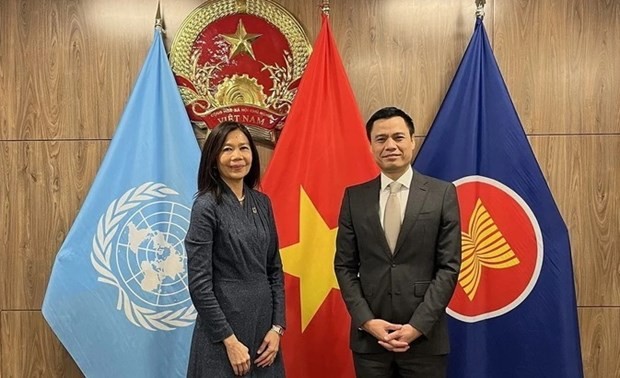 In a meeting with Ambassador Dang Hoang Giang, Permanent Representative of Vietnam to the UN, in New York on November 16, Tamesis expressed the desire to continue seeking resources to support Vietnam in promoting education and training development and expanding to new areas such as big data and strategic forecasting, towards helping Vietnam reap more achievements in sustainable development.
According to the UN official, the UN Secretary-General has assessed Vietnam as one of the emerging economies with potential and resources, and emphasised the need for the UN to continue implementing more effective measures to support Vietnam in implementing socio-economic development strategies.
Ambassador Giang spoke highly of efforts by the resident coordinator and UN agencies in Vietnam in supporting the implementation of the 2030 Agenda for Sustainable Development, affirming that Vietnam will continue to support the reform of the UN development system, including ensuring sustainable finance and effective operation for the resident coordinator system.
The diplomat said he hopes that the UN will continue to assist Vietnam in seeking resources and share knowledge and experience with the country in its efforts to achieve sustainable development goals, international commitments on climate action, digital transformation, and energy transition.
Previously, during the global meeting of Resident Coordinators on November 15, Tamesis delivered a presentation on Vietnam's achievements and efforts in implementing sustainable development goals, as well as the support of UN agencies for Vietnam's endeavours in developing human resources, ensuring social security, and promoting post-pandemic recovery.
Ambassador Giang highly valued the role of UN agencies in general and the Resident Coordinator in particular in coordinating with and supporting Vietnam in implementing the 2030 Agenda for Sustainable Development.
He suggested the two sides continue effectively implementing the Strategic Framework for Sustainable Development Cooperation 2022 – 2026, intensifying collaboration in new areas such as green transformation, energy transition, and digitisation, with a focus on inclusive social policies so that no one is left behind.
Source: Nhan Dan