Wed, 4th Oct 2023 14:23 (GMT +7)
Bryde whales return to the south-central Vietnamese coast
Tuesday, 04/07/2023 | 16:03:38 [GMT +7]
A
A
Those might be the two whales that came to the sea off Bình Định Province last year.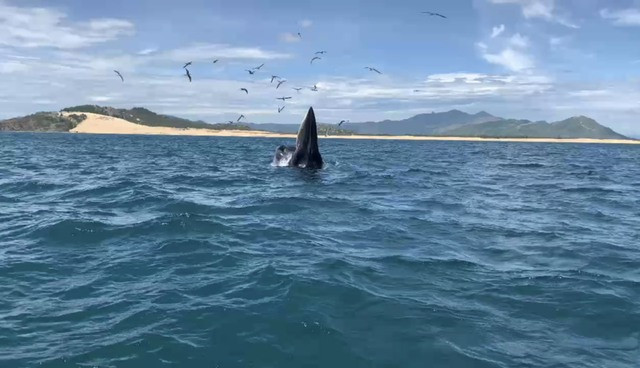 Two whales were seen 1,000m off the coast of Đề Gi beach in Phú Cát District, Bình Định Province on July 2.
This is the second time Bryde whales have appeared in this area since August last year, and the first time they were here attracted photographers from across the country to come and record them.
According to tour guide Trần Văn Tài, the man who has a video recording of the whale's appearance, the largest whale has a length of 16m and the smaller one is 12m long. Those might be the two whales that came here last year.
Bryde whales belong to the baleen whale family, which can be recognised by their three parallel ridges in front of their blowhole, and they are under protection in Việt Nam and the United States.
The whale is well-known as a sight of luck and the best sea-faring companions of fishermen based on the legends of fishing villages scattered from north to south Việt Nam.
Source: Vietnam News